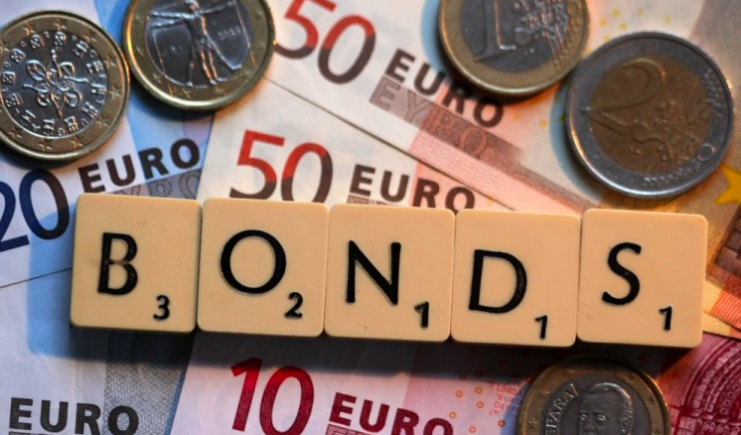 Ukraine may place $1-1.5 billion worth Eurobonds this fall to cover the budget deficit and to buy back more GDP warrants, predicts Bank of America Securities. This would follow July's successful placement of $2 billion worth of 13-year Eurobonds. That deal, at 7.25%, was three times oversubscribed. Potentially chilling foreign interest, the IMF's planned September review of the $5 billion Standby Agreement with Ukraine may be delayed, BofA warns.
Facing weak investor demand, the Finance Ministry sold on Tuesday only one third the volume of hryvnia bonds as at last week's auction, and at slightly higher yields. In yesterday's auction, the government sold the hryvnia equivalent of $35 million, one third for 1-year bonds and two thirds for 3-year bonds, the Ministry reported on Facebook. The weighted average yield for 1-year bonds was 9.28%, virtually unchanged. For 3-year securities, the yield was 10.46% – 46 basis points above the last auction of 3-years, one month ago.
Fitch, the ratings agency that most closely follows Ukraine, reaffirmed its 'B' rating for Ukraine last Friday, with a stable outlook. Japan's R&I upgraded Ukraine's sovereign rating last week by one notch, from B to B+, outlook stable. Since March, Standard & Poor's has given Ukraine a B stable rating. In June, Moody's brought Ukraine up one notch to B3 stable.
Concorde Capital's Alexander Paraschiy writes: Looking at the balance of possible positive and negative triggers for Ukraine's rating, we see a low chance for Ukraine to get any better rating in the next year.
A new Eurobond placement would come on the heels of two large deals:
In late August, the Finance Ministry borrowed $329 million from JPMorgan Chase & Co. at 7.75% to buy back about 10% of the $3.2 billion worth Ukraine's GDP-linked warrants issued as part of the 2015 debt restructuring. It is believed Ukraine bought the bonds back at 90% of par value.
On Sept. 1, the Finance Ministry redeemed $1.69 billion worth of Eurobonds issued in 2015 and maturing this year. At the same time, the Ministry paid $400 million in interest payments on Eurobonds maturing in 2020-2027. Looking ahead, the Ministry said on its website: "By the end of the year, the balance of foreign currency payments on the state debt is about $ 1.6 billion."
Ukraine's international reserves grew to $29 billion in August, the highest level in eight years, reports the National Bank of Ukraine. Boosting reserves, foreign travel by Ukrainians was down sharply due to the coronavirus restrictions and the nation enjoyed a trade surplus.
Ukraine is on track with the IMF, Finance Minister Serhiy Marchenko said Monday on Inter TV's Details of the Week program. He said: "We are in a dialogue with the IMF, and  hope to receive the next tranche. We have two more tranches planned by the end of the year for $700 million each, and  in the near future there will be an online conference, that is, it will not be a visit, it will be an online mission of the fund."
Timothy Ash retorts from London: "The danger with this official line that things are fine on the IMF front is that politicians are lulled into a false sense of security, when the reality is that this Fund program is in serious trouble. Someone needs to read the riot act to the Zelenskiy Administration that unless they address the mounting list of issues related to the National Anti-Corruption Bureau, the anti-corruption agenda more generally, independent supervisory boards at state companies, PrivatBank and the banking reform issue, then there will be no more IMF money from the Fund or other official creditors – and you can only string the market along so long with warm words."
Domestic air flights were down the least of air travel in August, down only 17% yoy to 2,519, reports UkSATSE, Ukraine's air traffic control agency. By contrast – international flights to and from Ukraine were down 50%, to 8,249, and transit flights through Ukraine's air space were down 68%, to 5,922. After last spring's collapse, air flights in Ukraine have steadily recovered:  2,372 flights in April; 3,237 in May; 4,584 in June; 12,195 in July; and 16,690 in August. Flights are expected to drop again in September as the government has closed Ukraine to most foreign travelers for the month.
By 2023, several key regional airports will be reopened under the 'Big Construction' program, President Zelenskiy promised last week on a visit to Poltava airport. "We will add all airports to the program," he said, referring to second tier airports that have languished since the 1990s. Promising to start rebuilding Poltava's runway next year, he said: "We will definitely make Poltava Airport part of our 'Big Construction' program."
President Zelenskiy promised yesterday to rebuild the runway of Sumy airport, if the regional government finds an investor to rebuild the terminal. "We are ready to build this strip in Sumy,if you have those who will build the terminal in parallel," he told Roman Grishchenko, head of the regional administration, on a visit to the airport. Two years ago, the Infrastructure Ministry estimated that it would cost €25 million to rebuild the Soviet-era terminal and the 2,500-meter runway. Without scheduled air service for over a decade,  Sumy residents face 3-hour drives to Kharkiv or Poltava airports or a 4.5-hour drive to Kyiv.
Zakarpattia will get an international standard airport with the construction in coming years of a $145 million airport in Mukachevo, Infrastructure Minister Vladyslav Krikliy promises on Facebook. Last month, the Cabinet of Minister approved spending $1 million to design an airport on the site of an abandoned Soviet-era air base south of the city. Under the plan, a private investor would build the terminal. The Infrastructure Ministry would build a 2,500-meter long runway, capable of handling B737 and A320 passenger jets for flights to the EU and Turkey and Egypt. Zakarpattia's current airport, in Uzhgorod, has limited capacity due to restrictions imposed by neighboring Slovakia and the EU.
Zhytomyr regional authorities are talking with a private investor to build an air cargo hub at Zhytomyr airport, a 90-minute drive west of the Kyiv's Ring Road. Vitaly Bunechko, head of the regional government, tells Interfax-Ukraine that the airport first needs $13 million in government aid to expand the runway by 50%, to 2,500 meters. Opened in 1939, the airport provides maintenance for Yanair's all-Boeing fleet of 737s and offers easy access to Sergei Pavlovich Korolyov Museum of Cosmonautics.
Corona virus infections, hospitalizations and deaths are running at double the levels of one month ago, Ukraine Health Ministry figures show. On Monday morning, Health Minister Maksym Stepanov announced that 57 people died in the last 24 hours. At the same time, 2,411 new cases were announced, and almost 8,000 people are undergoing treatment in Ukrainian hospitals.
From the Editor: You know its election season when politicians tour the country promising to rebuild regional airports. But this time it may happen. President Zelenskiy wants to be remembered as 'Volodomyr the Builder.' Of the 50 airports built during the Soviet era, about 15 could support commercial service today. Restoring these airports also would be key to Zelenskiy's dream of creating a national airline based on a fleet of Kyiv-made Antonov regional jets. To boost domestic air travel, the Rada recently exempted domestic air tickets from VAT. It was odd that Ukraine, a nation larger than mainland France, has stunted domestic air travel. With best regards, Jim Brooke