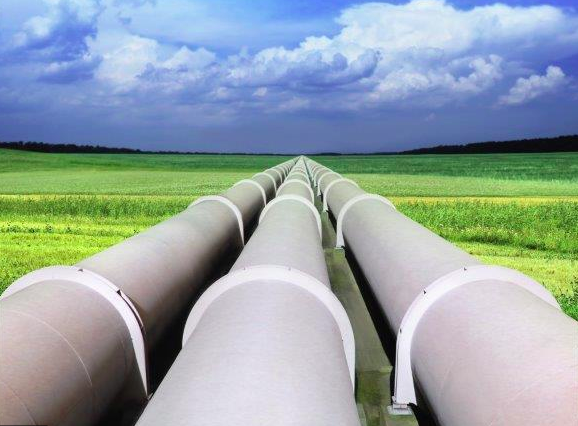 Wednesday, September 4
US LNG To Help Poland Up Gas Sales to Ukraine 4-Fold...First US Gas to Ukraine in December...Modern Ukraine, the Patisserie Pannier of Europe...Central Bank May Cut Prime Rate Tomorrow...Ze Flexes Political Muscles and Easily Wins Rada Vote to End Parliamentary Immunity
US liquefied natural gas will help Poland quadruple its gas exports to Ukraine in two years, to 6 billion cubic meters. Last year, Ukraine imported 10.4 bcm paying $3.12 billion. Most of this was Russian gas, bought from European traders, that either made a round trip through Slovakia or Poland or was taken out of the pipeline as it crossed Ukraine and swapped for gas bought in Europe.
Under a 3-country blueprint unveiled in Warsaw last weekend, Ukraine will follow Poland's lead in starting to use US gas to phase out purchases of Russian gas. "We will make every effort to diversify gas supplies to Ukraine, which is now completely dependent on Russian deliveries," said Piotr Naimski, the Polish official responsible for energy infrastructure.
Poland does not plan to renew its long-term gas supply contract with Gazprom after it expires in 2022. It will replace Russian gas with Norwegian gas through a new Baltic pipeline across Denmark and ramp up LNG deliveries to once a week at its expanded LNG landing terminal in Świnoujście, on the German border. To the east, Lithuania stopped importing Gazprom gas five years ago in favor of LNG shipments to its Klaipėda LNG floating storage and regasification terminal.
"We're helping Poland to reduce its dependence on Russian gas," U.S. Energy Secretary Rick Perry said in Warsaw. Under the 3-way deal, a new interconnector is to expand gas flows between Poland and Ukraine. On Sunday, after participating in a meeting with President Zelenskiy and Vice President Pence, Perry posted on Facebook: "For Ukraine, energy security is national security."
The first US gas will flow to Ukraine this winter. A shipload of US LNG earmarked for Ukraine is to be unloaded in November in Świnoujście, according to a deal signed last week by Kyiv's Energy Resources of Ukraine and Polish Oil and Gas Company, or PGNiG. After gasification, the US gas will be injected into the Polish pipeline system and shipped 1,000 km to the southeast, to the Hermanowice interconnector point, on the Lviv region border.
Dale Perry, president of ERU, said: "We are making tangible breakthroughs in building a transatlantic gas supply corridor from the USA to Ukraine."
Looking ahead, Piotr Woźniak, president of  PGNiG management board, said: "Currently, the only limitation in the development of exports to Ukraine on an even larger scale is the capacity of gas pipelines in Poland in the direction of Silesia–Podkarpacie. We expect the capacity of these gas pipelines to be expanded by 2021 at the latest."
Through August, the volume of Russian gas passing through Ukraine's pipelines to the EU was up 2.3% to 60 billion cubic meters. For all of last year, 87 billion cubic meters passed through the lines. Gazprom says that after the inauguration in December of TurkStream and the opening next year of NordStream 2, Russia will no longer need Ukraine's pipelines. These two pipelines have a combined capacity of 86.5 bcm.
Three-way talks – EU, Russia, Ukraine – are to start in two weeks on renewing Gazprom's gas transit contract with Naftogaz. With about one-third of Russia's gas exports to the EU crossing Ukraine, the EU wants a minimum future flow, probably 40 bcm a year. To prepare for the talks, Ukraine has doubled its gas stocks since last spring. The current storage level of 18.3 bcm is almost enough to get through a normal winter heating season. Natural gas prices in Europe are at a 10-year low.
In July and August, Ukraine increased its 'soft wheat' exports to the EU six-fold, becoming the largest supplier to the EU, Ukragroconsult reports, citing European Commission statistics. 'Soft wheat' is low gluten, high starch wheat used for pastry and cake flours. By exporting 189,000 tons to the EU, Ukraine accounted for 42% of supplies this summer. By contrast, EU imports of soft wheat fell to 42,000 tons, falling from one-third of EU imports to 10%.
Russia, the world's largest wheat exporter, expects to see sales down 15% y-o-y for August, to 4 million tons, Reuters reports from Moscow, citing SovEcon. By contrast, Ukraine's wheat exports hit 4.1 million tons — up 55% — for July and August, the first two months of the marketing year. Russian sales are down as farmers wait for better world prices and the government slows export certificates, fearing the political cost of a rise in bread prices.
With the central bank reviewing the prime interest rate on Thursday, investors on Tuesday bought 7.5% more hryvnia T-bills, at reduced yields. Investors at the weekly auction bought the hryvnia equivalent of $76 million in bonds, accepting a reduction of 19-25 basis points, from last week. Maximum yields Tuesday were: 16.25% per annum for 3-month bonds; 15.95% for 12-month bonds; and 16% for 3-year bonds. On July 18, the National Bank of Ukraine lowered the prime rate 50 basis points to 17%.
If Ukraine's economy does grow by 40% over the next five years, the nation will have to face paying about $9 billion on the GDP warrants issued under the 2015 restructuring deal, calculates Concorde Capital. The warrants currently trade at 92% par. Analyst Alexander Paraschiy writes the new government should "offer an exchange of the warrants into some fixed-income instrument. Recall, Danylo Hetmantsev (current MP and head of the parliamentary finances and taxation committee) said in early June that the government should consider such an exchange."
Taking a key anti-corruption step, the Rada voted overwhelmingly to change Ukraine's Constitution to end parliamentary immunity from prosecution. President Zelenski is to sign the amendment. Before the vote, he told MPs that a parliament is a legislative body, not a place to hide for five years. He said: "If a deputy hits a person when driving, or 'covers' the production of amber, or commits any other criminal offense – he must be brought to justice."
In a sign how the president's ambitious economic legislative agenda may fare this fall, the change drew 373 favorably votes, far more than his 252-member party group. Only the pro-Russian Opposition Platform – For Life faction did not vote for the amendment.
To prepare for a global recession, Ukraine needs to negotiate now a long term agreement with the IMF and to maximize trade with its main trading partners, preferably the EU, Timofei Milovanov, the new Minister of Economic Development, Trade and Agriculture, said in a TV interview. "We really need an anchor, like the IMF, because many investors are guided by it," he said Monday night, responding to a question about the US-China trade war. "We need serious investors who will work with us and give us long lines of credit…they will allow us to have access to capital during the crisis itself."
From the Editor:  UBN is looking for long-term sponsors interested in placing their company in front of our growing international investor audience. Our new information package gives statistics about our audience, sponsorship pricing, and details on how your message will reach our subscribers every weekday morning. To learn more, please email Peter Atwood, UBN's Business Development Director, at patwood@ubn.news.