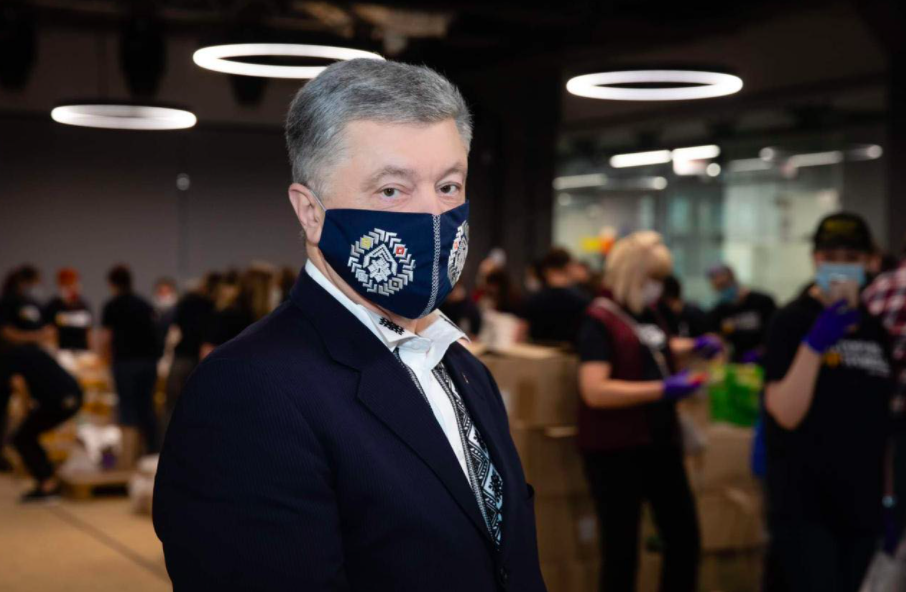 Former President Petro Poroshenko is undergoing treatment at home for Covid-19, he wrote yesterday on his Facebook page. "Over six years, I've been handling diseases on my feet," writes Poroshenko, a diabetic who turned 55 on Saturday. "This one is sneakier. Much more insidious. So, from today, I am being treated at home." Currently, the Rada leader of the European Solidarity party, Poroshenko writes: "[I] urge all Ukrainians to protect themselves!" His wife, Maryna, is running for Kyiv City Council. It is not known if she also is infected.
Kira Rudik, Rada leader of Voice, another pro-Western party, also wrote yesterday on Facebook that she is battling coronavirus. "The last few days have been high temperatures, probably the highest in my life," writes Rudik, former COO of Ring Ukraine. "All other symptoms are like the flu. I smell and taste, but they say it's not long." Yulia Tymoshenko, a third Rada party leader, of Fatherland, contracted the virus in late August and was hospitalized for two weeks.
After the weekend lull, Ukraine's identified coronavirus cases hit 3,627 yesterday morning, the second highest on record. In the 24-hour reporting period, 69 people died, and 614, or 17% of the new cases, were hospitalized. The largest number of cases – 416 – were in Kyiv city, Ukraine's largest city.
Last summer's 10-fold jump in Covid cases in Odesa is chronicled in The Washington Post in a story headlined: "In Ukraine's Odessa, summer crowds ditched their masks. It's now a hot spot in Europe's 'second wave.'" The story follows the journey of an Odesa taxi driver, Igor Trofimchuk, who took his ailing 82-year-old mother Nina to three hospitals. At the first one, she was turned away because she came on foot, not by ambulance. At a third hospital, she was admitted after a 7-hour wait. The doctor in charge of the ICU went home for the night and several patients died overnight. His mother died the next day.
Foreigners can only enter Ukraine if they have health insurance with a company that will cover full Covid-19 treatment in Ukraine, the Cabinet of Minister reiterated in a decree on Monday.
Starting Friday, a laboratory at Kyiv Boryspil will offer 'rapid' PCR tests for Covid-19, delivering results in six hours. Offered by CSD Health Care, the test will cost $53, or UAH1,500. In the case of a negative test result, CSD disables the self-isolation 'Diya' program installed in the smartphone of a newly arrived passenger. CSD test centers are in Terminal D on the departure level and just after passport control on the arrival level. At Odesa Airport, the CSD test center is in the arrivals hall.
Due to the persistent coronavirus pandemic, Ukraine's largest arms shows – Weapons and Security and the International Aerospace Salon – are being postponed from mid-October to May, reports the host venue, the International Exhibition Center, on Kyiv's Left Bank.
Before Covid hit in March, 80,000 foreign students from 158 countries were studying Ukraine, reports the Ministry of Education and Science. Addressing an area sometimes tarnished by accusations of fraud, acting Education Minister Serhiy Shkarlet says he is developing an 'action plan' to "introduce a transparent mechanism for recruiting foreign students for higher education, and ensure the quality of educational services provided by universities."
Defying Kyiv's image as a low-rise city, Ukraine's capital has the highest number of 'high-rise' buildings in Europe, according to a ranking by SkyscraperPage. Defining 'high-rise' as 12 floors or more, SkyscraperPage counts 1,199 such buildings in Kyiv – just above runner up London, with 1,109. In third place in Europe is Moscow, which has four times Kyiv's population, but half the 'high-rises.' The world's top 10 are: New York, Toronto, Dubai, Tokyo, Hong Kong, Shanghai, Chicago, Kyiv and London.
Make history: UIA's planned 7,615km, 12.5 hour Kyiv Boryspil – NY JFK flight will be "the world's longest service operated by a Boeing 737-900ER," reports OAG, the airline guide. Starting Dec. 9, the twice a week flight will make refueling stops in Keflavík, Iceland. Last year, UIA had five directly flights weekly between Kyiv and New York. The long haul jets flew 86% full, carrying 196,479 passengers, reports OAG.
Presently, Ukraine has 53 operating AN-26 planes, the model that crashed Friday night near Kharkiv, killing 26 of the 27 Air Force personnel aboard. Aircraft ages range from 35 to 48 years, Antonov reports on the company Facebook page. Of these turboprop transports, 24 are used for civil aviation, presumably air cargo companies, and 29 for government work, largely the Ukrainian Air Force. Antonov notes that it now is producing the AN-178. This short-range, medium-airlift military transport jet is designed to replace the AN-26, which was developed in the late 1960s.
About $175 million for the creation next year of a national airline is included in a budget bill submitted by Rada members of the majority Servant of the People party. Last spring, President Zelenskiy announced a plan to create a national air carrier based on a fleet of regional jets produced by Antonov's factory in Kyiv. The carrier would develop domestic air travel and air links with Moldova, Belarus and Georgia – three countries with experience in servicing Antonov passenger planes.
Ukraine plans to transfer nine sea ports to private investors – six through concessions and three through sales, reports the Sea Ports Authority. The ferry and container terminals of Chornomorsk are to be put up for concession within two years, Andriy Haidutskyi, chairman of the supervisory board of the Ports Authority, told a meeting of public-private executives in Kyiv on Monday.
After transferring two port facilities as concessions to international groups last summer, Ports Authority officials are confident that they can find companies interested in these concessions: the passenger terminal Odesa; the ports of Berdyansk and Mariupol on the Azov; and the ports of Reni and Izmail on the Danube. Up for sale will be three of Ukraine's lowest volume ports: Bilhorod-Dnistrovskyi (Akkerman); Ust-Dunaisk, at the mouth of the Danube; and Skadovsk, in Kherson, facing Crimea.
From the Editor: The State Property Fund is ramping up sales of state companies and doubling its forecast of next year's privatization proceeds to $500 million. Catching the wave, an English-language webinar, "Ukrainian Privatization: Untapped Investment Opportunities in CEE," will be offered next Tuesday morning by CMS Cameron McKenna Nabarro Olswang Ukraine. For more information and signups, click here.  With best regards, Jim Brooke