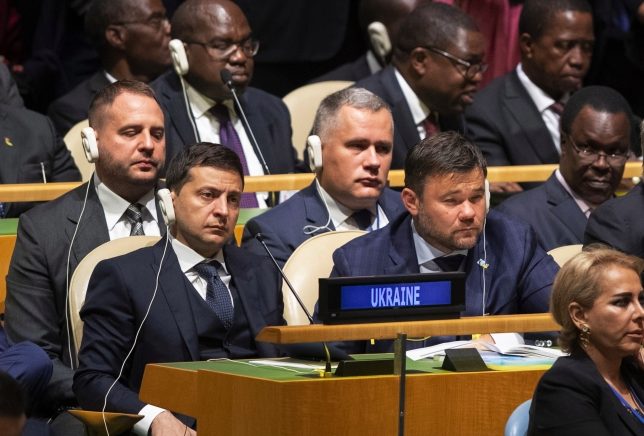 Money can't buy this publicity. With 'Ukraine' and 'Watergate' increasingly used in the same sentence by Americans, President Zelenskiy is the most sought after interview in New York during this week's UN General Assembly, reports Julia Mendel, presidential spokeswoman.
"We've been contacted by all possible American media outlets," Mendel says in a star struck video blog from New York. "We're talking about CNN, ABC, Wall Street Journal, Washington Post, New York Times. We even spoke with The New Yorker…An incredible amount of media people….We're talking about Radio Svoboda, BBC, CBS, NBC, VOA… It seems to me that Volodymyr Zelenskiy is the most sought after person in the USA."
To jump-start 'big' privatizations, Timofei Milovanov, the new Economy Minister, has appointed five "privatization advisors" for the first five companies to be sold: Odesa Port Plant, Krasnolimansk Coal Company, Indara, Electrotyazhmash and United Mining and Chemical Company. After the Rada approves the privatization law this fall, another 21 big companies are t be added to the list. Milovanov said Tuesday: "This is a good opportunity for businesses to take part in this." In addition, his deputy, Pavel Kukhta, is preparing 800 more state-owned companies for sale.
Dmitry Sennichenko is the new head of the State Property Fund, the agency that oversees privatizations. "My task is to make truly honest, open, transparent privatization of those enterprises that will not be defined as strategic," Sennichenko told the Rada Thursday, before winning parliamentary approval. "Of the 3,600 state-owned enterprises, 2,300 are more or less alive. The rest survive only on paper." The 2020 budget allows for $200 million in revenues from state company sales.
The launch of a farmland market will boost Ukraine's GDP growth by 1-2 percentage points in 2021, and by 3-3.5 percentage points each year through the mid-2020s, Economy Minister Milovanov predicts on Savik Shuster's Freedom of Speech program. The Zelenskiy government plans to start the land market after next year's harvest, on Oct. 1, 2020.
More than 1,000 foreign-controlled farming companies already cultivate about 5% of Ukraine's farmland, Economy Minister Milovanov said on Shuster's ICTV program. "The experience of Eastern Europe shows that foreigners do not really come in so quickly and they come in at a very small percentage. We do not expect that there will be an impact," he said, addressing age-old fears that foreigners will grab Ukraine's black earth. "They do not understand us," he said of foreign agricultural investors. "They do not trust us yet. They can go to other countries where there is already infrastructure, roads, courts, etc."
The early frosts that hit much of Ukraine on Monday and Tuesday nights are damaging late vegetable and fruit crops, Tatyana Adamenko, head of farm weather forecasting for Ukraine's Hydrometeorological Center, tells UNIAN. Grapes and "garden crops – tomatoes, cucumbers, those vegetables that are on the surface of the ground," are the most vulnerable, she said. Root crops, such as potatoes, carrots and sugar beets, are not affected.
Fitch Ratings raised the long-term issuer default ratings in foreign currency of seven Ukrainian banks from "B-" to "B", all with positive outlooks. Tuesday's upgrades of Oschadbank, Ukreximbank, PrivatBank, Ukrgasbank, Credit Agricole Bank, Procredit Bank, and Pravex Bank matched the same upgrade Fitch gave the sovereign two weeks earlier.
Through August, Ukraine's banks have made $1.8 billion in net profit, more than triple the amount during the same first eight months of last year. About 58% of the overall profit was recorded at PrivatBank, the bank that was taken away from Ihor Kolomoisky in December 2016. After nationalization, $5.5 billion in public money was injected into the bank and it was put under professional management. On Tuesday, a Kyiv court adjourned until Oct. 1., a hearing on Kolomoisky's lawsuit to have the recapitalized bank returned to him.
The Finance Ministry sold the equivalent of $541 million worth of hryvnia bonds on Tuesday – five times the amount at last week's auction. While meeting most of the demand, the Ministry pushed yields down to 15% to 15.9%.
Despite strong dollar purchases by the central bank, the hryvnia strengthened Tuesday to another three year high – UAH24/$1. Last week, the National Bank of Ukraine bought $270 million on the interbank currency market, 36% more than the previous week. Since the start of the year, the central bank has bought a net $3.8 billion.
Ukraine now has 20 billion cubic meters of gas in storage, one quarter more than this time last year and a record for the decade. By the time 3-way gas transit talks with Russia and the EU resume in late October, Ukraine should have 21 billion cubic meters in storage, more than enough to get through the winter heating season. Dismissing speculation that Russia will prevail in imposing a short term contract, one negotiator, Maroš Šefčovič, vice-president for the Energy Union, said Tuesday: "We are trying to find a long-term solution acceptable to all parties."
President Zelenskiy has signed a law allowing Ukraine to use an EU-wide customs software – the New Computerised Transit System. This will allow Ukraine to apply European transit rules, use a single customs declaration, and cut the cost of moving goods. Maxim Nefyodov, head of the new Customs Service says the law is "a simple, beautiful story of visa-free customs, which will allow Ukrainian players to leave Ukraine and travel to Portugal with one truck with one document, with one guarantee." After one year of using the new system, Ukraine can be invited to join the 35-nation Common Transit Procedure.
Truckers blocked two busy road crossings into Poland, protested at two others and parked three dozen trucks in front of the Cabinet of Ministers building Tuesday to protest Poland's radical cuts in trucker permits. Earlier this year, a bid to get more business for Polish truckers, Poland slashed the highway permits for Ukrainian truckers by nearly 40%, to 160,000 a month. While Polish truckers generally shun driving into Ukraine, Ukrainian truckers camp outside Ukrainian government offices for 3-4 days to get one permit.
Car imports have tripled so far this year, to 341,286 vehicles, for a total value of $2 billion. The numbers are through August, according to Ukravtorprom, the industry association. If a group of Rada members get their way, excise taxes on imported cars will be dropped completely, pushing imports even higher in the 2020s. Zelenskiy has postponed for three months levying fines on illegally imported cars. Ukraine no longer has a car making the industry of any significance.
From the Editor: Every September, world leaders converge on New York for the UN General Assembly. Depending on the sizes of their egos and their budgets, they deploy scrappy publicists who fight for interviews. Having covered the meeting for The New York Times, I remember my weeklong Cinderella promotion from lowly subway reporter. My dance card read: 10:00 am – Samora Machel, president of Mozambique; 11:30 am – Olof Palme, Prime Minister of Sweden, etc. Today, US news operations are fighting tooth and nail for an unexpected prize: an exclusive with the President of Ukraine. Even if 'Ukraine' goes down in American political history on a par with 'Watergate,' it will be a big publicity boost for Ukraine. In one promising sign: the Watergate complex today is one of the most prestigious office and residential addresses in Washington. Best Jim Brooke – jbrooke@ubn.news.