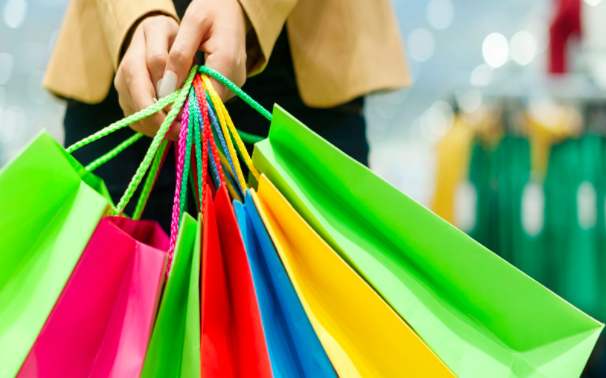 Wednesday, September 23
Retail Sales Help Pull Economy out of Recession...Opening Now: Ukraine's Largest Mall - Kyiv's Blockbuster...IKEA to Open Store in November...Danish, French, Swedish and Swiss Retailers Expand in Ukraine...Ducking Corona Controls, Worker Remittances Dip Only Slightly
Retail sales surged over the summer, pulling the year-to-date level up 5.9% yoy in comparable prices. The State Statistics Service has reported these national sales growth figures: June +8.5%; July +8.7%; and August +8.7%. Kyiv was the leader, recording January-August retail sales up 15% yoy. Next were: Zaporizhia region +13.3%; and Chernihiv +11.8%. Last year, retail sales were up 11.6% over the volume of 2018.
Concorde Capital's Evgeniya Akhtyrko writes: "Ukraine's retail sales have picked up quickly…The positive trends in trade might serve as the single [biggest] offsetting factor to the economic recession as the other major sectors continue to languish."
Kyiv's Blockbuster Mall, Ukraine's largest mall, started to open this month at the intersection of Stepan Bandera Avenue and Naberezhno-Khreschatytska Street. This fall, 100 stores and the Galaktika entertainment park are opening, filling a gross leasable area of 160,000 square meters. By the end of this year, 80% of the tenants are to move in, according to Vitaliy Boyko, General Director of NAI Ukraine, the developer, tells Interfax-Ukraine.
IKEA plans to open its first Ukraine store in November, a 6,000 square meter space in Blockbuster Mall. IKEA, the world's largest retailer of furniture and household goods, started online sales in Ukraine in May. The company opened pick-up points in two Kyiv shopping centers — Auchan Rive Gauche and Metro Cash & Carry. This fall it plans to open a third pick up point, in Lavina Mall.
Wildberries, Russia's biggest online retailer, launched in Ukraine on Monday. The Moscow-based company is offering 3 million goods and 32,000 brands:  clothing, shoes, toys, sporting goods, pet supplies, household and gardening products. Nova Poshta and Meest will deliver orders. Now operating in eight countries, Wildberries is now owned by Tatyana Bakalchuk, listed by Forbes as the richest woman in Russia. In deference to Ukrainian sensibilities, the Wildberries operation in Ukraine will answer to Wildberries Poland and the merchandise for sale here has been purged of images of communism and Putinism.
Dragon Capital plans to build 200,000 square meters of warehouse, factory and office space on a 49-hectare lot on the Kyiv-Zhytomyr highway. Marketed as the E40 Industrial Park, the first phase is to open next year on the E40/M06 highway, near the Kyiv Expo Plaza interchange, 27 km west of Kyiv. Dragon already owns 11 warehouse complexes, largely on the highway approaches to Kyiv, Ukraine's largest consumer market.
Lithuania-owned Novus is buying Austria-owned Billa supermarkets. Established in 2008, Novus has 46 stores with a total area of 220,000 square meters. Last month, Novus secured a $100 million loan – from the EBRD and commercial banks – to build 30 stores around the nation and a 'green' warehouse in Kyiv. Billa was established in Ukraine in 1998 by the Rewe Group. After selling nine stores, largely in eastern Ukraine, Billa now has 35 stores – in Kyiv, Kyiv region and Zhytomyr.
MHP, Ukraine's largest poultry exporter, plans to open 350 franchise "Myasomarket" (Meatmarket) stores in Kyiv city and region over the next five years. MHP franchise director Dmitry Morozov tells Interfax-Ukraine that the company also plans to open today its first Döner Market shawarma shop and tomorrow its first Chef's Secrets 'gastro studio.'
Retail highlights:
The largest Intersport store in Ukraine opened last month in Kyiv's Dream Town 2. The largest of 47 Ukraine stores of the Swiss chain, managed by Epicenter K, the new Intersport Outlet City in Obolon has 7,000 square meters.
Jysk Ukraine, the franchisee of the Danish furniture and home goods chain, opened seven new stores in Ukraine this summer, raising the total to 64. By the end of 2023, Jysk plans to have 100 stores in Ukraine.
France's Leroy Merlin plans to open a sixth store in Kyiv this year, Cedric Brosset, director general of Leroy Merlin Ukraine, tells reporters. Focusing on Ukraine's five largest cities – Kyiv, Kharkiv, Dnipro, Lviv and Odesa – Brosset plans to open two new stores a year for the foreseeable future.
Sweden's H&M, Europe's second largest clothing store chain, opened its fourth – and largest Ukraine – store in Kyiv Dream Town 1 this summer. H&M entered the Ukraine market two years ago.
By the end of this year, Foxtrot, the Kyiv-based chain of electronic appliance stores, will have renovated and rebranded one quarter of its 162 stores in Ukraine. During the March-May quarantine period, Foxtrot's online sales tripled, Alexey Zozulya, the company's executive director, tells reporters. Present in 90 cities in Ukraine, the chain claims it has a database of 10 million customers.
Bolstering retail sales, remittances from Ukrainians working abroad were down only 5.5% through July, compared to the first seven months of last year. Through July, Ukrainians sent home – through banks, money transfer companies and informal channels – almost $6.5 billion dollars, according to the National Bank of Ukraine. Last year, remittances were made at the rate of $1 billion a month.
Due to Poland's liberalized visa environment and ease of access for Ukrainians, the number of Ukrainians working in Poland is returning to last year's levels, reports the Polish employment company, Gremi Personal. In face of protests by employers last spring, Poland gave amnesty to visa overstayers. "So far, the flow of Ukrainians to Poland is the most stable due to the most convenient logistics and relatively stable economic situation in Poland," Gremi notes, contrasting with restrictions at the Czech Republic. "There will be work for Ukrainians through the end of the year."
With the EU increasingly looking to Ukraine as its reserve labor pool, Deutsche Bahn, Germany's state railroad, is advertising in its 'Jobs Ukraine' section for overhead electricians to expand electrification of rail routes in Germany. Offering the opportunity to see "new regions and [work] in the fresh air," Deutsche Bahn accepts resumes in Ukrainian or Russian. This year, the railroad is hiring and training 25,000 new employees, part of a drive to take in 100,000 new workers by 2025.
Dangling €1.2 billion in emergency macro-financial aid to Ukraine, Josep Borrell, the EU's de facto foreign minister, told reporters in Kyiv yesterday that the money will only be released if Ukraine gets back on track with the IMF. The day before, Prime Minister Shmygal called Alfred Kammer, the new head of the IMF's European Department, and asked him to send a review mission to Ukraine. Under the standby agreement signed in June, a review mission was to come to Kyiv in the summer and a second tranche, of $700 million, was to follow in September. Now, with Western ambassadors complaining that Ukraine is backsliding on anti-corruption commitments, it seems unlikely that Ukraine will get a second tranche of IMF money this year.
From the Editor – Reader writes from Melbourne complaining that I mentioned the marriage rate of Ukraine's IT workers yesterday. I am not interested in the mating habits of Ukraine's aytishnyki. But, marriage means less mobile. Ukraine's red hot IT industry is struggling with a labor shortage. Companies are investing in massive training programs. Companies are recruiting, not just from Belarus, but also from Moldova and Kazakhstan. As Ukraine's programmers grow older, get married, and generally settle down, they are less likely to run away to Krakow. With Best Regards, Jim Brooke