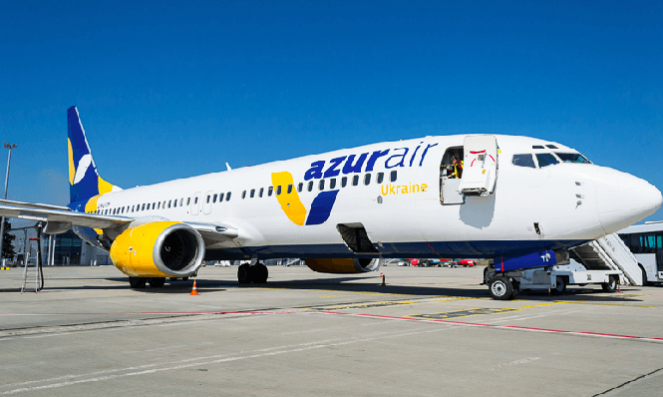 Wednesday, September 16
Azur to Fly from Kyiv to Chicago, Miami and NY...Work Starts on Dnipro's $200 Million Airport...Solar, Wind Producers Fret About $1 billion Green Debt...Metinvest Seeks $300 million Eurobond...NABU Investigates Foreign Purchases of Government Bonds
Azur Air Ukraine plans to launch direct flights next spring from Kyiv Boryspil to New York, Miami and Chicago, reports Avianews. Last week, Ukraine's State Aviation Service authorized the carrier to fly to these US cities. Citing an Azur Air spokesman, Avianews says that, starting April 1, the airline would fly to each city two times a week, probably using its Boeing 767-300 ERs. In the past, UIA and its predecessor, Aerosvit, used a spoke and hub system to fill their planes flying to North America. Owned by Anex Tours, Azur Air is expected to follow its point-to-point strategy with its US flights. The US and Ukraine have an open skies agreement.
Just in time for the October elections, work starts today on the 7-year-old project to build a $200 million new airport for Dnipro. Yesterday, an agreement was signed to start clearing existing airport equipment and to start a $430,000 design project. Infrastructure Minister Vladyslav Krikliy says a tender will be held shortly to build a new 3,200-meter runway, 13% longer than the existing one. This fall, Alexander Yaroslavsky says his DCH Group will start building a new terminal capable of handling 1,000 passengers an hour. Based in Kharkiv, Yaroslavsky built the highly acclaimed $107 million airport terminal for Kharkiv.
With 1 million inhabitants, Dnipro is Ukraine's 4th largest city. But last year, its airport was Ukraine's 7th busiest. In 2019, traffic climbed 13% to 339,000 – the level of 2015. Because of Dnipro's poor runway and Soviet-era terminal, the airport is shunned by airlines. The exceptions are UIA and Windrose, both controlled by Dnipro industrialist Igor Kolomoisky. In contrast, in Kharkiv, a city of 1.4 million people, 11 airlines carried a total of 1,340,000 passengers last year — almost four times the level of 2015.
Antonov's goal is produce 12 An-178 military cargo jets a year by 2013, Alexander Los, the new president of the Kyiv-based state company tells Ekonomichna Pravda. Currently, one An-178, ordered by Peru's Interior Ministry, is moving down Antonov's production line in Sviatoshyn, northwest Kyiv. Ukraine's Internal Affairs Ministry has ordered another 13. In a lengthy interview, Los said the next priority is to restart production of regional jets, without Russian components. Of these, three An-148 and 10 An-158 jets are in production.
Solar and wind producers are asking Prime Minister Shmygal to use state budget money to pay bills that could top $1 billion by the end of this year. Under a law that went into effect Aug. 1, the government commits to keep current on the new, reduced green tariffs and to pay 40% of the backlog by the end of this year. The remaining 60% is to be paid next year. In a letter signed yesterday by producer groups, the government was $800 million behind on August 1st. Now, the Guaranteed Buyer, or GarPok, predicts it will have trouble paying $350 million more by the end of this year. The letter was signed by the European-Ukrainian Energy Agency, the Ukrainian Wind Energy Association and the Ukrainian Renewable Energy Association.
Metinvest, Ukraine's largest mining and metallurgical holding, announced yesterday that it plans to place a 7-year, $300 million Eurobond. The goal is to buy back bonds coming due in 2021 and 2023. The company has mandated Deutsche Bank, IMI – Intesa Sanpaolo, Natixis and Raiffeisen Bank International as joint dealer managers.
The Finance Ministry raised $215 million in equivalent in its weekly bond sale yesterday, six times the amount raised one week earlier. About half the amount — $112 million – was for 13 month US dollar securities, the Ministry reported on Facebook. The weighted average yield was 3.5%, the same level as at the last auction. The weighted average yield for 6 month hryvnia bonds was unchanged — 7.82%. For 2 year hryvnia bonds it rose 29 basis points, to 10.43%.
The National Anti-Corruption Bureau has asked banks to provide information on foreigners buying and selling domestic government bonds last year, several market participants told Interfax-Ukraine. One source said the Bureau wants to know if the yields were 'overestimated.' With some hryvnia bond rates going as high as 19.5%, foreign purchases increased 18-fold, ending the year at 116 billion hryvnia, almost $4.9 billion. This year, foreign holdings grew another 10%, until the corona crisis hit in March. Today, foreigners hold 85 billion hryvnia, or $3 billion.
Bond Market Views:
ICU writes of last week's auction: "Foreigners were not in a hurry to sell bills. Last week, they decreased portfolios just by UAH 421million ($15 million) to UAH 86.5 billion ($3.1 billion) with their share in total bonds outstanding sliding by 6bp to 9.97%."
Yuriy Butsa, deputy finance minister and commissioner for Public Debt Management, said Friday at ICU bond conference: "Low inflation in Ukraine together with relatively high real rates helps to maintain interest to our local currency market. Today we have a renewed interest to longer papers."
Foreign investors – real and potential – were treated yesterday to two sobering reports on President Zelenskiy's faltering effort to reduce judicial corruption.
"In most countries, judges take on the mafia," writes Roman Olearchyk, The Financial Times veteran correspondent in Ukraine. "In Kyiv's district administrative court, some of the justices are the mafia, say anti-corruption investigators." Detailing the Zelenskiy government's perceived backsliding on purging courts of corrupt judges, the article warns: "Tackling graft among judges is a top priority for the IMF, the EU and international investors."
"Ukraine's reforms remain hostage to corrupt courts," headlines an Atlantic Council article by Diane Francis, another veteran observer of Ukraine. One year into the Zelenskiy government, she writes, judicial reform "efforts are backsliding and in danger of ending entirely." Citing intimidation of investigators and courts unwilling to take on corrupt judges, she writes: "President Zelenskiy must take on the country's legal cabal." By removing the 20 members of the High Council of Justice, a "culling" of judges could be done in months, not years. Otherwise, she warns: "The perpetuation of crooked courts will eventually cost Ukraine its IMF and Western support. Ukrainians will remain poor, investors will boycott, and the country will slip back under the control of oligarchs and shadowy Russian forces."
Building an effective anti-corruption system in Ukraine "is the key to structural reforms and the transition to stronger and more equitable growth, a precondition for the current IMF support program," IMF spokesman Gerry Rice told reporters in Washington Thursday. Pressed to say when an IMF team would come to Kyiv to review the $5 billion standby agreement approved three months ago, Rice said: "I can't give a date for the first revision."
From the Editor: Last month, I flew Azur Air Ukraine down to Bodrum, Turkey and back. It was a good chance to inspect my knees – close up. At Guantanamo detention center, Amnesty International classifies such prolonged positions as human rights violations. Sitting like a pretzel, I thought: If the lady in front of me tries to recline her seat…I will swiftly garrote her. Hey! Just kidding! (sort of). That said, Azur Air may be better than no direct flights between Ukraine and North America. The fate of UIA's transatlantic routes seems uncertain. Last week, Ukraine's flag carrier, got a gratuitous kick from the government when travellers were banned from transiting through Ukraine. Last year, transit accounted for half of the passengers flying UIA's international routes. A few years ago, on a UIA flight from Bangkok, I sat next to a Swedish backpacker bound for Stockholm. He seemed only dimly aware that he was landing in Ukraine. Transit passengers allowed UIA to maintain a pretty decent international network. Fast forward to today, at UIA's only office in Kyiv, on my street. Long ago, the wind and rain blew away a cheery sign beckoning: "See you at the end of the quarantine — on April 6." With best regards, Jim Brooke