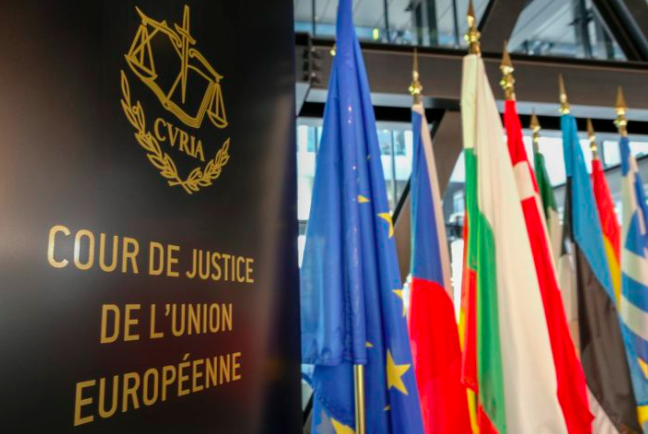 Wednesday, September 11
EU Court Pinches Russia's Pipeline...Ruling Strengthens Ukraine at Gas Talks Next Week...Rivers of Grain Flow from Black Earth...China to Replace Russia as Ukraine's Top Trading Partner...Bond Yields Drop...Hryvnia at 3-Year High Against Dollar...New Flights to Central Asia, Central Europe
The EU's top court in Luxemburg has restricted Russian gas to 35% of the capacity of Germany's onshore pipeline extension of Nord Stream 1. This decision, which can be appealed by Nov. 20, will force Russia to maintain minimal gas flows through Ukraine next year, the successful Polish plaintiffs predict.
"Poland's victory, in this case, reduces the likelihood of a serious gas crisis in Ukraine, which could also impact other countries in the region, including Poland," Poland's Energy Minister Krzysztof Tchorzewski said after the decision was made public Tuesday. Maciej Wozniak, the deputy CEO of PGNiG, Poland's state-controlled energy company, said: "Thanks to forbidding Gazprom from monopolizing the OPAL gas pipeline, the Russian side will not be able to fully halt gas transits to Europe via Ukraine, at least in the coming months."
Half-owned by Gazprom, the OPAL pipeline runs 470 km from Germany's Baltic Sea coast to Germany's southern border with the Czech Republic. Its 36.5 billion cubic meters a year capacity is slightly more than the capacity of Nord Stream 1. Although the €1 billion pipelines were commissioned in 2011, Poland argues that current EU energy law does not allow for monopolies.
Ukraine's Naftogaz, which faces Gazprom in gas transit talks in Brussels next week, calls the ruling "a pleasant surprise." Yuriy Vitrenko, executive director of Naftogaz, writes on Facebook: "I hope that all this is a sign of a gradual change in Europe's attitude to Gazprom and Russia's use of gas as an instrument of political influence." The EU participates in the Brussels talks over renewing Russia's gas transit contract with Ukraine. The 10-year contract expires Jan. 1.
The US Department of Energy is sending an expert delegation to Ukraine "to help develop a winter action plan to address critical needs during the 2019-2020 winter season," the US Embassy reports. "The delegation will work with Ukrainian experts to assess the interdependence in the production, transmission, and distribution of energy in all sectors, and will also create the basis for improving the coordinated response to energy shortages."
Ukraine's harvest proceeds well across the nation. As of Monday, farmers have harvested 40 million tons of grain and leguminous crops from 10 million hectares. This is two-thirds of the forecast. In Ukraine, the major legumes are soybeans, beans, peas, and alfalfa. The corn harvest is now underway in 15 of the nation's 24 regions. This year's harvest of all crops is to surpass last year's bumper harvest of 70 million tons.
China has approved the first three Ukrainian companies for providing frozen beef, reports Ukraine's Food Safety Service. Last year, Ukraine displaced the United States as the top supplier of corn to China.
As China's imports more and more food from Ukraine, China is on track to displace Russia next year as Ukraine's largest single nation trading partner. During the first half of this year, China displaced Russia to become the largest source of imports for Ukraine, accounting for 13.9%. During the half-year, China ranked a close third as a destination for Ukraine's exports. The ranking was: Poland – 6.9%; Russia — 6.5%; and China – 6.4%.
Bolstered by an improved bond rating and a lowered prime interest rate, the Finance Ministry pushed down yields for dollar and hryvnia bonds Tuesday. In the first auctions of dollar bonds in almost two months, the ministry pushed down yields on 23-month securities to 5.5% per annum, from 7%. The ministry sold $547 million in dollar bonds. For the hryvnia bonds, the biggest drop was for 1-year bonds, where yields fell by 43 bps, to 15.52%, from 15.95%. The Ministry sold the $113 million equivalent of hryvnia bonds, 48% more than last week. Last week, the central bank cut the prime rate to 16.5%, from 17%, and Fitch raised Ukraine's bond rating by one notch, to B with a positive outlook.
The hryvnia is at its strongest level against the dollar in three years, with the National Bank of Ukraine setting today's official rate at UAH 24.8822 per dollar. The last time the national currency was stronger than 25 to the dollar was in the first half of August 2016. The hryvnia is also stronger against the Euro, with today's official rate at UAH 27.47. One of the world's best-performing currencies, the hryvnia has appreciated 9% against the dollar this year.
Cigarettes could double and triple in price on Jan. 1, if a tax bill is approved by the Rada, warns Natalia Bondarenko, spokeswoman for Philip Morris Ukraine. If cigarettes cost as much as $4 a pack, counterfeits and smuggled cigarettes could rise above 1 billion packs, more than half of the national market, she predicts. She says the bill would quadruple the tax rate on tobacco-containing products for heating, a technology deemed less harmful to users than smoking. Such a price hike would push many of the half a million Ukrainians who using heating devices back to conventional smoking.
Uzbekistan and Ukraine, two liberalizing economies that are catching the eyes of investors, will be linked again by direct flights. After a five-year hiatus, Uzbekistan Airways resumes its weekly Tashkent-Kyiv-Tashkent flight. The direct flight will take 5 hours. UIA says flights to Central Asia are not profitable because Russia does not allow Ukrainian airlines to fly over its air space.
Central Europe's ties with Ukraine will grow as Wizz Air announces flights from three Ukraianian cities to Budapest and SkyUp starts flights to Prague.  On Oct. 17, SkyUp, Ukraine's discount airline, starts flights from Kharkiv and Lviv to Prague. On Nov. 1, Wizz Air starts flights from Budapest, its main hub, to Odesa. In June, Wizz Air starts flights from Budapest to Kharkiv and Lviv.
With Yalta European Strategy, Ukraine's leading conference, starting Thursday in Kyiv, two organizations turned Tuesday to the Ukraine Business News for views on where Ukraine is heading. The Atlantic Council posted "Ukraine's Libertarian Revolution" by James Brooke. UATV's Kari Odermann interviewed Brooke for its English language interview program, 'Head to Head.'
Indicating a surge of Ukrainians driving to the EU, the number of Green Card international insurance contracts signed by Ukrainian drivers jumped by 46% in January-July 2019, compared to the first seven months of last year. This year, 618,969 international insurance contracts were signed by the member companies of Ukraine's Motor Transport Insurance Bureau. Defying a stereotype of Ukrainians as bad drivers, paid claims rose by only 3% y-o-y, to 3,047.
From the Editor: UBN will be a media sponsor for the 3rd annual Ukraine Investment Roadshow, Dec. 2 in London. The conference provides a platform for Ukraine's leading corporations to meet with the City of London's fund managers, investment bankers, and advisors for emerging markets. For details, see http://strategy-council.com/en/events/the-3rd-annual-ukrainian-investment-roadshow. Best regards, Jim Brooke jbrooke@ubn.news.