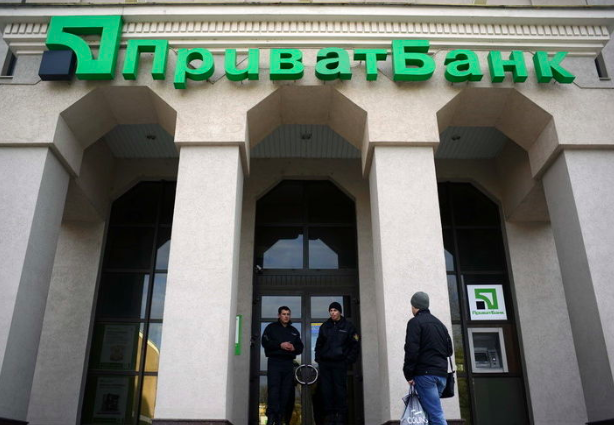 Wednesday, October 9
Kolomoisky v PrivatBank Postponed.Poll: Ukrainians Oppose Land Market…EBRD Loans…Sovereign Bond Rates Dip Slightly…UAH 78 Billion Budget Hole...Debt Payments Mounting…Metals Face Headwinds…Juicy Outlook for Juices…2020 Defense Spending to be 5.4% of GDP
Kyiv's Commercial Court has postponed until Oct. 17 a ruling on returning PrivatBank to its former owners, principally Ihor Kolomoisky. With an IMF program hanging in the balance, a National Bank spokesman said: "We hope that the court will objectively evaluate the case and make a decision based on law." In February, the court unexpectedly accepted the lawsuit filed by oligarch Kolomoisky. In April, a Kyiv District Administrative Court ruled the Dec. 2016 nationalization of PrivatBank to be illegal. The Finance Ministry immediately appealed the decision.
A farmland market is opposed by 73% of Ukrainians polled by the Rating Sociological Group. Only 19% support allowing Ukrainians to sell their farmland. An even higher group – 81% oppose selling land to foreigners. A national referendum on the issue is backed by 81% of respondents interviewed from Sept. 28 to Oct. 1.
The EBRD plans to loan Ukrzaliznytsia $100 million to modernize Ukraine's portion of the Trans-European Transport Network, or TEN-T, Yevhen Kravtsov, the state railroad CEO, writes on Facebook. Stressing the tender will follow EBRD rules, he writes: "70% of the $100 million will go to modernize infrastructure..30% will go to updating of [electronic systems]."
The EU and EBRD sign a €70 million loan agreement with Raiffeisen Bank Aval, ProCredit Bank, and OTP Bank, under the EU4Business Local Small Business Financing Facility SME (Small & Medium Enterprise) program. The EBRD said: "These funds will be provided for investment, and as working capital of SMEs, which are the engine of the local economy and have created almost 80% of jobs in the country."
For overnight train travelers, Ukrzaliznytsia will buy 35,000 bedding sets from a Rivne-based textile manufacturer, according to ProZorro, Ukraine's public procurement platform, Interfax reports. The state-owned rail company is paying about $12 a set.
Interest rates fell slightly as the Finance Ministry auctioned Tuesday 2.15 billion UAH worth of bonds, the equivalent of $88 million. Yields were: 6-month bonds — 15.65%, a decrease of 25 basis point; 3-year bonds at 15.42%, a decrease of 20 basis points.
The state budget is underfunded by $3.2 billion, according to the Accounting Chamber. UNIAN reports the government failed to collect $1.5 billion, or 5.4% of the entire budget, from VAT on imported goods, taxes on manufactured tobacco, and parts of profits and dividends from state-owned companies
Ukraine expects to pay $3.3 billion worth of debt (UAH 80.3 billion) in the last quarter of 2019, according to the Finance Ministry, UNIAN reports. The figure is about 3% of Ukraine's 2018 GDP.
Ukraine's ferrous metals exports dropped 10.3% in the first 9 months of 2019, compared to the same period last year, which saw $7.74 billion in revenue, reports Interfax Ukraine. Ferrous metals can make up 20% of Ukraine's overall exports. Producers are vulnerable to a global economic slowdown and sluggish world demand for metals.
Ukraine's juice exports generated 60% more revenue in the first eight months of 2019 than in the same period last year, reports the Agrarian Business Club. Juice export revenues hit $63 million. The main exports are apple and tomato juices. Main buyers include the United States, Austria, and Canada.
5.4% of GDP will be spent on defense and security in 2020, according to Finance Minister Oksana Markarova. 136 billion UAH, or 3% of GDP, will be disbursed to the Ministry of defense while 723 million UAH will go to housing for active personnel and veterans. Ukraine is among the world's top defense spenders by the percentage of GDP.
From the Editor: The New York portfolio manager, a man with decades of experience with Russia/Ukraine quizzed me intensely on Tuesday afternoon about the prospects of a Ukraine IMF deal by the end of this year. I said '50-50.' He winced visibly and scribbled furiously in his Ukraine notebook. Political leaders may think they don't need the IMF money to close their 2019 books. Or they may think that the IMF will overlook the elephant in the living room – 'compensation' to Kolomoisky for his bankrupt bank. But, here in New York, my takeaway from meetings with six major institutional investors on Monday and Tuesday is that some of the billions that flowed into Ukraine this year could well flow out. Regards Jim Brooke jbrooke@ubn.news.