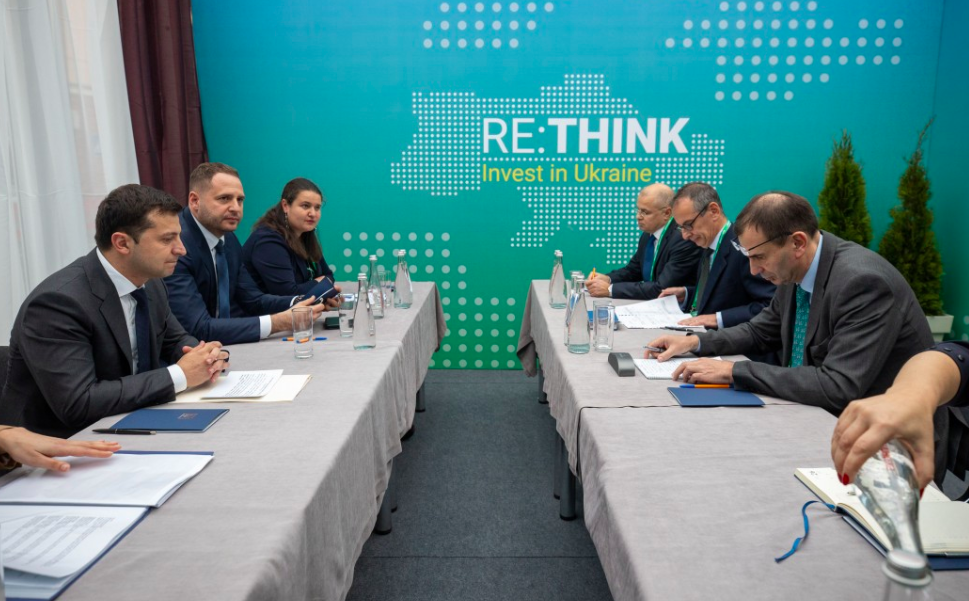 Ukraine's top political leaders said Tuesday PrivatBank will not be returned to its previous owners. "PrivatBank has been nationalized," President Zelenskiy said in a keynote speech opening an investment conference in Mariupol, Donetsk Oblast. "I will only defend Ukraine's interests," he said. "The rumors that I or someone from the presidential office is going to return the bank to its former owners are false."
The next speaker, Prime Minister Honcharuk, made the same point: "If anyone hears rumors that the presidential team, the government team has the intention to return those banks to previous owners or resolve that the expense of the taxpayers, that is not true. We understand the macro stability of the country depends on that." Speaking to about 500 foreign and Ukrainian attendees, he also cautioned: "In the case of PrivatBank, it is in the plane of the courts, in the judicial plane…We don't have a dictatorship. We cannot introduce martial law, and tell every judge what to do."
Alain Pilloux, a vice president of EBRD, the largest foreign investor in Ukraine, told the forum: "The mixed signals on PrivatBank must stop. We need to see what is Plan B if the courts decide otherwise. We want to hear that the state of Ukraine is supporting the efforts to recover the assets that evaporated from the bank — $5.5 billion – in London, in Europe, in Ukraine."
Ukraine now is the number one country destination for EBRD loans, Pilloux said. New lending this year should hit €1.2 billion. Pilloux announced a €300 million loan for the development of regional roads across Ukraine. Honcharuk wrote on Facebook: "We start with rebuilding roads in the Kherson region."
The focus of the forum was to channel investment into the government-controlled half of the Donbas. Held in Mariupol, a port city of 500,000 on the Sea of Azov, the conference took place only 30 km west of front lines where Ukrainian troops face Russian-controlled separatists. Agreements came in steady succession:
To bridge Ukraine's digital divide, Honcharuk and executives of the nation's three largest mobile operators signed an agreement to extend high-speed 4G internet to 90% of the nation within two years. Zelenskiy said: "Every corner of our country will finally be covered by mobile communication and the Internet." This will be eased partly by releasing the 900 MHz band for civilian use. Coverage will not be extended to Crimea and Russia-controlled Donbas, where de facto authorities do not allow Ukrainian coverage.
To bridge the information gap, USAID is helping fund the construction of 11 digital TV transmitters along the control lines of Russia-controlled Crimea and Donbas. This 'digital carpet' is designed to give all residents access to Ukrainian TV programming, in Ukrainian, Russian and Crimean Tatar. "By the end of this year, more than 2 million people will get access to Ukrainian content," reports Ukraine's Ministry of Information Policy.
To ease Mariupol's highway isolation, Zelenskiy and Honcharuk inaugurated "the road of life" a new, two-lane, 225 km highway connecting Mariupol with Zaporizhia, a city with a growing international airport. Turkish and Ukrainian companies rebuilt the road in three months, with 1,000 workers using 600 pieces of equipment. Zelenskiy said: "Two hundred kilometers of the road was built from scratch. For steelmakers, ports and the Ukrainian Army, this is perhaps the most important transport artery."
For rail passengers, Ukrzaliznytsia invested $6 million in renovating sleeper cars and locomotives to add a second Kyiv-Mariupol night train, making it a daily service. In addition, UZ spent $18 million to repair or rebuild almost half of the 312 km line between Mariupol and Zaporizhia. By doubling several sections of track, the railroad eliminated bottlenecks, allowing daily trains to increase from 20 in 2016 to 50 today. UZ CEO Evhen Kravtsov said: "We were able to build new track in the direction of Mariupol, which is the key to the further successful development of the region."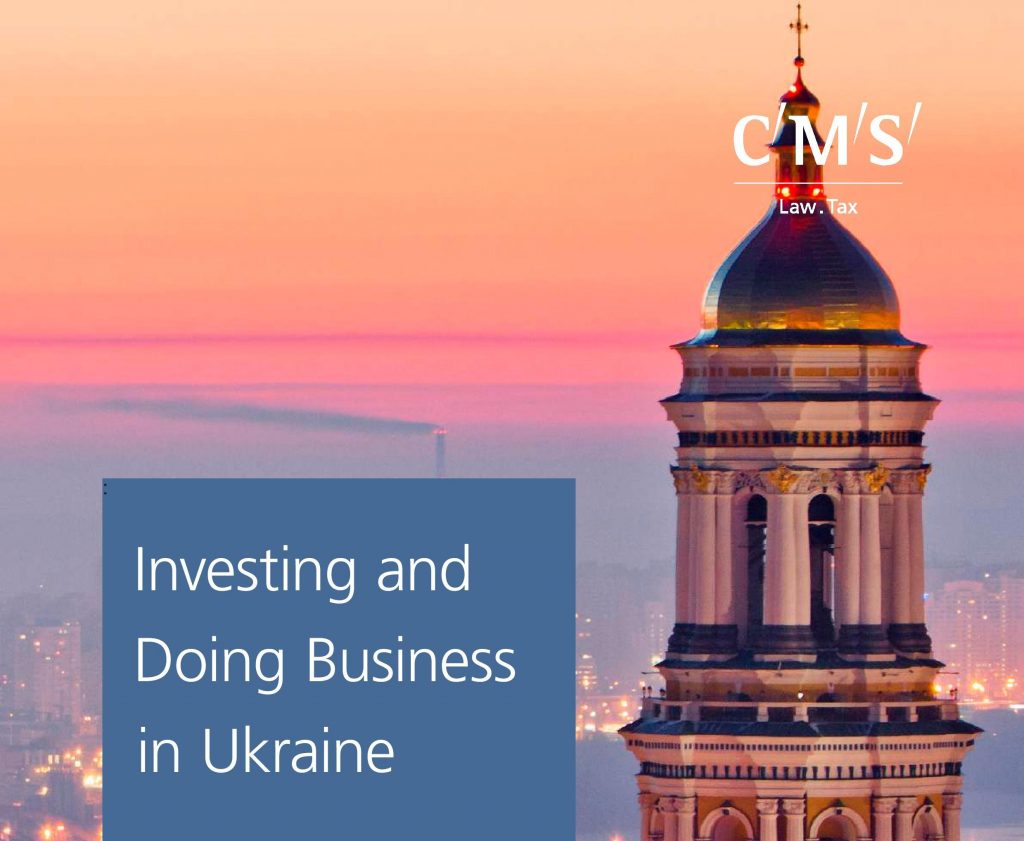 in collaboration with CMS Cameron McKenna Nabarro Olswang Ukraine and UBN,  we have created the "Investing and Doing Business in Ukraine 2020 guide".
For the seaport, China's COFCO signed an agreement committing to invest $50 million to rebuild two berths, expand the new grain terminal, and build a food transshipment complex. This would increase cargo traffic by 2.3 million tons, a 40% increase over the port's 2018 cargo level. Despite continued harassment by Russian Coast Guard patrol boats, cargo handled by Mariupol, Ukraine's largest port in the Azov, was up 2.3% through September, compared to the first nine months of last year.
Delays of cargo ships serving Ukraine's two Azov, Mariupol, and Berdyansk, doubled in August and September compared to the summer months, according to a new study. Russian Coast Guard boats force Ukraine-bound ships entering the Kerch Strait to wait two days to enter the Azov, and then three days to leave the Azov, according to the study by the BlackSeaNews, the Maidan of Foreign Affairs, and the Black Sea Institute of Strategic Studies. Prior to the May 2018 opening of Russia's Kerch Strait bridge, the wait time in either direction was seven hours. "The situation with the artificial delays of the Mariupol/Berdyansk vessels at the entrance to the Kerch Strait has returned to that of September-October 2018," the study said. "Time has come to once again raise the issue of the Azov sanctions package against Russia's Azov ports."
Acting U.S. Ambassador William Taylor commented on this seaport's siege mentality: "Being here in Mariupol, 30 km from the front line, we are reminded that the biggest violator of the rule of law is Russia."
To improve drinking water, the French government signed a declaration of intent with the European Investment Bank and the Mariupol City Council for a €100 million water supply and treatment project.
To improve air quality, Metinvest, Ukraine's largest mining and metallurgical holding, signed an agreement to spend $400 million through 2024 to reduce pollution caused by its industries in Mariupol, Kriviy Rih, and Zaporizhia. Residents say Metinvest cut production during the two days of the conference to clean up the air for the foreign visitors.
To improve air service, Alexander Yaroslavsky, owner of DCH investment group, promised to start building in April a $50 million terminal for Dnipro airport. Yaroslavsky, who built Kharkiv's new airport terminal, said his Dnipro terminal construction would go in tandem with the government rebuilding the runway, extending it to 3,200 meters. Competing for air travelers from Mariupol, Zaporizhia will get a head start on its rival Dnipro. During the two-year construction period, Dnipro airport will be closed, with flights transferred to Zaporizhia, 80 km to the south.
Challenging Ukraine and Russia to bring peace back to the Donbas, Yaroslavsky offered to rebuild Donetsk airport. "The main issue of this forum is the restoration of Donbas," he told 112 TV. "While I was traveling here, I had a concrete proposal to the Ukrainian government: I am ready to invest $100 million in the construction of a new airport in Donetsk. If there are all conditions for the construction of the airport, which was almost completely destroyed, I'm ready to start this project."
From the Editor: President Zelenskiy set his sites high in Mariupol on Tuesday, telling participants that Ukraine could become a turnaround story comparable to South Korea. Meanwhile, across the line of control, the 'Donetsk People's Republic' obligingly plays the role of North Korea. On the same two days as the Mariupol forum, the DNR is holding its own 'Donetsk International Investment Forum, featuring guests from Abkhazia, South Ossetia, Syria and the 'Luhansk People's Republic.' Perhaps fearing a low turnout, the advertisement beckons: 'Free food guaranteed." Best regards Jim Brooke jbrooke@ubn.news