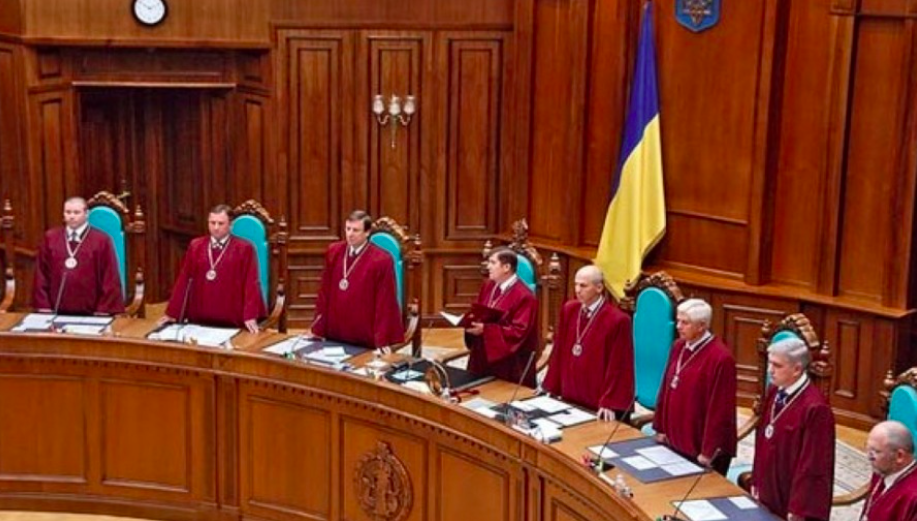 Wednesday, October 28
Courts Move Against Western Reforms...Britain's MI6 Reportedly Tells Zelenskiy His Chief of Staff is a Russian Agent...As Hopes Dwindle For IMF Tranche, Bond Auction Flops...Klitschko Wins on First Round...Farmers Thresh 50 Million Tons
Threatening Ukraine's IMF accord and potentially its visa-free agreement with the EU, Ukraine's Constitutional Court has ruled invalid the law on illegal enrichment and penalties for false declarations of assets and income, Sergii Leshchenko, a former Rada member, wrote last night on Facebook. The Court's move comes as four judges are under investigation for potentially lying on their asset declarations. Earlier this month, in advance of President Zelenskiy's visit to Brussels, several key members of the European Parliament said Ukraine's failure to combat corruption threatens the 2017 visa-free deal.
Separately, the Kyiv District Administrative Court, has ordered the dismissal of a Western-supported anti-corruption investigator that was investigating corruption in the Court. Justice Minister Denys Malyuska responded on Facebook that he would not dismiss the investigator, Artem Sytnyk, head of the National Anti-Corruption Bureau of Ukraine. The Bureau said of the Court ruling. "Its purpose is to block the work of an institution that has exposed large-scale violations and an attempt to usurp power by the Kyiv District Administrative Court's judges…investigations of multi-billion corruption in the Ukrainian government will be blocked."
Concorde Capital's Zenon Zawada writes of the Kyiv Court judge, Pavlo Vovk: "A critical battle is underway in the Zelensky administration that could mark a fatal rift in its relations with the IMF and the West…Not only does Zelensky need to keep Sytnyk in place (even as a mere symbolic gesture towards the West), but now he needs to get rid of Vovk, who is actively working to undermine Ukraine's relations with the West."
Vitaliy Shabunin, head of the Anti-Corruption Action Center, writes on Facebook that the ultimate goal is to cut off Western support for Ukraine: "Who is organizing this? [Zelenskiy Chief of Staff Andriy} Yermak and [Yermak's deputies Oleh] Tatarov and [Andriy] Smyrnov. This trio is responsible for the attack through the Constitutional Court, covering up for the Kyiv Administrative District Court and assaults on the NABU and a lot of other stuff."
Richard Peter Moore, the new head of Britain's MI6 intelligence service, warned President Zelenskiy in a face to face meeting in London earlier this month that his chief of staff, Andriy Yermak, is a Russian agent, reports PolitUA. The news site bases the charge on an extensive interview with Andrei Piontkovsky, the Russian mathematician and dissident living in the US since 2016. One week after Zelenskiy's Oct. 7-8 trip to London, it became public that Moore met with Zelenskiy and warned him about leaks from his office.
Piontkovsky tells PolitUA's Ksenia Kirillova that his knowledge of Yermak's code name and Russian ties comes from his own "insider information from Moscow, from people close to Putin's 'bunker.'" But, Piontkovsy adds, "the actions of Andriy Yermak speak about this much more than any operational pseudonyms. He consistently harms the national interests of Ukraine by fulfilling 'the desires' of Moscow."
Appointed Presidential Aide for Foreign Policy Issues in May 2019, Yermak offered a series of concessions to Russia and Russia-controlled Donbas. These moves were blocked by protests from Ukrainian civil society. On Feb. 11, Zelenskiy promoted Yermak to Head of the Presidential Office. Three weeks later, Zelenskiy purged most of the prominent, Western-oriented cabinet members, including Prime Minister Honcharuk, who previously ran a thinktank funded by EU and Canada. Over the summer, Yermak was seen as behind the purge of Ukraine's central bank, a move contrary to the $5 billion Stand-By Arrangement signed June 9 with the IMF.
With skepticism growing about the IMF accord, the Finance Ministry managed yesterday to sell only 400 million in hryvnia bonds — about 7% of the volumes of the previous two auctions. After consulting with bidders, the seller decided not to put up for auction 6-month and 21-month bonds. After offering 4-year bonds, the seller rejected all six bids, for rates ranging from 11.4% to 12.5% ​​per annum. In the only successful offer, the Ministry sold the equivalent of $14 million worth of 1-year bonds at the previous rate of 10.3%. The seller rejected six bids at rates up to 11%.
State-owned Ukreximbank has offered to buy back up to $300 million its Eurobonds maturing in 2022 and 2025. The bank will use its own money to buy back the bonds in an operation designed to cut debt costs. Goldman Sachs International is the dealer-manager.
Kyiv Mayor Vitaliy Klitschko narrowly won reelection on the first round, eliminating the need for a runoff vote in Kyiv on Nov. 15, Sonya Koshkina, editor of LB.ua reports on Telegram. With 99.5% of the vote tabulated, Klitschko, a former champion boxer, won 50.6%. In voting for City Council, Klitschko's UDAR [Punch] and Maryna Poroshenko's European Solidarity scored 20% each. Other party votes were: Yednist [Unity] – 8.6%; Opposition Platform — For Life – 7.7%; Yulia Tymoshenko's Batkivshchyna – 7.4%; Zelenskiy's Servant of the People – 7.4%; and Holos [Voice] – 5.9%.
Ukraine's farmers have threshed 50.5 million tons of grains and legumes from 12.9 million hectares, or 84% of the projected area, reports the Ministry of Economic Development, Trade and Agriculture. Harvests of the big crops are: sunflower – 11.6 million tons from 92% of the planted land; soybeans – 2.2 million tons from 80% of the land; corn – 14.5 million tons from 56% of the land; and 3.7 million tons of sugar beets dug from 41% of the planted land. Looking ahead, as of Tuesday, farmers have sown  89% of their winter crops, including 91% of winter wheat.
In the first four months of the grain marketing year, Ukraine has exported 15 million tons, down 16% from this time last year, reports the Agriculture Ministry, citing Customs Service statistics. After drought slowed the corn harvest, wheat and barley accounted for 90% of exports. With Black Sea wheat prices strengthening, Ukraine exported 57% of its 17.5 million ton self-imposed annual export quota. Due to poor weather last summer, the National Bank of Ukraine has cut its total grain and legume harvest estimate for 2020 to 67 million tons, down 11% from last year's 75 million tons.
South Korea's Posco International imported last week its first load of 41,000 tons of feed wheat from Posco's new terminal at Mykolaiv. Last year, Posco completed construction in Mykolaiv of its terminal with an annual capacity of 2.5 million tons. At the time, Ju Si-bo, president and CEO of Posco International, said of his company, largely known as a steel maker: "In the face of growing instability in the global grain market, the company seeks to turn the food business into the next engine of growth and create a stable food procurement system to ensure the country's food security." Since then, due to the coronavirus pandemic, 22 countries, have partially or completely stopped exporting food.
Editor's Note: There is a saying that you can push a Ukrainian – until his forehead touches the ground. Then watch out. Having been in and around Ukraine since shortly after the 1990 Revolution on Granite, I sense that patience is wearing thin with the government's double-speak on Ukraine's European path. Pretty speeches in Brussels are can't paper over the methodical purging in Kyiv of Western-oriented reforms and reformers. In Sunday's City Council elections in Kyiv, supporters of those Western reforms won by far the most votes. President Zelenskiy's party came in 6th. Given Ukraine's history over the last 30 years, losing support in the nation's capital and largest city, makes life unpleasant for the nation's president. With Best Regards, Jim Brooke.