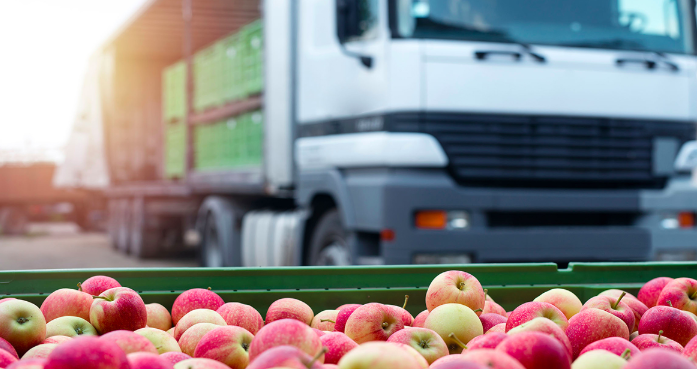 Wednesday, October 23
Food Sales Jump, Now Account for 42% of All Exports...China-EU Freight Trains Cross Ukraine...China Has Edge on Locomotive Sales...Private Freight Trains Coming Down the Tracks...Zaporizhia-Vienna: Low-Cost Air Revolution Spreads to SE Ukraine
Ukraine's food exports jumped 22% through September y-o-y, to $15.6 billion, reports the Club of Agricultural Business Associations. With this jump, food now accounts for 42% of all of Ukraine's exports, up from 37% last year. In 2018, Ukraine exported a record $18.8 billion worth of food. The year, exports are boosted by a 61% jump in sales of corn, most of it from last year's harvest.
As of Monday, the nation's farmers have threshed 59 million tons of grain from ​​13.1 million hectares. The Agriculture Ministry predicts the final harvest will be 71.1 million tons or 1.5% more than last year's record harvest of 70.1 million tons.
Ukraine's Kernel, the world's largest sunflower oil producer and exporter, reports its sunflower seed crushing volume was up 49% July-September y-o-y, to 623,700 tons. Concorde Capital's Andriy Perederey writes: "Kernel boosted its crushing volumes in 1QFY20 due to higher availability of sunflower seeds on the market, caused by a higher harvest this season. The Ukraine average sunflower seed yield was 2.4 t/ha, or 8.5% yoy higher."
China has authorized the import of Ukrainian frozen beef, reports Ukraine's State Service for Food Safety and Consumer Protection. Coincidentally next month, Belarusian Railways plans to start a regular train with refrigerated containers filled with meat from Minsk's Kolyadichi freight terminal to China. Starting last year, Belarusian Railways sends a monthly dairy train to China, largely to Chongqing, Wuhan, and Zhengzhou.
A pilot China-Slovakia freight train through Ukraine is to become weekly in November, reports Ukrzaliznytsia. In late September, Metrans Rail, a private Czech company, ran a 44-container train from Xi'an, China to Danube-Streda, Slovakia. By crossing Ukraine, the train cut 520 km off the standard Belarus-Poland route, says Ukraine's railroad.
China-EU rail freight traffic across Ukraine would jump in the 2020s if Austria builds a 450 km extension to an existing Soviet-era wide gauge track that runs from Chop, Zakarpattia to Košice, Slovakia. The goal is to create an 11,000 km rail corridor capable of moving containers from Vladivostok to Vienna in 15 days. For trains from China, only one gauge change would be needed – either on the China-Kazakhstan border or on the China-Mongolia border.
Austria's Transport Ministry and Austrian Federal Railways, or ÖBB, are applying for permits to build the east-west extension, reports  Zaliznychnye Postachannya news site. The construction cost, including the construction of a rail bridge over the Danube, would be  €6.7 billion, estimates the Center for Transportation Strategies.  The 1520 mm gauge rail extension is designed to carry 16 million tons a year, relieving overloading on EU lines. But the European Commission refuses to fund it. Some analysts say that extending Russia-gauge track into the heart of Central Europe is a security risk.
Rebranding a standard electric locomotive the 'Cossack', China's CRRC Datong seems to have an edge in a multi-billion dollar competition to supply Ukrzalinytsia with up to 500 new electric locomotives in the 2020s. "Chinese partners offer modern locomotives that can significantly improve the situation with the locomotive fleet and bring Ukrzaliznytsia to a higher level of competitiveness," UZ CEO Yevhen Kravtsov said after a meeting in Kyiv last week with executives of CRRC Corporation Limited.
Financing and locomotive production in Ukraine are keys, Infrastructure Minister Vladislav Krikliy stressed at the meeting. "We are interested in creating a joint venture with foreign partners, which will be localized in Ukraine," he said.
CRRC Zhuzhou Locomotive Co., is negotiating the sale of locomotives to Lemtrans, owner of Ukraine's largest private fleet of freight cars. In the coming weeks, Lemtrans executives are to visit CRRC's electric locomotive plant in central China's Hunan Province. In Kyiv last week for Rail Expo 2019, Fu Yanping, CRRC's deputy director for international relations of CRRC, says he also discussed locomotive supply and production with the Association of Ukrainian Rail Carriers, a group of private companies.
Lemtrans, DTEK, Ferrexpo, and Kernel are preparing to run private freight trains as soon as enabling legislation is passed, according to the Center for Transportation Strategies. Dmitry Demidovich, Lemtrans director for the development, says company-owned locomotives would cut in half – to four days — the turn around time for coal trains running 250 km from Aromatna, Dnipropetrovsk Region to Enerhodar power plant in Zaporizhia. DTEK also wants to ship coal to the same power plant. Ferrexpo wants to ship iron pellets to Pivdenii, the Black Sea Port. Kernel wants to ship grain to ports.
Ukrzaliznytsia wants to see the first private freight trains by the end of this year, says Andrei Ryazantsev, the railroad's business development director. "Today the question is no longer: private traction – to be or not to be?," he says. Instead, he tells the Center for Transportation Strategies, the challenge is to adopt and implement effective regulations.
Strengthening Zaporizhia's claim to be the future airport for southeast Ukraine, Wizz Air plans to start service in March from the airport to six EU cities: Budapest, Gdansk, Krakow, Vienna, Vilnius, and Wroclaw. Johan Eidhagen, the discount airline's chief marketing officer, made the announcement in Kyiv on Tuesday, the day the airport's new runway opened. In December, the airport's new terminal is to open, completing a $40 million upgrade.
The new Zaporizhia flights come as SkyUp prepares to start flights to Sharjah on Sunday, to Kyiv-Boryspil on Monday, and to Tel Aviv on Dec. 5. With weekly charter flights scheduled for six destinations next spring, SkyUp plans to base a Boeing at Zaporizhia next summer. Italy's Ernest Airlines is mulling flying to Zaporizhia.
Wizz Air plans to carry 2.4 million passengers on its Ukraine routes — 60% more than in 2018, Eidhagen told reporters. Through September, it has carried 1.8 million passengers – double the number for the first nine months of last year. This year, the Budapest-based carrier flies from four Ukrainian cities – Kyiv Boryspil, Kharkiv, Lviv, and Odesa.
The largest carrier in Central and Eastern Europe, Wizz Air has grown to become the second-largest carrier in Ukraine, sandwiched between two airlines controlled by Ihor Kolomoisky, Ukraine International Airlines, and Wind Rose. In Georgia, Wizz Air jumped from third place last year, to first place this year. Overall, the airline is increasing its payroll by 20% this year, to 12,000 employees, and aims to carry 100 million passengers a year by the end of the 2020s, Eidhagen said.
Heavy fog delayed many flights Monday and Tuesday mornings at Kyiv Boryspil and Kyiv Sikorsky airports.
From the Editor – I am pleased to announce a partnership between the Ukraine Business News and Novoe Vremya, Ukraine's leading business news site. In its three years, 'NV' has established itself as the go-to site for serious, intelligent interviews and factual, ahead of the curve business news coverage. Starting this week, 'NV' is posting the UBN in Ukrainian and Russian. Tell friends and business colleagues who do not want to face English at 6 am! best regards, Jim Brooke jbrooke@ubn.news