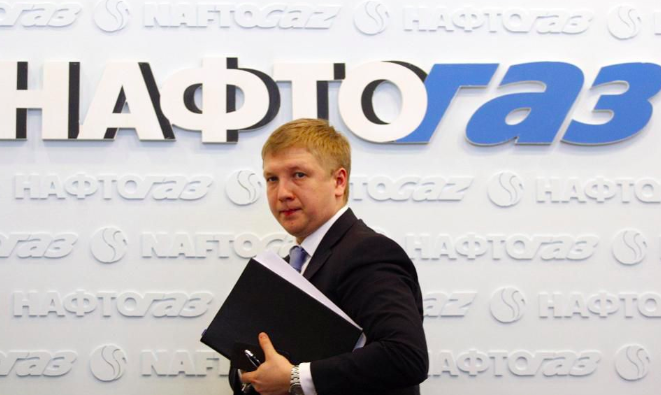 Wednesday, October 21
Naftogaz withdraws $500 Million Eurobond Offer...Hryvnia Bond Rates Rise Before Central Bank Rate Review Tomorrow...'Free Economic Zone' Planned for Donbas...Road Building to Expand Next Year...US Charges Russian Military Hacking Unit With Causing Billions of Dollars in Damages
Naftogaz unexpectedly withdrew its $500 million Eurobond offering Monday night, at the end of the first day of a roadshow organized by Citibank. "International investors are increasingly concerned about the political and economic situation in the country," Peter van Driel, Naftogaz Group CFO, said in an official statement after the placement was postponed.
Van Driel blamed "unproven accusations of the State Audit Office." Two weeks ago, leaks from this office indicated that the state oil and gas company may have failed to pay $2.6 billion in taxes last year. On Friday, the Naftogaz Supervisory Board's Audit and Risk Committee issued a rebuttal. On Monday afternoon, Interfax-Ukraine posted an interview with Oleksiy Liubchenko, head of the state Tax Service. He estimated Naftogaz' unpaid tax bill at $1.2 billion.
Echoing feedback from London and New York, Van Driel said: "Investors also reminded that they are closely monitoring corporate governance reform, as it is a critical factor for the development of investment in the country's economy." On Oct. 12, one week before the roadshow, Amos Hochtein, the lone American on the Supervisory Board, quit. "The company has been forced to spend endless amounts of time combating political pressure and efforts by oligarchs to enrich themselves through questionable transactions," he wrote in a parting blast posted in the Kyiv Post. "[An] indicator that corruption is rearing its ugly head in Ukraine unfolded this week…The old tactic of using prosecutors and auditors for intimidation and retaliation is back."
The morning after the deal was postponed, van Driel was quoted by Interfax-Ukraine saying: "One incident – you can digest two – it's already difficult, [but] when there is a whole sequence of different incidents, the market votes with its own feet…All this bad news influenced the decision of international investors."
Timothy Ash writes from London: "Pretty embarrassing that the Finance Ministry/ Tax Authority seem to be in dispute with a big state-owned enterprise…All this breaking around the time of the planned new issuance was pretty embarrassing."
By raising rates yesterday, the Finance Ministry managed to nearly match the volume of government hryvnia bonds sold at auction, compared to the week before. At this week's auction, investors bought 5.7 billion hryvnia, compared to 6 billion hryvnia last week, the Ministry posted on Facebook. For 3-month bonds, the cutoff rate was raised 100 basis points, to 7.3%. For 1-year bonds, the rate was raised 300 basis points, to 10.3%. In an auction of 1-year dollar denominated bonds, the government sold $53 million at 3.5% the same yield as at the last auction, one month ago. Tomorrow, the National Bank of Ukraine Board is to conduct its regular review of the prime rate, currently 6%.
Today, 120 Rada members from the ruling Servant of the People party travel to the front line areas of Donetsk and Luhansk, an effort by President Zelenskiy to galvanize political support for his proposal to create a "free economic zone" in the Ukraine-controlled Donbas. Addressing the Rada yesterday, Zelenskiy said: "We need the Strategy of economic development of the Donetsk and Luhansk regions, which will include tax and customs preferences, insurance of military-political risks for investors, arbitration according to international standards. Work on it has already begun."
Only one third of Ukrainians back a "free economic zone" in the Donbas, according to a nationwide poll completed Monday by the Kyiv International Institute of Sociology. One third of the 505 respondents said they did not know what such a zone would be. Others may have memories an earlier experiment in the Donbas during the Yanukovych years, an effort that resulted in widespread tax evasion and smuggling. In the new poll, the biggest support was in Ukraine's east – 46%.
To make Ukraine more attractive to Ukrainians living in the Russia-controlled areas, Zelenskiy said the government is building "convenient, modern checkpoints" at the lines of control. He added: "We are fighting for the youth in these territories, for their intelligence. Starting from this year, children from Crimea and [occupied Donbas] can go to all higher education institutions in Ukraine and study here for free."
Ukraine's daily number of new coronavirus infections may rise to 8,000-10,000 a day in November, Ukrainian health minister Maksym Stepanov warned yesterday. On Monday, President Zelenskiy said he would have to impose a strict quarantine if daily numbers go over 9,500. The current average is near 6,000. Yesterday, Zelenskiy blamed local officials who "sabotage government decisions and conduct concerts for thousands of people on City Day." Looking ahead to local elections this Sunday, added: "Be aware that there may be more votes for you in your region. But the number of sick and dead will be your fault."
To help the economy recover from Covid, Zelenskiy favors a tax amnesty and new taxes on capital withdrawals from Ukraine. He told the Rada: "It is time to put an end to this issue — and I am ready to do it."
Ukraine will spend a record $5.5 billion repairing and rebuilding 7,000 km of roads next year – a 17% increase in kilometers and money over this year, the Finance Ministry reports on Facebook. The goal is to create a network of four lane divided highways connecting all 24 regional centers," says Alex Tava, deputy Finance Minister. He said: "This will allow you to safely move at a speed of 130 km/h on highways." Zelenskiy told the Rada yesterday: "We are stitching Ukraine together…with roads and bridges."
The US Justice Department charged six Russian military intelligence officers Monday of conducting a hacking campaign that caused billions of dollars in damages over the last five years, including shutting down parts of Ukraine's electricity grid. In the Ukraine power cuts, the Russians shut down electricity for several hours on Dec. 23, 2015 in Western Ukraine and one year later, for one hour in Kyiv. The biggest damage was the NotPetya attack of June 2017. The New York Times reports: "It was originally aimed at Ukraine but quickly boomeranged around the world, paralyzing some of the biggest corporations in Europe and the United States at an estimated total cost of $10 billion."
Prosecutors said the suspects worked for Unit 74455 of the Russian intelligence Main Directorate, commonly referred to as the G.R.U. Accompanying the 50-page indictment, the American prosecutors distributed an FBI 'Wanted' poster with photos of the six men. The men are unlikely to leave Russia.
Editor's Note: By 2025, Ukraine is to become a big Estonia. That's the digital vision, President Zelenskiy outlined to the Rada yesterday. "Already 26 million Ukrainians use the Diya app. Digital driver's license, vehicle registration certificate, passport – all in the smartphone…Register your business in 15 minutes without leaving your computer…Young parents can use the eMalyatko [e-Baby] service and receive services through one app at the maternity hospital or online. And this is just the beginning of the road to a digital state. 2021 will be the beginning of the country entering paperless mode. No state institution will demand from Ukrainians any certificates, orders or other papers to obtain public services. Our goal for the coming years is 100% online public services. And in the next presidential elections, citizens should be able to vote online if they wish. A digital country is not only convenient. This is a country where bureaucracy and corruption will become atypical." With Best Regards, Jim Brooke.