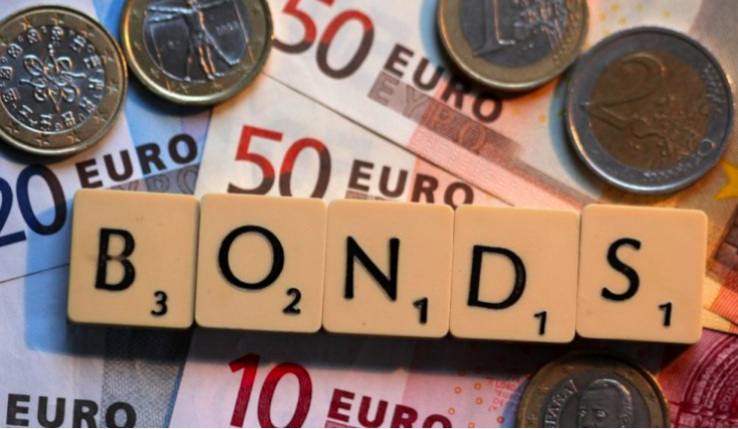 Metinvest, the steel and mining giant, has placed $500 million worth of 10-year Eurobonds at 7.95% per annum and €300 worth of 5-year Eurobonds at 5.75% per annum, reports Interfax-Ukraine. Total demand was $1.1 billion for the equivalent of $828 million of bonds. Before a weeklong international roadshow that ended Friday, Metinvest said: "The purpose of the offer is proactive management of debt repayment, an extension of debt repayment terms and reduction of refinancing risks."
The Finance Ministry aims to upgrade Ukraine's credit rating from 'B' or 'speculative' to 'A-' or 'investment grade' by 2024, according to the government's 5-year program posted on rada.gov.ua. The Ministry promises to introduce an agency for state debt management, make state debt paper more liquid, reduce the foreign currency portion of state debt to 50% (from 66% today) and cut the state debt to GDP ratio to 40% (from 58% today).
In a morale boost for the central bank, Ukraine's President, Prime Minister and Ministers of Economy and Finance visited the National Bank of Ukraine on Tuesday, drawing applause from staffers. Two weeks ago, the bank denounced attacks on former bank governor Valeria Gontareva as 'terror.' Zelenskiy did not address the attacks, but said: "The National Bank of Ukraine was, is and will be independent – we stand for this."
By launching a farmland market one year from now, agricultural productivity will increase by 6% a year, according to estimates by the new Ministry of Economic Development, Trade and Agriculture. Over five years, farmland rents will more than double, rising from UAH 1,700 per hectare today to UAH 4,000 in 2024.
Reflecting strong demand for Ukrainian farmland, bidders paid $435,277 for land leases on Monday, almost four times the initial asking amounts, reports Ukrinform. For SETAM, the government electronic auction platform, it was record amount of bidding for one day. Designed to start setting market prices for land, open auctions started one year ago.
Declaring a 'jihad' on corruption in the Black Sea ports, the new Infrastructure Minister Vladislav Krikliy, fired on Tuesday three Odesa region port directors – Odesa, Chornomorsk, and Belgorod-Dnistr. He charged ed that Viktor Voitko, Odesa city port director, earned one of Ukraine's highest state company salaries — $216,000 a year – while presiding over plummeting revenues. Founded in 1794, the "Pearl of the Black Sea" has been tarnished by corruption in the post-Soviet era, falling this year to fourth place in trade volumes for Ukraine's ports.
About 170 representatives of 46 foreign and Ukrainian companies attended a high-level information session on Ukraine's first sea port concessions: for Olbia and Kherson ports. Infrastructure Minister Krikliy predicted in Odesa on Tuesday that these two pilot concession projects will be "the basis for creating a conceptually new approach" to public-private partnerships in Ukraine in the 2020s.
Nova Poshta, the delivery company, says it will record the second year of 20% growth in 2019, hitting 200 million parcels delivered to 8 million customers. To reach this goal, the company is expanding its offices this year to 6,200, half of them in villages. Nova Poshta is halfway through a 2-year to build six high-speed sorting centers. On Sept. 20, a $10 million sorting center was opened in Lviv. Equipped with Dutch Vanderlande machinery, the Lviv center can sort 250 parcels a minute.
"Next Morning" is Nova Poshta's planned service to offer overnight deliveries for packages sent among Ukraine's 500 cities. On Sept. 5, Nova Poshta started nightly cargo flights between Lviv and Dnipro. Carrying parcels with a maximum weight of 1 kilo, the flights are performed by Eleron, using cargo versions of An-24 turboprop planes. Alexander Bulba, director of Nova Poshta, says: "Our task is to connect all the cities of Ukraine, there are about 500 of them, within a day." For Kyiv, Nova Poshta is talking with Boryspil and Sikorsky (Zhuliany), but is considering creating a cargo hub at another airport in the region.
To bring financial services to the 'un-banked' portion of Ukraine's population, Ukrposhta, the state postal company, has installed Verifone terminals for cashless payments to 5,000 post offices – all settlements with populations over 2,000. The next step for Verifone, a California-based company, will be to allow cash withdrawals from the terminals. The goal is to "bring Ukrainians closer to financial services and basic financial services," said Igor Smelyansky, CEO of Ukrposhta, the state postal company. He said only two-thirds of Ukrainians live near bank branches, while access to post offices is universal.
The central bank has started printing 1,000 hryvnia notes for release on Oct. 25. Currently, worth $42, the banknote features Volodymyr Vernadsky, a Ukrainian philosopher, naturalist and the founder of the Ukrainian Academy of Science in 1918. The last banknote denomination to be introduced was the 500 hryvnia bill, introduced in 2006. On the low end, 1, 2 and 5  kopiyka coins stopped being valid for cash settlements on Tuesday. They will be withdrawn and melted down for scrap.
Radisson Blu Hotel inaugurated Tuesday an €8 million renovation of its 255 rooms, receptions and lobby bar. The first makeover since Radisson opened in 2015 comes as the hotel has had "one of our best Septembers ever," says Jesper Henriksen, Kyiv director for Radisson Hotel Group. Karl-Maria Pfeffer, CEO of the building owner, Vienna-based Raiffeisen Property International, said low airfares is making Kyiv a popular European travel destination.
With discount air travel to Kyiv booming, Monotel the "first network of futuristic capsule hotels in Ukraine" has opened two capsule hotels in Kyiv's historic center – at Taras Shevchenko Boulevard, 9/28, near the Premier Palace,  and at Bogdan Khmelnitskogo Street, 58a, near the City Hotel.  With prices starting at $42 a night, each hotel has male and female capsules, capsules for couples, 24-hour reception, separate women's and men's showers, laundry, personal lockers, Wi-Fi and charging for gadgets. Breakfast is $6.
US actor Tom Cruise met Zelenskiy Tuesday, giving a boost to the Ukrainian actor president's effort to promote Ukraine as a film making destination. Zelenskiy told Cruise that the Rada recently passed a law to give tax incentives to foreign companies to film here. Cruise said he is scouting locations: "We're looking, we're seeing, we're very excited about it."
From the Editor: Were you forwarded this email? Sign up for your own daily delivery at ubn.news/subscribe. Ukraine Business News is sent as an email every weekday morning before 6:00 a.m. Kyiv time. Tell your friends! Best regards Jim Brooke – jbrooke@ubn.news