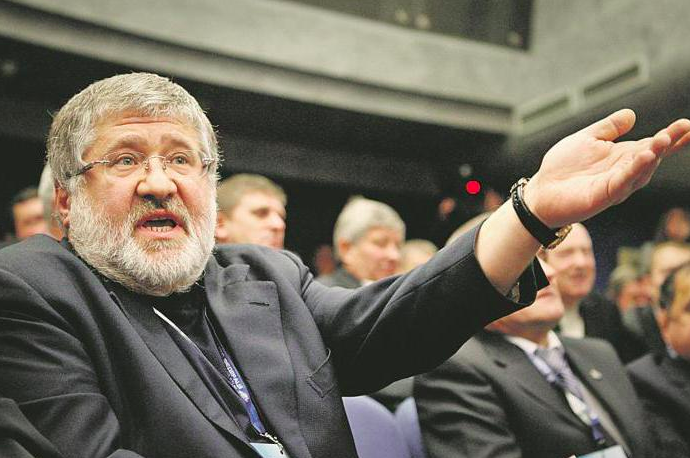 Wednesday, October 16
London Court Whacks Kolomoisky...Econ Minister: 90% of State Companies Should be Sold...Low Inflation to Trigger Interest Rate Cut Next Week...Ryanair Aims to Expand Ukraine Routes by 72%...From Kherson: first Ryanair, then Rockets?
In a case closely watched by the IMF and Western investors, a London appeals court gave the green light Tuesday to Ukraine's government to sue Igor Kolomoisky and his main business partner for $3 billion. Kolomoisky is appealing the decision of the Court of Appeal in London and Wales. But, lawyers say the U.K. Supreme Court rarely overturns decisions of the Appeals court. Without setting a trial date, the Appeals court told Kolomoisky and his business partner, Gennadiy Boholyubov, to prepare their defense by the end of next month.
Appeals Court Justice Fancourt also reinstated a worldwide freeze on $2.6 billion in the pair's assets. PrivatBank, under government control since Dec. 2016, charges that the tycoons misappropriated funds by funneling loans through firms they controlled including three companies in the U.K.
"There is no difficulty with the Bank's proving a good arguable case of a fraudulent scheme," Justice Timothy Fancourt wrote in his 74-page ruling."While it is not part of my function at this stage to make final factual findings about the scheme, the evidence is nevertheless strongly indicative of an elaborate fraud perpetrated by someone, allied to an attempt to conceal from any auditor or regulator the existence of bad debts on the Bank's books, and money laundering on a vast scale."
The new management of PrivatBank also is suing Kolomoisky and Boholyubov in Cyprus and in Delaware. "For the former owners, going to a foreign court is very risky," Peter Krumhansl, a Czech who chairs PrivatBank's board since 2018, tells NV Business. "A foreign court is usually independent and makes decisions in accordance with the law. This is likely to be a decision not in their favor. Therefore, they prefer to go to the Ukrainian courts, where more than 400 cases are pending today. On the contrary, we go to foreign jurisdictions."
Over the last six months, Ukrainian judges have ruled in favor of Kolomoisky, one of Ukraine's richest men. A Kyiv Economic Court judge has repeatedly postponed a ruling the legality of the privatization and may be waiting for the end of the IMF annual meeting in Washington this week. On Friday, the Kyiv Post reported that two defense lawyers say the judge in Kyiv's Economic Court, Liudmila Shkurdova, "is biased in favor of the billionaire oligarch." In 2017, the IMF supported the injection of $5.5 billion to save PrivatBank, the nation's largest bank. Now, IMF makes clear that a return of the bank to Kolomoisky would kill prospects of IMF aid.
Seven top Ukrainian officials are in Washington this week to argue Ukraine's case for an IMF program at the annual joint meeting of the IMF and World Bank. The team includes National Bank Governor Yakiv Smoliy, Finance Minister Oksana Markarova, and Timofei Milovanov,  Minister of Economic Development, Trade and Agriculture. Last month, an IMF team spent two weeks in Kyiv but was unable to reach a staff-level agreement due to the possibility of a return of PrivatBank to Kolomoisky.
More than 90% of Ukraine's 3,643 state companies should be privatized, Economy Minister Milovanov writes on Facebook. Of the total, only 200 to 300 should be kept under state control. Of the rest, one third should be declared bankrupt. The rest should be sold as potentially viable companies. Tomorrow morning, Milovanov speaks in Washington at the office of the BGR group at a roundtable sponsored by the US-Ukraine Business Council. To attend, contact USUBC president Morgan Williams: mwilliams@usubc.org.
The IMF forecasts Ukraine's GDP will grow by 3% this year and by 3% next year. By comparison, of the 27 nations of the IMF's 'Advanced Europe' area, only two are to grow more than 3% in 2020: Ireland — 3.5%; and Malta – 4.3%. In the 10 nations of 'Emerging and Developing Europe,' Ukraine would be in 4th place — behind Serbia — 4%; Romania –3.5%; Hungary — 3.3%; and Bulgaria –3 .2%.
Lower inflation in September is expected to prompt the central bank to cut the prime rate next week. In September, the consumer price index increased by .07%, month over month – less than half the 1.9% increase one year earlier. With inflation expected to end the year at 7-7.5%, 13 out of 15 economists polled by Reuters predict a rate cut by the Oct. 24 meeting of the National Bank of Ukraine board. While most economists predict a half a percentage point cut, Oleksiy Blinov of Alfa-Ukraine predicts a full percentage point cut, bringing prime to 15.5%.
Despite low demand, the Finance Ministry managed to slightly reduce yields on short term government bonds auctioned Tuesday. The government sold the dollar equivalent of $46 million in bonds, barely half the volume sold last week, then largely for 3-year bonds. The new rates are 3-month bonds – 15.35%; 12-month bonds – 15%; and 2-year bonds – 15.1%. Last week, the National Bank of Ukraine resumed buying hard currency, buying $134.5 million. Since the start of the year, central bank purchased almost $3.9 billion.
Ryanair, Europe's largest airline, plans to carry one third more passengers on its Ukraine routes next year, hitting 2.1 million. To reach this goal, the discount airline plans to increase its routes by 72%, adding 18 routes to its current 25. Aimed at migrant workers, most of the new flights will go to Poland and Germany. In two weeks, Ryanair starts flights from Kharkiv to Poznan and Vilnius. From Ukraine, Ryanair flies from Kyiv Boryspil, Kharkiv, Lviv and Odesa.
On Dec. 21, Ryanair starts service from Kherson, its fifth airport in Ukraine. Ryanair will fly two times a week to Krakow, Poland, David O'Brien, the airline's commercial director, said Tuesday on a visit to Kiev. Kherson is Ukraine's eight busiest airport, but aviation executives say the airport can triple its passenger catchment population by attracting travelers from Crimea. Most of Crimea's 2.2 million people live about three hours by car from Kherson. Due to sanctions, Crimea's Simferopol airport only has flights to Russia.
To boost domestic aviation in Ukraine, Europe's largest nation, the government plans to introduce a bill to abolish value-added tax on domestic flights by the end of this year, Infrastructure Minister Vladislav Krykliy said at a press conference with O'Brien. The VAT tax artificially suppresses domestic air travel, complains airline executives. There is no VAT on international tickets.
Space Logistics Ukraine, a Dnipro-based group, is studying building a $50 million rocket launching 'spaceport' in southern Ukraine, probably Kherson, group founder Dmitriy Legeza, tells Liga.net. Two weeks ago, the Rada easily approved a law abolishing state licensing for space activities and introducing licensing for testing, launch, navigation and return of spacecraft. During the Soviet era, much of the brains and factories for the Soviet rocket industry were located in Dnipro, then a closed city.
From the Editor: I returned to Kyiv yesterday morning after a week of meetings with New York bond investors and family reunions. Bond investors feel the bloom is off the Ukrainian rose – the GDP-linked warrants have had their big runup, bond yields are falling, and PrivatBank/Kolomoisky clouds an IMF deal. On the upside, the Trump-Biden gladiating is causing many Americans to focus seriously on Ukraine. On Thursday night, I gave a talk — 'Ukraine, the Country, Not the Scandal' — to a sellout dinner gathering of intellectuals in the Berkshires (photo). Interest was high. Questions were smart. Best regards Jim Brooke jbrooke@ubn.news.