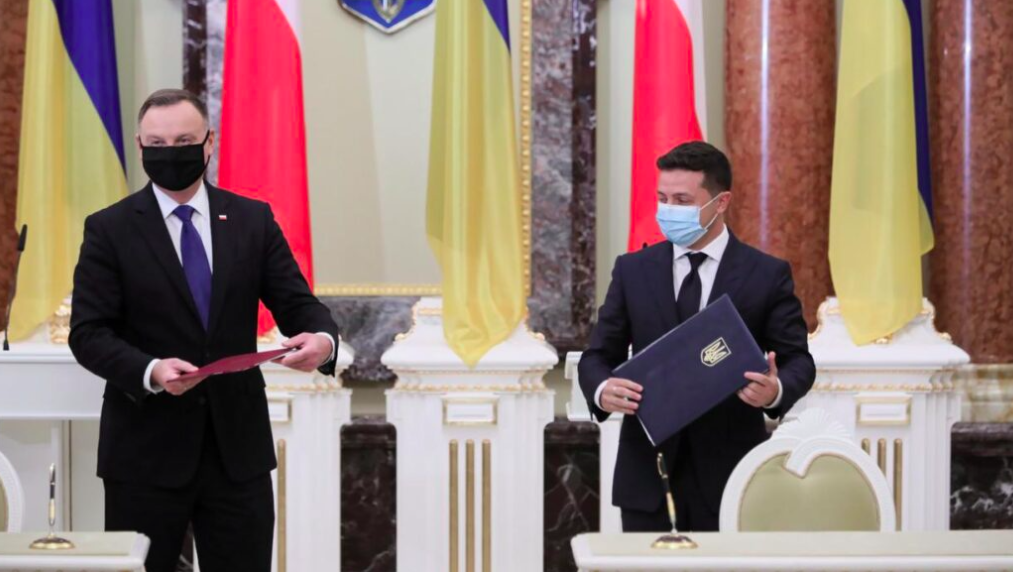 Wednesday, October 14
Poland Backs Black Sea to Baltic Sea Cargo Shortcut...More Chinese Container Trains Cross Ukraine for Central Europe...Cabinet Extends Corona Quarantine Through Christmas...As Kyiv Hospitals Fill Up, Ze Tells Klitschko to Put Beds in Sports Palace...UIA Announces Reduced Winter Flight Schedule
Fresh from winning reelection last July, Polish President Andrzej Duda came to Odesa yesterday and spun a vision of a Gdańsk to Odesa transportation corridor, a highway shortcut that would speed container traffic in the 2020s between the Baltic and the Black Sea. "This new transport corridor between Poland and Ukraine..[will have] the potential to transport goods from Western Europe, Scandinavia, Turkey and East Asia," he said at the Ukrainian-Polish Economic Forum.
Instead of 18 days by boat, containers would move between Odesa and Gdańsk in 18 hours by truck. The highway distance is 1,570 km. By contrast the shipping distance, through the Strait of Gibraltar, is 8,000 km. Ukrainian officials say they already are rebuilding the 60% of the Gdańsk-Odesa 'GO Highway' that is in Ukraine. Infrastructure Minister Vladyslav Krikliy says $175 million is being spent this year to rebuild 100 km. Next year, work starts on rebuilding the 300 km of the GO Highway north of Odesa, largely funded by €900 million loaned by the EBRD and the European Investment Bank.
"We'll be supporting Ukraine's ambitions in its development as a logistics transit country in Eastern Europe," said Duda, whose term in office runs through 2025. A modern highway with a smooth border crossing would draw container cargo from Central Asia, the Caucasus, and Turkey. "I am convinced that Ukrainian sea and land terminals can present to customers an attractive offer for the transportation of goods," said the Polish president. He came to Odesa with Poland's Infrastructure Minister Andrzej Adamczyk and  Gdańsk Seaport Authority Chairman Alexander Golodnitsky.
Ukrainian officials focused on mechanics: winning more truck transit permits from Poland, creating customs zones designed to speed clearances of trucks crossing the border, and expansion of a EU4Digital pilot program where selected Ukrainian and Polish companies electronically exchange invoices through the Peppol eDelivery network.
Last week, the 10,000th China-Europe container train passed through the Xinjiang border terminal with Kazakhstan. From January to September, 3,243 China-Europe container trains passed through Xinjiang, a 32% increase over the same period last year. Most roll through Belarus, entering the EU at the Polish border.
Two Central European rail companies plan to increase their China-EU trains through Ukraine to once a week. Rail Cargo Group, a subsidiary of Austrian Federal Railways, ÖBB, says its new route through Ukraine is the fastest way to deliver containers from China to Central and Southeastern Europe. Similarly, Martin Kubeck, business development director of Metrans, a Czech company, says the Ukraine route is now the fastest to Central Europe. This is partly due to geography and partly due to congestion at the rail gauge break at the Poland-Belarus border.
With Chinese shipping demand strong for the weekly China-Kyiv freight train, Ukrzaliznytsia predicts the train will soon increase by 50%, to 64 containers. "We are planning to establish a return flow of goods to China," Alexander Polishchuk, UZ executive, tells the Center for Transportation Strategies. "Customers in Ukraine still do not know about this service." It costs about $3,000 to ship a 40-foot container from Ukraine to China, generally an 18-day trip.
With new coronavirus infections averaging 5,000 a day, the Cabinet met in extraordinary session yesterday and decided to extend the "adaptive" quarantine through Dec. 31. University students are to vacate dormitories, go home, and switch to remote learning for one month. Elementary and high schools start their traditional fall break early, returning Oct. 30.  In Kyiv, gyms are to close and restaurants to stop serving after 10 pm. With the exception of last night's Spain-Ukraine football match at Kyiv's Olimpiyskiy Stadium, sporting events are to take place without spectators.
In Kyiv, there are now 2,730 beds in 22 hospitals dedicated to treating Covid patients, Mayor Klitschko told reporters yesterday. Despite this increase, the occupancy rate of Covid beds is around 70%. Nationwide, 66% of 52,000 corona unit beds are occupied. On Monday President Zelenskiy told Klitschko to prepare the Sports Palace for overflow patients. In response, the Mayor said state medical facilities should open their 11,000 beds in Kyiv to city residents.
Corona Updates:
Contributing to Ukraine's 1-7 football loss to France in Paris one week ago, Ukraine's top three goalkeepers were sidelined by coronavirus, leaving the task of defending the net to retired goalkeeper Oleksandr Shovkovskiy, now 45 years old.
1,800 police officers were infected last week with Covid, Interior Minister Arsen Avakov told the Cabinet yesterday.
In Russia-controlled Crimea there are 6,806 Covid cases, including 1,253 in the port city of Sevastopol, the Crimean Human Rights Group reported Friday on Facebook. In the Russia-controlled portions of Luhansk and Donetsk, the situation is "critical," Pavlo Lysianskiy, Ukraine's Human Rights Commissioner for the two areas, wrote Saturday on Facebook.
Stanytsia Luhanska, the only crossing between the Russia-controlled and Ukraine-controlled portions of Luhansk region will be closed through Oct. 31 for quarantine control reasons.
Former President Poroshenko has recovered from coronavirus and returns to work today, he writes on Facebook.
Evghen Dykhne, president of Ukraine International Airlines, is recovering from a 9-day battle with coronavirus. This included almost one week in Kyiv's Alexander Clinical Hospital, he writes on Facebook from self-isolation.
The Dean of the Geography Faculty of Kyiv's Taras Shevchenko National University died last week of Covid.
Concorde Capital's Zenon Zawada writes: "These are setbacks – hurting the country economically for the year's remainder – that essentially nullify the success achieved by the Zelensky administration in the first months of the virus."
Ukraine GDP drop through August eased to 5.8% yoy, down from 6.2% yoy through July, estimates the Economic Development Ministry.
Concorde Capital's Evgeniya Akhtyrko: The economic decline is halting rather quickly amid high consumer demand reflected by retail trade growth and accelerated renewal in construction, which has been prompted by government spending in road building.
UIA has announced a reduced winter schedule. It will be in effect from Oct. 25 to the end of March. Domestic destinations from Kyiv Boryspil are reduced to Kharkiv, Lviv and Odesa. UIA will fly to 18 foreign airports, largely in Europe and the Caucuses. Frequencies are reduced and there are no longhaul flights to Asia or North America.
Through September, Ukraine's air traffic was down 63% yoy, hitting 6.9 million passengers. Traffic at Kyiv Sikorsky was down 70%, to 601,000 passengers. Traffic at Lviv was down 58%, to 703,000.
Holiday alert: Please note today is a day off in Ukraine – the Defenders of Ukraine holiday. Instituted by President Poroshenko in 2014, after the Russia-Ukraine war broke out, the holiday replaces the old Soviet Defenders of the Fatherland Day, celebrated Feb. 23.
Editor's Note: The key to understanding the importance of Duda's visit to Ukraine is to know that he won reelection three months ago. Now Poland's President is firm in the saddle until 2025. In the lead up to a very tight race, Duda was careful not to antagonize Poland's powerful, conservative trucking companies. Over the last two years, Duda's government repeatedly stiffed Ukraine on needed trucking permits. The artificial shortage became so acute that Ukraine complained to the EU that Poland was restraining free trade. Poland's strategy was unique: by squeezing permits, Warsaw essentially forced Ukrainian truck drivers to emigrate to Poland and drive for Poland's labor short trucking companies. Now, with election in the rearview mirror, Warsaw should give Kyiv the permits needed for cross border trade to flow normally. With Best Regards, Jim Brooke