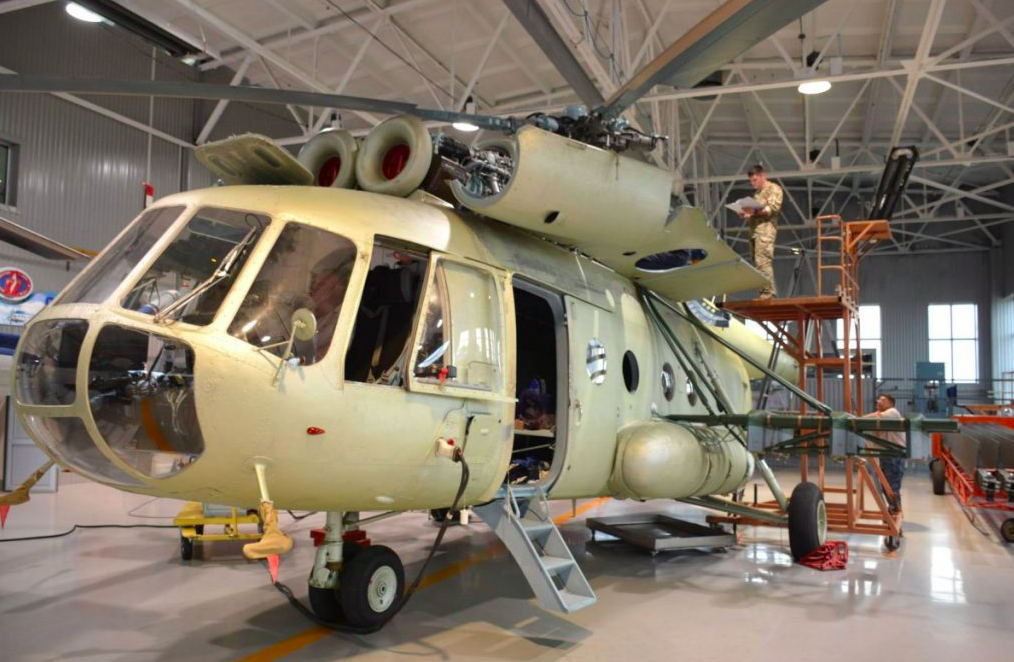 Erik Prince, the former owner of Blackwater security and adviser to President Trump, is in discussions to purchase Motor Sich to block China from winning control of the helicopter engine manufacturer, reports The Wall Street Journal, citing unnamed American officials. Two weeks ago, Prince visited the Motor Sich main plant in Zaporizhia, the latest of at least nine trips to Ukraine in the last five years, the Journal reports.
In late August, then-national security adviser John Bolton complained in Kyiv about the impending sale. In late September, acting US Ambassador Bill Taylor, and Donald Winter, Trump's advisor to UkrOboronProm, visited the Zaporizhia plant. On Oct. 3, an inter-Agency meeting was held in Arlington, Virginia with US defense contractors to discuss defense sector opportunities in Ukraine, including Motor Sich, the Journal reports from Kyiv.
Interfax-Ukraine reports the Chinese purchase of Motor Sich was agreed on June 19, pending approval by the Antimonopoly Committee of Ukraine. For the first nine months of this year, Motor Sich lost $22 million on revenues of $255 million.
France's Airbus Helicopters will set up a pilot training and maintenance center next month in Kremenchuk, reports Ukraine's Internal Affairs Ministry. The center, coupled with a new representative office in Kyiv, is part of the agreement signed last year for the ministry to buy 55 helicopters. Airbus has already supplied at least four helicopters and 10 more are to be delivered next year.
The Internal Affairs Ministry plans to buy 13 Ukrainian-made An-178 airplanes for use by the National Guard and the State Emergencies Service. "These are the first aircraft with Ukrainian and European parts, but without Russian components," Minister Arsen Avakov said of Antonov's new short-range, medium-airlift military transports
UIA would buy Ukrainian-made regional jets, if they were mass-produced, Aron Mayberg, head of the supervisory board and co-owner of the airline, tells Mind.ua. Asked about Antonov's planned production line, he said: "We really need a mid-range aircraft with a capacity of 70–100 seats, If Ukraine made such a successful aircraft, we would buy it."
In shadowboxing ahead of new gas transit talks this month, Kremlin press secretary Dmitry Peskov said a new 10-year contract is "virtually impossible" if Ukraine insists that Russia pay a $3 billion Stockholm arbitration award. In retort, Ukraine's Energy Minister, Oleksiy Orzhel said Monday night on ICTV's Freedom of Speech program: "We are ready to stop [gas] transportation in the Ukrainian territory…Now, in Ukrainian gas storage facilities, we have a record amount of gas…We cannot be blackmailed." On Tuesday, he struck a more conciliatory note, telling reporters in Kyiv that a deal could be reached by the end of next month.
In response to a Wall Street Journal article from Washington saying that IMF talks with Ukraine are 'stalled' over PrivatBank, Prime Minister Oleksiy Honcharuk told reporters Tuesday: "Negotiations and work are ongoing. We are on the phone daily with our [IMF] colleagues." At the same briefing, Finance Minister Oksana Markarova, a veteran of earlier talks with the IMF, said: "It's moving very constructively, faster, for example, than it was last year, faster than it was three years ago when we discussed the program."
Concorde Capital's Alexander Paraschiy writes: "The issue of Privatbank is definitely important, but we expect that this time it won't be critical for signing a new IMF program, as soon as Kyiv continues to assure the public it is doing all its best to resolve the issue to the government's benefit. All in all, we expect the new IMF program will be agreed upon by the end of 2019 and Ukraine will be able to get the initial tranche in late 2019 or early 2020."
Naftogaz is placing $500 million worth of 7-year Eurobonds at 7.625%, 127 basis points above the sovereign curve. This November placement is 23 basis points lower than the state energy company's two placements in July. Demand outstripped supply 2.9 times, reports the company. The sole organizer of the placement is Citi. Fitch has assigned Naftogaz a long-term credit rating of B with a positive outlook.
Concorde Capital's Alexander Paraschiy writes: "The deal is a real success. Even with the placement of the new Eurobond, Naftogaz's leverage remains solid: its total debt to LTM EBITDA is just 0.8x, based on its latest financial results and the current exchange rate. We continue to believe NAFTO Eurobonds bear the same risk as sovereign paper.
Strong demand allowed the Finance Ministry to keep squeezing yields in its weekly Tuesday auction of hryvnia treasury bonds. With 4-year bonds on offer for the first time since May, demand outstripped supply by a factor of five. The placement rate was 13.38% for the equivalent of $100 million in bonds. Selling the equivalent of $20 million in 1-year bonds, the Ministry compressed the yields to 14%, from 14.3% last week. Selling $12 million in 3-month hryvnia bonds, the Ministry compressed yields by one percentage point, to 14.35%, from 15.35% last week.
The Cabinet submitted to the Rada Tuesday a conservative budget for 2020 with a deficit of 2.09% of GDP. Previously, this figure was 2.28% in 2019 and 2.4% in 2018. Finance Minister Markarova told reporters: "The deficit of 2% of GDP is the same as we submitted for the first reading. The revenue side increased by 13 billion UAH [$520 million], the expenditure side – by 15 billion UAH [$600 million]." For new revenue, the draft budget allows for $120 million from legalized gambling and $240 million in from privatizations of state companies and sales of state properties.
Believing infrastructure spending is a great economic multiplier, the government increases spending in 2020. In the draft budget, road spending increases by 35%, to $3 billion; road safety spending doubles, to $127 million; and airport runway construction increases five-fold to $43 million. Additionally, there will be $20 million for bridges and $5 million for shipping locks. This core Ukraine government spending is to be greatly increased by soft loans from foreign donors and public-private concessions.
In a bad sign for renewables, Ukrenergo, for the first time, did not use the full amount of power produced Monday night by three DTEK wind power plants: Botievska, Orlivska and Prymorska 1. Andriy Gerus, head of the Rada Energy Committee and an opponent of renewable energy tariffs, said that Ukrenergo will pay for the unused electricity undercurrent 'take or pay' system. and Housing and Public Utilities. He said the money will come from nuclear and large scale hydro. The sponsor of a bill to end 'take or pay' for renewable projects over 150 MW, Gerus warns on Facebook: "The problem is growing, and in the spring it will become large-scale."
From the Editor: With 50,000 Ukrainians now building parts for Germany car manufacturers, Ukraine's automotive sector is taking a new turn. There is a talk about the Chinese production of lithium car batteries in Ukraine. Check out the Ukrainian Automotive Forum tomorrow morning at the Premier Palace. The UBN is a media sponsor! Best regards Jim Brooke jbrooke@ubn.news