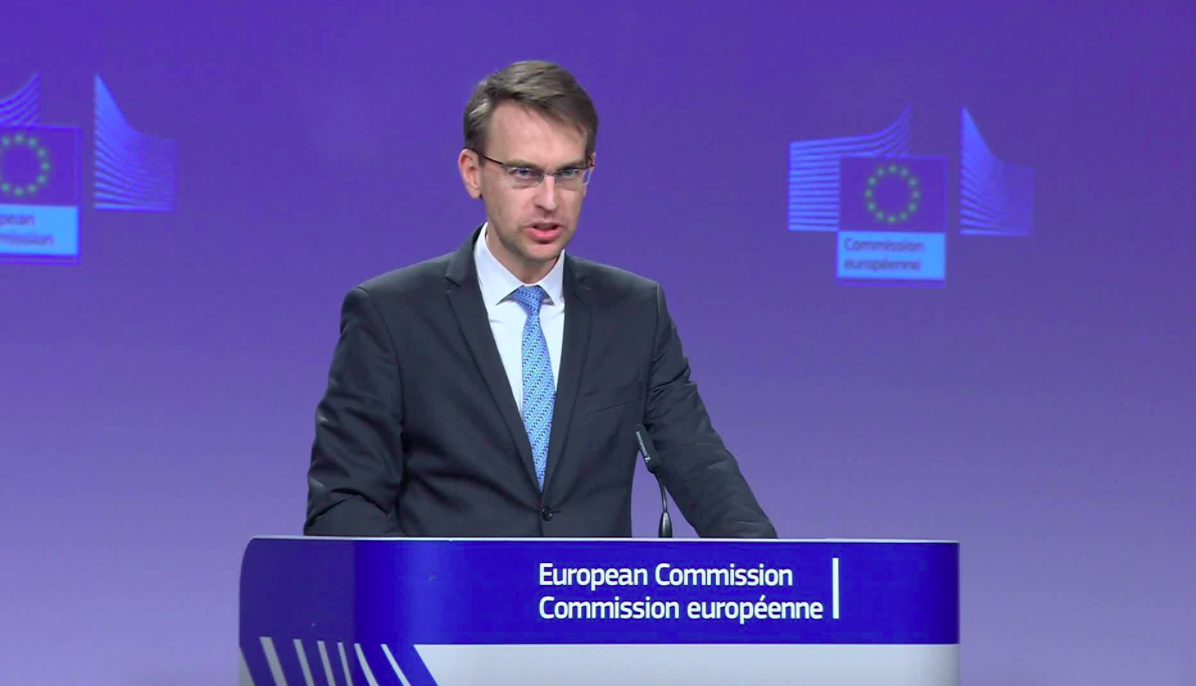 Wednesday, November 4
EU Warns: Court Rulings Threaten Aid and Visa-Free...Solutions for Court: Purge, Resignations, or Curbs by Rada...Climate Change Benefit? Year Round Shipping on Dnipro...Exports and Migrant Worker Remittances Recover from Corona Controls
Constitutional Court rulings to destroy Ukraine's anti-corruption agencies threaten EU aid and the visa-free regime for Ukrainians to visit the EU, Peter Stano, the EU's foreign affairs spokesman, warned yesterday. Alluding to recent court rulings to block Western-inspired and funded anti-corruption units, the spokesman said: "The fight against corruption is one of the key benchmarks and commitments that Ukraine has taken in the framework of the Association Agreement, the recently agreed Macro-Financial Assistance program between the EU and Ukraine and the visa liberalization process."
With no resolution in sight, Adamant Capital concludes there will be no more IMF aid this year.  "Such a rollback also means that the country no longer fulfills the necessary requirements to continue receiving support from the IMF and other IFIs," the Kyiv-based financial firm wrote last night of the $5 billion Stand-By Arrangement signed last June with the IMF. "The probability of Ukraine receiving donor support his year is quickly becoming very slim."
With 15 serving members, the Constitutional Court ruled since August to freeze several anti-corruption agencies. Now, the Court says it will review: Ukraine's fledgling farm land market; the law that allowed the closing of 100 banks in 2015-2016; Ukraine's language law; and the one-year-old High Anti-Corruption Court.
Reflecting growing polarization, the Court increasingly is seen as an agent of Kremlin interests. "Was the Constitutional Court chosen by chance?" Fedor Venislavsky, a ruling party Rada member and President Zelenskiy's representative to the Court, asked in parliament yesterday. "No, not by accident. Because there is a group of judges in the Constitutional Court who openly sympathize with the Russian Federation." In April 2014, Oleksandr Tupytsky, the Court Chairman, ruled that the Court had no business ruling on the Russia-organized secession referendum in Crimea. Today, he is under investigation for buying property in Russia-controlled Crimea, a violation of Ukrainian law.
At least 200 Rada members have signed a petition demanding that all Constitutional Court judges resign. Venislavsky, the Rada member, threatened: "If they do not do that, the parliament will do it. And if the parliament does not do that, the street can do it."  A judge can only be fired through a vote of two thirds of his or her colleagues. Another Rada bill would raise the quorum for a ruling to 17 judges. Virtually a law until itself, the Court can reject as unconstitutional any law passed by the Rada to restrict its powers. It is unclear if Zelenskiy has the 226 votes in the Rada for a bill that would fire all the judges.
The Constitutional Court is digging in its heels. One judge, Ihor Slidenko, told UNIAN news agency that Zelesnkiy, by threatening to dismissed the entire bench "has talked his way into 150 years in prison." Ignoring the fact that Ukraine is already at war with Russia, he added: "Next comes the collapse of Ukraine and war, because, besides those 226 (votes) — no one will recognize them." Tupytsky, the Court Chairman, told reporters Friday: "Zelenskiy's law on the reform of constitutional law shows signs of a constitutional coup." Without the court, he warned: "Any oblast would gain the ability to vote on the level of the oblast council for self-determination or secession from Ukraine."
"Zelensky is fighting back against state capture," headlines an editorial yesterday in the Financial Times. "Pro-Russian and oligarch-linked politicians have been using a corrupt court system to abolish or weaken anti-graft bodies and rules put in place following the 2014 pro-democracy revolution," the FT writes about a string of recent court rulings. "These challenges look like a systematic attempt to trigger a breach with the IMF and EU. A cash-strapped Ukraine might then fall back into Russia's orbit."
Reviewing Zelenskiy's choices, the FT advises: "He needs to work with other parties and civil society to build as wide a consensus as possible. As a textbook populist, Mr Zelensky seemed to expect instant solutions without making hard choices. But institution building needs skill and dedication. Ukraine's future is at stake."
In one sign the confrontation could have an economic impact, Ukraine's central bank sold $150 million last week to defend the hryvnia. The national currency is slowing devaluing, currently trading at 28.57 to the dollar.
Emboldened by the warmest October on record, Infrastructure Minister Vladyslav Krikliy proposes investing in improved river locks to allow year round shipping on the Dnipro. "Our plans are to carry out navigation on the Dnieper throughout the year, if the weather conditions are favorable for this," he said. Last year, the Kyiv locks closed on Nov. 15 and reopened on March 30. Nibulon and other shipping companies complained that the Dnipro was largely ice-free through early January. Today, repair work is being done on four of the six locks on the Dnipro: at the Kyiv, Kaniv, Kamianske and Kakhovka hydroelectric dams.
A $20-40 million rebuilding project is needed for all six locks, Ukrvodshlyakh, or Ukrainian Waterways, reported last year, concluding that all are "unusable for normal operation" or in "emergency" state. Last spring the Rada took away $2.7 million in lock maintenance money to add to the Covid Fund. "But we found a way out of this situation and, with the financial support of our European partners, we continue to carry out these works, Krikliy said, referring to €7 million in aid that arrived in August. The government believes that if an "Inland Waterways" bill is passed this month by the Rada, river user fees will pay for much of the lock maintenance.
October's exports were up 1.3% yoy and up 10.4% over September, Taras Kachka, deputy minister of Economic Development, Trade and Agriculture, writes on Facebook. October's exports of $4.7 billion reduced fall in exports for the first 10 months of this year to 4.8%. With imports down by 12.2% this year, Ukraine's 10-month trade deficit has been cut in half year over year, to $4 billion.
Helping Ukraine's balance of payments, migrant workers sent home $1 billion in September, up 6% over August, TSN reported, citing new National Bank of Ukraine numbers. Despite the obstacles created by the fight against coronavirus, Ukraine's migrants workers sent home $8.5 billion through September, about 5% below the level of last year.
By raising yields, the Finance Ministry was able to raise on Tuesday its volume of bond sales almost five-fold from the volume sold at last week's auction. Totaling the hryvnia equivalent of $68.5 million, almost all sales were for 4-month bonds, which carried yields of 7.5%, up from 7.3% at the last auction.
Kyiv intends to issue hryvnia bonds for the total dollar equivalent of $53 million. The four series of bonds will carry annual yields up to 11%. Yesterday, Fitch Ratings assigned the expected long-term rating "B (EXP)".
Ukrainians continue to migrate from cash to cards, according to the latest numbers from the  National Bank of Ukraine. For the first nine months of this year, the number of transactions was up 18% yoy, to 4.3 billion. Over the same time, the hryvnia total of transactions was up 8.7%, to UAH 2.8 trillion — $98 billion. Through this September, the number of point of sale terminals increased by 8% yoy, to 360,400.
Editor's Note: As Zelenskiy mulls the choice between violating the Constitution or watching the Court push Ukraine down the path of kleptocracy, he is mulling: what will the West do? As for the US, a lot depends on who emerges as President from the voting yesterday. Trump's view of Ukraine has veered from hostile to indifferent. Biden visited Ukraine five times as Vice President. Today, many Democrats believe they have a score to settle with Putin. In April 1992 in Peru, I covered Alberto Fujimori's 'self coup' — his closing of courts and congress. Eighteen months later, on the other side of the planet, Russia's President Yeltsin decreed the closing of the Supreme Soviet and Congress of People's Deputies. In Lima, a lone Army tank drove up to the Congress and took the surrender without firing a shot. In Moscow, Russian army tanks shelled the White House, killing dozens. In Washington and at The New York Times (my employer), officials and editorial writers cheered Yeltsin and booed Fujimori. Why? Russia was strategically important. Peru was not. With Best Regards, Jim Brooke