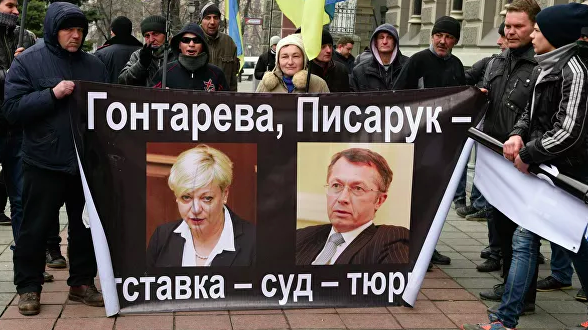 As an IMF team flies into Kyiv today, one former Washington colleague, Oleksandr Pysaruk, may well be sitting in jail here, awaiting bail. Pysaruk worked at the IMF for three years, leaving in August to take up a new post last month in Kyiv – chairman of Austrian-owned Raiffeisen Bank Aval, Ukraine's largest private bank. Psyaruk's detention Monday stems from his 2014-2015 stint at the National Bank of Ukraine, where he served as First Deputy Governor. The detention of one of Ukraine's most respected bankers at the time of the arrival of the IMF is not a coincidence, some analysts say.
"Current and former NBU officials are now pawns in battle with IMF," Ukraine analyst Timothy Ash writes from London. "Some former [bank] owners are trying to send a message: 'Look we all made mistakes, even the guys at the NBU, and even IMF. If the IMF pushes too hard, then good people will be pulled down with the bad.' These guys are willing to play a high stakes game. They want to sit down and negotiate: no jail time, and they walk away from losses."
The IMF is pressuring Ukraine's new government to go after former bank owners to retrieve assets that evaporated during the 2014-2015 banking crisis. In the Pysaruk case, arrest warrants were issued Monday for eight people – three former National Bank of Ukraine officials and five former executives of VAB bank. The National Anti-Corruption Bureau, or NABU, charges that Pysaruk and his colleagues approved a $50 million emergency loan to the failing bank. The collateral was real estate, with appraisals reportedly falsified to 25 times real value. One month later, the central bank closed VAB. The money was never recovered. NABU says the number of indicted bankers – public and private – could go over15.
As the central bank number two, Pysaruk worked with then-Governor Valeria Gontareva to close almost 100 insolvent banks. Today, Gontareva lives in self-exile in London, complaining of death threats and refusing to return to Ukraine. "Terror is intensifying," she said of Pysaruk's detention. "He and I were cleaning all these Augean stables." The central bank has rallied behind Pysaruk. Yakiv Smoliy, the current bank governor, cut short an overseas trip and flew home. The bank's top leadership went to court on Tuesday and offered to cover bail for the three former officials. Pysaruk's bail was set at $1.25 million. The central bank said in a statement: "He stood at the source of the banking-sector reform, thanks to which we have healthy, transparent and reliable banks now."
Foreign business leaders are reacting negatively to the arrest of a well-known banking figure. Before joining the central bank during the banking crisis, Pysaruk worked almost a decade for ING. Only 48 hours before his arrest, Pysaruk appeared before 500 businessmen and women at the Kyiv International Economic Forum, speaking on a panel called: "Investment Attractiveness of Emerging Markets: Risks and Opportunities."
Four business chambers, led by the American and European ones, issued a statement last night, saying they are "deeply concerned about the recent events taking place around the current Chairman of the Board of Raiffeisen Bank Aval and former First Deputy Governor of the NBU Oleksandr Pysaruk. Cases such as this will be closely watched by the business community as they make investment decisions. The business community urges responsible state authorities to appropriately respond to such cases, taking into account the principles of fairness, equality, and protection of all citizens despite their positions and political views."
Concorde Capital's Alexander Paraschiy writes: "Pysaruk has a strong reputation in Ukraine's banking sector, having worked for the IMF and Ukraine's biggest international bank afterwards. Most likely, the IMF won't welcome NABU's move."
The new IMF mission starts work in Kyiv tomorrow, seeking to hammer out a staff level agreement for a 3-year Extended Fund Facility that could loan Ukraine as much as $6 billion. The mission is led by Ron van Rooden, a veteran IMF negotiator with Ukraine. He led the last IMF mission here, staying from Sept. 12-26.
An IMF program is to be tied to fiscal austerity and deep, structural changes. This fall, Ukraine has made progress on much of the checklist. The draft 2020 budget meets the 2% deficit limit. The Rada has passed a constitutionally sound law against illicit enrichment. Naftogaz production and pipelines are being 'unbundled.' Domestic gas prices are now set to regional market prices. Draft laws are in the Rada for a farmland market, for further empowering the government to shut down insolvent banks, and to strengthen the Anti Monopoly Commission.
The big obstacle for the IMF was the legal effort by Ihor Kolomoisky, President Zelenskiy's main media backer, to reverse the Dec. 2016 nationalization of his bank, PrivatBank, Ukraine's largest. To save PrivatBank, Ukraine's government injected $5.5 billion. After weeks of pressure, Zelenskiy said on Saturday: "Our team, the government, the National Bank of Ukraine, the Deposit Guarantee Fund, and I personally will make all necessary efforts return funds spent repaying depositors in bankrupt and nationalized banks, as well as funds used to recapitalize state-owned banks who suffered losses due to unscrupulous borrowers."
Ash, a sovereign analyst for Blue Bay Asset Management, wrote in reaction from London: "[The] decree talked about going after unscrupulous "borrowers." But it was the owners who were the main problem. So why not say, former owners? It's like Zelenskiy just cannot spell out that he is willing to take on guys like Kolomoisky."
Strong investor demand allowed the Finance Ministry to cut bond interest rates across the board in its weekly bond auction on Tuesday. Offering 2-year dollar bonds for the first time in two months, the Ministry found demand was 2.2 times supply. The government placed $305 million worth of bonds, reducing the cut-off rate from 5.5% in September to 4.25% per annum.
At hryvnia auctions, demand for 3-year bonds was almost four times the supply, the equivalent of $100 million. Compared to an auction three weeks ago, the cut-off price fell 200 basis points, to 13.12%. Demand for 1-year and 6-month securities was close to the supply. Despite weak demand, yields fell 25 basis points for each security – to 13.75% for 1-year bonds; and to 14.1% for 6-month bonds.
With the grain harvest still underway, Ukrainian farmers have threshed a record 70.8 million tons, more than the 70.1 million tons threshed during all of last year, also a record. By year's end, Ukraine's grain harvest will be up by 5.5%, to 74 million tons, predicts Timofei Milovanov, Minister of Economic Development, Trade, and Agriculture. Champion oblasts are: Vinnytsia — 5.8 million tons; Poltava — 5.4 million tons; Cherkasy — 4.4 million tons; and Kharkiv — 4.3 million tons. With the mild weather of recent weeks, the sowing of winter crops is almost complete.
Since the grain marketing year started July 1, grain and bean exports are up 40% to 21 million tons, the Agriculture Ministry reported Monday. For the full year, the USDA forecasts that Ukraine's grain exports will be up 10% y-o-y, to a record 55 million tons.
From the Editor: Ukraine has a great asset – First Lady Olena Zelenska. She may not like the limelight, but she really shines in what I have seen of the upcoming Vogue Ukraine cover story. Avoid heartburn (heartbreak?): beat the crowds by reserving your copy for Monday morning pick up at your local newsstand. Best regards Jim Brooke jbrooke@ubn.news.