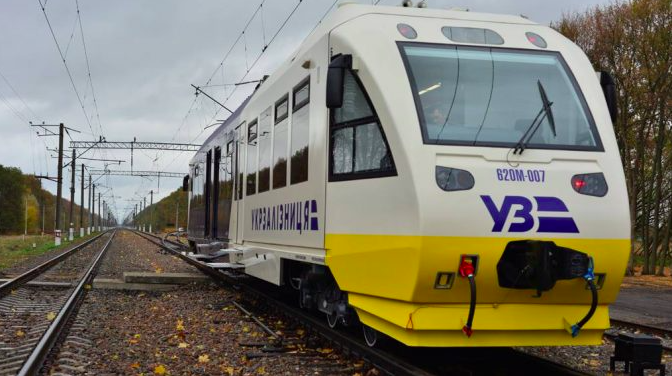 Wednesday, November 11
UZ To Increase Capital Investment 5-Fold...Rail Container Terminals to Go to Private Concessions... Oil Bill Falls by 37%, Cutting Trade Deficit...China's Purchases of Ukrainian Goods Jumps 88%...Hard to Park? 281,000 Used Car Imports Hit the Streets This Year...Chornobyl Tourism
Ukrzaliznytsia plans to increase five-fold its investments next year in wagons, locomotives and track – to almost $1 billion, Irakli Ezugbaya, the new cargo director for the state railroad, told the Center for Transportation Strategies. Capital investments will stay at that level for 2022. In 2023, investments will make another jump, this time by 50%, to $1.5 billion.
International logistics companies will be able to manage UZ's container terminals through long term concessions, Ezugbaya said in the same interview. "International logistics operators will be interested in these terminals, and they will help us to containerize cargo much better than Ukrzaliznytsia is doing now," said Ezugbaya, who ran Georgian Railway LLC before joining UZ in September. "Ukrzaliznytsia, for its part, will provide appropriate platforms and route dispatches for organizing the movement of these containers." The World Bank's International Finance Corporation is advising UZ on preparing these public-private partnerships.
German logistics company Hamburger Hafen und Logistik AG, or HHLA, has set up a Ukraine unit to send containers by rail to major cities from Odesa's Container Terminal. Although container traffic was up by 8.5% last year, to 650,000 units, only 22% of the containers leave the port by rail, less than half the market share of HHLA's home port, Hamburg. This fall is starting to work with container trains from Odesa to Kharkiv, Ternopil and Zaporizhia. Philip Sweens, managing director of HHLA International, told Container Management news site: "With an efficient train system based on customer-friendly services, transparent prices, simple booking processes and reliable timetables, we want to tap the considerable potential of the Ukrainian intermodal market."
Through October, Ukraine's foreign trade was down 9% yoy, to $82.7 billion, reported the State Customs Service. Imports were down 12%, to $43 billion. Exports were down 5%, to $39.6 billion. The trade deficit is down, to $3.4 billion.
Low oil prices have cut 37% off Ukraine's oil import bill through October, compared to the first 10 months of last year, reported the State Customs Service. Ukraine paid $2.8 billion for oil imports. The top three sources were: Russia – 36%; Belarus – 35%; and Lithuania -12%. Reflecting the current corona recession, the volume of oil imports is down by 7% this year, to 6.5 million tons. Since June, Brent oil has priced around $40 a barrel, down from the low $60 range in last year.
Food exports are down 1.7% through October yoy, to $17.6 billion, reports the Ukrainian Club of Agrarian Business. Trends of major export commodities were: sunflower oil +21%; corn -12%; wheat +6%; soybeans – 48%; canola – 29%; barley + 37%.
Ukraine's seaports handled 132 million tons of cargo through October, 2% more than during the first 10 months of last year, reports the Ukrainian Sea Ports Authority. Exports were up 4%, to 101 million tons. The top two exports were: grain, 39 million tons; and ore, 37 million tons. Ore exports, largely to China, were up 22% yoy. Imports were down 6%, to 20 million tons. Containers were up 7%, to 870,000 units.
China was the fastest growing buyer of Ukraine's exports, Prime Minister Shmyhal told the Rada Friday. In October, he said that Ukraine's exports to China were up by 88%, or by $2.6 billion. To attract Chinese investors and shippers, the Ukrainian Sea Ports Authority has launched a version of its website in Mandarin.
Odesa region's Pivdenniy (Yuzhny) handled 18% more cargo through October, growing at the expense of the three other big Black Sea Ports, according to new figures from the Sea Ports Authority. Almost 40% of all of Ukraine's sea borne trade went through Pivdenniy, Ukraine's biggest, deepest, and most modern Black Sea port.
In contrast, cargo handled by Mykolaiv was down by 8%, to 25 million tons. Odesa region's other two big ports saw similar drops: Odesa down by 6%, to 19.4 million tons and Chornomorsk down by 8%, to 19.4 million tons. On the Azov, Mariupol saw a rebound with cargo increasing by 11%, to almost 6 million tons.
First time registrations of used imported cars were up 50% yoy in October, to 38,800 cars, reports UkrAutoprom, the vehicle industry association. Registrations of new imported cars totaled 8,400 – or 22% of the used car number. So far this year, 281,100 used imports have been registered. With Germany and other EU countries restricting diesel cars, the portion of diesel imports to Ukraine rose to 29% last month. Gasoline accounted for 58%. Electric and hybrids were 3%.
The Digital Transformation ministry is launching an English-language version of Diya.Biznes, its online platform for entrepreneurs doing business in Ukraine. Currently in test mode, the platform features a map of the business support infrastructure, including incubators, accelerators, business support centers, foundations and business associations in each region of Ukraine. The platform is currently in test mode, the Ministry reported on Telegram.
Qatar Airways intends to resume flights Dec. 18 between Doha and Kyiv Boryspil. For the first two weeks, flights will be three times a week. Last spring, flights were suspended due to the coronavirus pandemic.
Chornobyl Exclusion Zone, a major attraction for foreign tourists, received 31,720 tourists through October, down 71% yoy. Due to the fires and the coronavirus lockdown, the area around the ruined nuclear power plant was closed to tourist for almost three months last spring. Last year, foreigners accounted for 80% of visitors.
To draw Chornobyl tourists for longer stays, Kyiv-based tour operators plan to offer next summer kayak tours on the Pripyat River and bicycle tours on a new, 45 km trail. The trail follows a loop, passing through four semi-abandoned villages, stretches of deep forest and clearings that offer unexpected views of the abandoned city of Pripyat and the sarcophagus covering the remains of the power plant. The trail takes 4 to 6 hours and guides scheduled breaks every half hour so cyclists do not get winded. The Kyiv Post reports: "The faster a person inhales and exhales, the higher the radiation dose they can receive."
Building on the internationally acclaimed "Chernobyl" HBO series, Ukraine's Culture Minister Oleksandr Tkachenko seeks UNESCO World Heritage Site status for the Chernobyl Exclusion Zone, reports the New York Post. "This is not only a tourist attraction, but also a place of memory where it is worth coming to understand the truth about the disaster and its 'final effect,'" Tkachenko told East2West News. In 2019, an average of 2 million Americans watched each of the five episodes of "Chernobyl." Ukraine currently has seven World Heritage Sites.
Editor's Note: Over lunch last week at the new tapas restaurant on Kyiv's Yaroslaviv Val, an Argentine friend was so moved by his recent trip to Chornobyl that he recited all of Ozymandias. Percy Shelley's 1818 sonnet on the impermanence of emperors and empires warns: "My name is Ozymandias, king of kings: Look on my works, ye Mighty, and despair!" While my friend was ruminating on the ruins of a Soviet city frozen in 1986, the poem's critique could apply to Ukraine today. If the country's population continues to shrink by 28% once a generation, it does not take a mathematical genius to figure out where the population will be in 2120. Business as usual by the nation's elites threatens to put Ukraine on the path to demographic extinction. Maybe the Scythians will return to the empty steppe – and find new archeological ruins. "I met a traveler from an antique land, Who said – "Two vast and trunkless legs of stone Stand in the desert…" With Best Regards, Jim Brooke