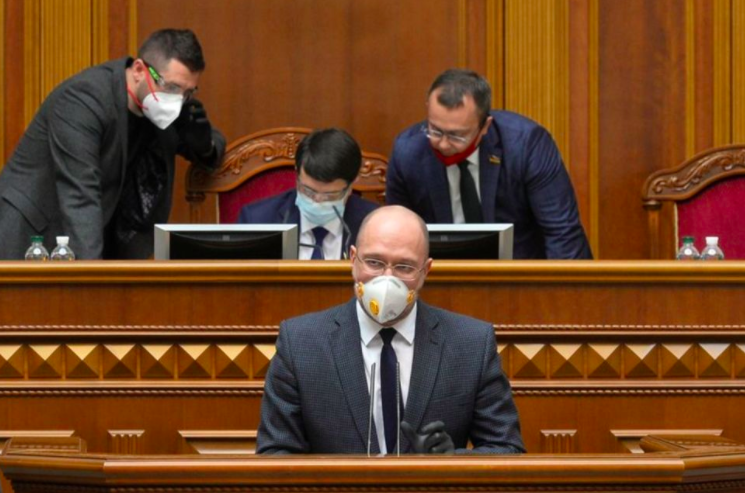 Ukraine's coronavirus will be gradually phased out over the next two months, ending completely in mid-July, Prime Minister Shmyhal predicted yesterday on Ukrainian Radio. Noting that the World Health Organization is extending the "worldwide lockdown regime" for two months, Shmyhal said: "The Cabinet of Ministers has so far extended the lockdown until May 22 at the first stage, but based on WHO data, the lockdown will most likely be extended in the future with subsequent stages of relaxation."
This Monday, a series of services open under special conditions: barbershops and beauty salons by appointment only and with masks; outdoor restaurant terraces with tables spaced 1.5 meters apart; and parks, with visitors limited to trios. Kyiv expects five traditional food markets to open today. However, the annual May 31 Kyiv Day events, including the run under the chestnuts, are canceled.
The sequence of re-opening rail transit may be: Intercity — early June; suburban electric trains – mid-June; and metro late June/early July.
With 316 people dead of coronavirus complications since March 13, Shmyhal attributes the low death toll to the severe lockdown imposed March 12. He notes that of the 2,100 ventilators in Ukraine, only 138 are in use. Of the 33,000 beds reserved for coronavirus patients, less that 2,000 are occupied. Since Friday, the number of confirmed positive cases has steadily declined, hitting 366 on Monday, the lowest number since April 19.
The number of registered unemployed on Monday was 48% higher than the same time last year, reports the State Employment Center. The number of officially jobless is now 456,800. At the same time, the number of vacancies has dropped to 53,000, 60% below last year. With informally employed people unable to register as unemployed, the real number is believed to be far higher. To help the unemployed, the government has started a low interest rate loan program for small companies, has decided to allow Ukrainians to go to the EU to work, and has raised unemployment assistance, to a little over $1 a day.
UIA made its third charter flight yesterday from Kyiv Boryspil to Frankfurt-Hahn Airport carrying Ukrainians to work in Germany under labor contracts. Now that Ukraine's government has reversed its policy on allowing Ukrainians to fly to the EU to work, UIA has received orders for migrant worker charter flights to Britain, Germany, Finland, Poland, and Sweden.
President Zelenskiy's project to create a state airline based on Antonov is analyzed in a piece by Anna Peshkova for 112.Ukraine. Although Antonov makes reliable regional passenger jets and turboprops, she writes: "You can't earn much on domestic transportation. The share of domestic traffic for Ukrainian airlines is only about 10%. The capacity of the local market is not enough to recoup the costs of the development and production of the aircraft." In light of the overnight popularity of Antonov cargo planes ferrying medical gear from China, she concludes: "A number of experts suggest that the president switch his attention from passenger to cargo transportation."
Renewable energy investors and government representative should conclude "within a week" a draft memorandum on 'green tariffs' for submission to Prime Minister Shmyhal. Signaling that, after nine months, the government is putting political weight behind the search for a solution, Acting Energy and Environment Minister Olha Buslavets said yesterday the goal is to "conclude a memorandum and agree on a voluntary basis, without arbitration, on indicators, maintaining the normal image of an attractive investment climate for the state."
At the same time, eight foreign ambassadors issued a letter expressing disappointment with the long-running impasse over solar and wind tariffs. "A number of Ukrainian renewable energy projects were provided with export credit guarantees provided by foreign governments," says the letter signed by the ambassadors of Belgium Britain, Canada, France, Germany, Norway, South Korea and Sweden. "We cannot exclude the possibility that any unilateral cancellation of legal guarantees by Ukraine may lead to the fact that in the future the provision of state credit guarantees will be carried out with a large unwillingness."
Solar and wind energy now account for 8% of the nation's electricity, but 26% of the power bill, says Dmitry Kovalenko, a member of the National Commission for Regulation of Energy and Utilities. After growing by 11.6% last year, green generation hit 7.2 GW last week. Next month, another 1 GW of capacity is to be commissioned. Energy Minister Buslavets predicts that by the end of this year the government's unpaid renewable power bill will hit $1 billion.
Nova Poshta's net profit grew 73% last year, hitting $29 million, the company reports. Deliveries were up 22%, boosting revenue to nearly $500 million. The company is undergoing an ambitious $100 million investment program, largely to build sorting centers with state of the art European technology.
The Finance Ministry yesterday auctioned off $371 million worth of 3-month government bonds with an average weighted yield of 11.26%. Prior to this weekly auction, the government sold from January through April bonds worth: €300 million, $1.2 billion and the hryvnia equivalent of $1.6 billion.
New car sales dropped in half in April, compared to April last year. New car registrations totaled 3,700, according to UkrAvtoProm, the vehicle association. By comparison, April sales in some European countries were down 80-90%. In Ukraine, coronavirus curbs spoiled a strong start to the year. Prior to March, experts forecast a 25% growth in new car sales, to over 100,000.
RegioJet, the private Czech rail and bus operator, has bought nine sleeping cars from German's Deutsche Bahn, aiming to start service between Prague and Lviv in December. Initially, trains will stop 10 km east of Poland, in Mostyska, reports the Center for Transportation Strategies. After Ukrzaliznytsia completes construction of European gauge rail to Lviv City, possibly this December, trains will go all the way from Prague to Lviv, about 850 km.
At the end of May, Odesa Region gains its first international border post with the EU: a cross-Danube ferry linking Orlivka with Isaccea, Romania. Five years and €12 million euros in the making, the new binational ferry link and terminals will cut out the current 2-hour, 100 km detour through Moldova's southernmost tip.  Tested last fall with ferries crossing this 900-meter section of the lower Danube, the ferry crossing takes 15 minutes and has the daily capacity to carry 200 trucks, 500 cars, and 1,500 people, reports Pasazhirskii Transport, an Odesa-based news site.
Socar, the Azeri state oil company, will build a transport hub – for cars, buses, trucks and trains – at the Chonhar control point near Ukraine's administrative line with Russia-controlled Crimea. Executives of Socar's Ukraine unit, Ukrzaliznytsia, Kherson Region and the relevant Ukrainian ministries signed an agreement Tuesday. Expanding a basic control point built last fall, the expanded transport hub would offer passport control, a restaurant, pharmacy, ATM machines, gas station and a passenger terminal for buses and trains north to Melitopol and on to Kyiv. Prior to Russia's annexation of Crimea in 2014, most trains to the peninsula passed through Chonhar.
From the Editor: KLM starts flying Monday from Amsterdam to seven EU cities, including Warsaw. Meanwhile, Belavia flies from Minsk to at least 15 European cities, including Paris, Berlin and London Gatwick. Business is so good that Belavia started service last week to Vienna. Some Ukrainians are driving from Kyiv to Minsk – at least eight hours. The real solution is to re-open Ukraine's airports now – not in August as the Infrastructure Minister intimates. KLM requires passengers to wear masks and scarves — not a big barrier for business passengers already resigned to digital strip searches at airports. With Best Regards Jim Brooke jbrooke@ubn.news