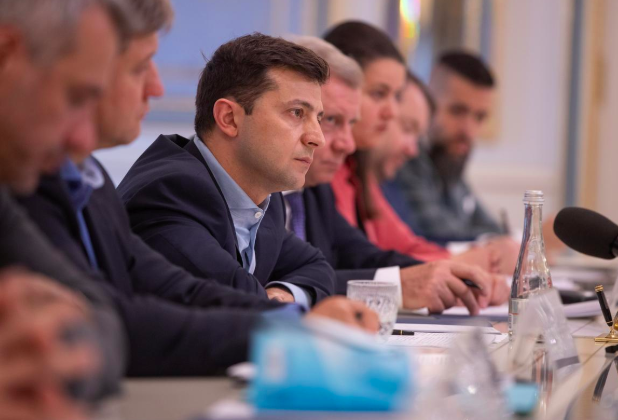 Wednesday, May 29
Zelenskiy Meets IMF, Says Cooperation Continues...Before Meeting, Bonds Weakened... EU Dangles €500 Million Loan...Chinese Electric Buses to be Assembled in Ukraine...Real Wages, Real Retail Sales Show Solid Growth...Baltic-to-Black Sea Container Train to Start
President Zelenskiy met with the IMF review team for one and a half hours in Kyiv on Tuesday and emerged to announce: "Cooperation is being continued. The International Monetary Fund has always been a reliable partner of Ukraine in times when we need support, and Ukraine, for its part, will also remain a partner in fulfilling its obligations."
The new President's public endorsement of working with the IMF seems to put to rest widespread investor nervousness provoked by comments last weekend made by his top media backer, Igor Kolomoisky. In an interview with the Financial Times, Kolomoisky said Ukraine should follow the examples of Argentina or Greece and stop paying its foreign debt.
Addressing a key IMF demand, Zelenskiy also told IMF team leader Ron von Rooden that "this week we will definitely submit" to the Rada a new illegal enrichment bill. Zelenskiy spoke at the meeting flanked by Yakiv Smoliy, governor of the National Bank of Ukraine, and by Oleksandr Danylyuk, a former finance minister freshly sworn into a key post — Secretary of the National Security and Defense Council.
In response, von Rooden, who has many years of experience working with Ukraine, said: "We do not see obstacles to cooperation. After the parliamentary elections, after the [new] government is formed, we are ready to come to Kyiv immediately and continue negotiations on the way to provide our support."
Kolomoisky's comments provoked free-market members of the Zelenskiy administration to take a stand.
"Kolomoisky's person is interesting to many, including journalists, but his comments, of course, do not create a favorable investment background," Aivaras Abromavicius, a former Economy minister and Zelenskiy team member, told Interfax Ukraine Tuesday near the presidential administration building. "I am very pleased that many members of the president's team commented that Ukraine should always be a reliable business partner for internal and foreign investors."
After the meeting with the IMF team, Danylyuk said: "It is important that cooperation with the IMF continues." Briefing reporters, he said: "This is important both for the citizens of Ukraine who will be assured that the economic and financial situation in the country is stable. Also, it is an important message for investors, for whom cooperation with the IMF is an indicator of the fact, that Ukraine is moving in the right direction."
In government hryvnia bond auctions before Zelenskiy's meeting with the IMF, sales fell to a recent low — the hryvnia equivalent of $46 million. With demand weak, the Finance Ministry had to raise the rate of its three-month securities, to 18%, from 17.89% last week. Ukraine's Eurobonds declined in the morning, then recovered later in the day, ending down .4% for the day.
The EU is dangling €500 million long-term loan before Ukraine — contingent on the Zelenskiy government implementing key anti-corruption steps. Christian Danielsson, the EU's director general for European Neighbourhood Policy and Enlargement, told reporters in Kyiv Tuesday these conditions are: adopting a law to fight money laundering, reforming customs and tax administration, checking electronic asset declarations, and implementing an electricity market. President Zelenskiy backs these steps but says he needs a new parliament to implement them. One year ago, the EU approved €1 billion in aid to Ukraine. In December, the first €500 million tranche was released as a loan at 1.25% per annum maturing in 2033.
USAID has launched $120 million worth of economic development projects for front line areas in eastern Ukraine. The program was announced Tuesday in Mariupol by Mayor Vadym Boychenko, and by Margot Ellis, the US agency's deputy administrator for Europe and Eurasia.
On June 19, the EBRD board is expected to approve leading an €80 million syndicated loan to support renewable energy and energy efficiency in Ukraine. The EBRD would cover half of the loan, which would go to Ukreximbank, the nation's third-largest bank in terms of assets. With many buildings and factories built in the era of cheap Soviet gas, Ukraine is investing to modernize and winterize.
Retail sales are up 7.9% in real terms for January-April, compared to the same period last year. Sales grew by 9.1% in April, fueled by the highest level of consumer confidence since Januar 2014. April's consumer confidence level of 72 points, seems to reflect optimism surrounding the presidential election. Noting that first quarter real wages were up 10.9% q-o-q, ICU writes: "Consumer demand keeps rising thanks to solid growth in real household income."
Chinese Skywell electric buses will be assembled in Ukraine under an agreement reached Tuesday, reports Elektrovesti.net. Produced by Nanjing Golden Dragon Bus Manufacturing Co., Skywell buses are now in use in Kyiv and Vinnytsia. Initially, the buses are expected to arrive here in SKD, or semi knocked-down, form.
A weekly Baltic-to-Black Sea container train will start this summer, according to an agreement signed Tuesday in Odesa by executives of the railroads of Lithuania, Belarus, and Ukraine. Called Containerships, the Klaipeda-Brovary-Odesa train will be the 18th regularly scheduled container train in Ukraine, according to Yevhen Kravtsov, Ukrzaliznytsia CEO. In March, a similar north-south container train starting rolling on a Belarus-Ukraine-Romania route. In April, UZ launched an east-west container train on a 1,400 km route between Nizhnedneprovsk and Sławków, Poland. Also in April, a test container train passed through Ukraine on a China-Hungary route.
To speed Ukraine-EU rail freight, Poland is investing in upgrading two rail crossings – Medyka-Mostyska, on the Lviv region border, and Dorohusk-Yahodin, on the Rivne border. Within the framework of the Germany-Poland-Ukraine transport corridor, tracks, switches, and traffic control devices are being upgraded. The goal is for the lines to carry longer and heavier freight trains, reports the Center for Transportation Strategies.
Marking a return of Black Sea cruises, the Princess of Dnepr docked Tuesday at Odesa with 227 European and Israeli tourists. The cruise ship is on its first of 10 12-day cruises planned for this summer – from Kyiv, down the Dnipro to Odesa and on to Vykove, Ukraine's Danube delta city. In a sight not seen since the war started five years ago, the Princess of Dnepr docked nose to nose with a second cruise ship, the Viking Sineus, which brought 187 largely American tourists down from Kyiv.
Note from the Editor:  English, Ukrainian, Russian and German – those are now the four languages of the Ukraine Business News. Check us out at: www.ubn.news. And tell your friends! Jim Brooke – jbrooke@ubn.news