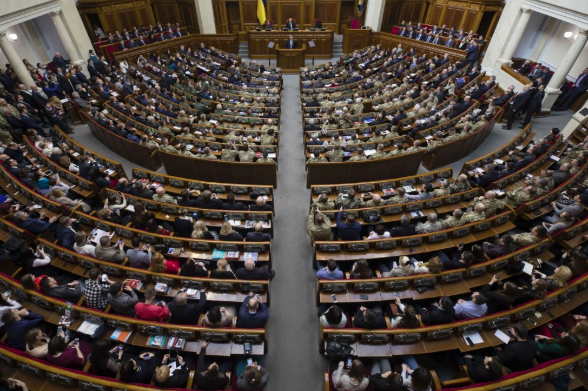 Wednesday, May 22
Zelenskiy Pushes, Parliament Caves: Snap Election on July 21...US Energy Secretary: Sanctions Coming on Nord Stream 2...Meet the Zelenskiys: Foreign Real Estate Millionaires...Green Light for Skyscrapers in Ukraine...DTEK Wants Private Freight Trains...Oslo-Kyiv Flights to Return
President Zelenskiy has scheduled snap parliamentary elections for two months from now, on Sunday, July 21. Today the Rada meets in special session to consider and vote on two Zelenskiy-backed electoral reforms: abolishing single-member districts and lowering the vote threshold for parties to get into the Rada, from 5% to 3%. Zelenskiy also is pushing for bills to remove parliamentary immunity from lawmakers and to allow impeachment of a president.
The bills are being shepherded by the President's new chief of staff Andriy Bohdan. Zelenskiy's longtime legal adviser Bohdan is also the lawyer for his major media backer, Igor Kolomoisky. "He is seen as an able manager," Timothy Ash writes. "Bogdan will be viewed with some suspicion due to his connections to Kolomoisky, and will be held to account if he is seen to favor his former client by Ukraine's vibrant media, civil society and the international diplomatic corps."
In a major public poll released last week, Zelenskiy's political party, Servant of the People, received 40% support of decided respondents. A Russia-friendly consortium and the Petro Poroshenko Bloc tied with 11% each. Yulia Tymoshenko's Batkivshchyna took 9%.
US sanctions against European companies building Nord Stream 2 will come in the "not too distant future," US Energy Secretary Rick Perry told reporters in Kyiv on Tuesday. "The United States Senate is going to pass a bill, the House is going to approve it, and it's going to go to the President and he's going to sign it, that is going to put sanctions on Nord Stream 2."
In his second visit to Ukraine in six months, Perry met Monday evening with President Zelenskiy and Naftogaz CEO Andriy Kobolyev to discuss ways for Ukraine to get through next winter in the event of Russian gas shut off on Jan. 1. Both sides discussed promoting foreign investment in gas production, financing of gas stocks prior to the winter, and building "a permanent path of import of liquefied natural gas through the re-gasification terminal in Poland to Ukraine," reports Naftogaz. Perry was joined by Kurt Volker, Washington's special envoy for Ukraine, and US Senator Ron Johnson, Republican of Wisconsin, a prominent sanctions backer.
At the meeting, Zelenskiy asked "the U.S. to continue strengthening sanctions against Russia," reports his press service. "We can't overcome Russian aggression in Donbas and Crimea independently. That's why we need your help." Zelenskiy also requested a meeting with President Trump.
In Moscow on Tuesday, President Putin's spokesman Dmitry Peskov denounced the sanctions threat as "an overt manifestation of unfair competition, which the United States has been doing for a long time." Turning to Zelenskiy's appeal for more sanctions, he warned: "This is the rhetoric that will not help Ukraine to sort out the problem of the southeast."
An IMF review mission started work in Kyiv on Tuesday, meeting with outgoing Prime Minister Groyman and Finance Minister Oksana Markarova. On Monday, President Zelenskiy asked the Rada to approve a new law against illegal enrichment, a key IMF demand prior to approving a second tranche. Analysts predict this tranche, probably for $1.3 billion, would only be disbursed after the July 21 Rada elections. After these elections, Ukraine could start negotiating a new program with the IMF, Oleg Ustenko, a Zelenskiy advisor tells Interfax-Ukraine.
President Zelenskiy and his wife Olena earned $570,000 last year, according to his online assets and income declaration. His production company Studio Kvartal 95 paid him $160,000, less than half of his $380,000 total earnings. His wife earned much of her $190,000 total earnings from Kvartal 95. The couple has extensive real estate holdings: a UK apartment with a 2014 purchase price of $2.8 million; an Italian villa with a 2015 purchase price of $4 million; and three apartments and one house in Kyiv with a total estimated value of $872,000. The president has $190,000 and €107,000 euros in cash, and accounts at several banks, including PrivatBank.
The EBRD is moving toward loaning €250 million to Ukrainian cities to modernize mass transit systems. On July 24, the EBRD board of directors is to review the project. It would largely involve paying for new buses, trolley buses, trams and subway cars. "The EBRD will sign loan agreements with relevant utilities transport companies, as well as agreements on guaranteeing and supporting projects with the cities," the EBRD writes. "Each loan will be guaranteed by the municipality."
This summer, anti-dumping duties are to go on imports to Ukraine of cement from Russia, Belarus and Moldova. Scheduled to last for five years, the duties, as a percent of value, are: 115% for Russia; 94% for Moldova; and 57% for Belarus. Separately, virtually all cement imports from Russia are banned starting Aug. 1, reports Economic Development and Trade Ministry.
Betting on the future of cement, Concorde Capital has bought HeidelbergCement Ukraine. On May 14, Overlin Limited, a Cyprus company associated with Concorde, bought 99.8% of the Dnipro unit of the German building materials company.
Height restrictions on new buildings are being increased by 50%, to 150 meters, or 50 stories, Lev Partskhaladze, deputy minister of Regional Development, Construction and Housing, writes on Facebook. Design requirements for tall buildings are being adopted. Ukraine's tallest building, Klovski Descent 7A in Kyiv is 48 stories high. The two runners up, both in Kyiv, are: Gulliver – 35 stories, and Parus – 34 stories.
Transporting freight from China, rail shippers annually overpay from €10-15 million by bypassing Ukraine, writes the Center for Transportation Strategies, citing Ukrzaliznytsia data. Trains are backing up at the Belarus-Poland rail gauge frontier, Yevhen Kravtsov argued Friday at the CSCMP logistics conference in Warsaw. Noting that freight trains from China are starting to cross Ukraine, he said the wheel change from Soviet gauge to EU gauge can be done at to Western Ukraine's rail crossings with Poland, Slovakia, Hungary and Romania.
Pushing the boundaries of the state rail monopoly, DTEK Holding proposes using one of its leased Estonian locomotives to move cargo down a 69-km stretch of Ukzraliznytsia track between the Zaporizhzhya Thermal Power Plant and Tavriches station. SCM's Lemtrans, owner of 20,000 cargo wagons, has leased several locomotives to use on internal company tracks. Infrastructure Minister Volodymyr Omelyan has promised to start a pilot project with private locomotives this year.
Suspended for five years, Oslo-Kyiv flights return this fall with SAS Airlines flying three times a week from Norway's capital to Kyiv Boryspil. "This decision is another reflection of the significant strengthening of Ukrainian-Norwegian relations in recent years," Vyacheslav Yatsyuk, Ukraine's ambassador to Norway, said of the flights which start Oct. 26. Dispensing with stopovers in Copenhagen or Stockholm, SAS will fly directly, making the 1,660 km trip in 2h45 minutes.
From the Editor: Alert reader Dan Bilak writes about my writeup of President Zelenskiy's appeal to Ukraine's diaspora in Monday's inaugural address: "Just to clarify, the 65 million Ukrainians Zelenskiy referred to is the total number of diaspora, including Canadians, Americans, Russians, Argentines, who have lived in these countries for generations. It's not just people who've left Ukraine in the past few years." – best regards Jim Brooke – jbrooke@ubn.news