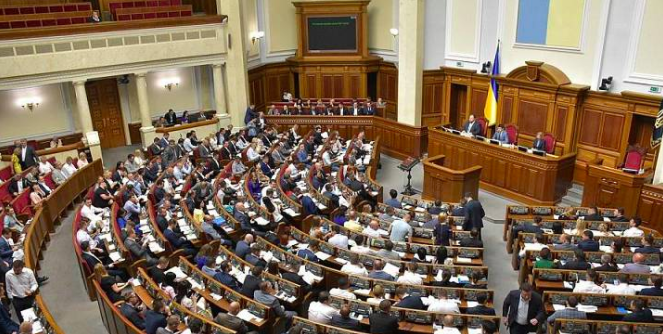 Wednesday, May 20
IMF Deal in May, Eurobonds in Summer?...US Grand Jury Looks at Kolomoisky's PrivatBank-Cleveland Pipeline…Ukrposhta to Become European Style Postal Savings Bank...Beaches, Gyms and Big Stores Open This Weekend…Kyiv Metro Reopens Monday
The Rada cleared the way to an IMF deal yesterday, easily voting down two bills that would have nullified the 'anti-Kolomoisky' banking bill.

Concorde Capital's Alexander Paraschiy writes: "Now we expect that President Zelensky will sign the bill as soon as possible and the IMF board will schedule a meeting to approve the new loan program for Ukraine…It's very likely now that Ukraine will get multi-billion-dollar financial support from the IMF, the E.U., the World Bank and some Western governments. Consequently, Ukraine's short-term sovereign default risk is extremely low. This opens up an opportunity for Ukraine to tap the debt markets with a new Eurobond placement in the early summer."
The Finance Ministry cut yields across the board yesterday in its weekly auction of government bonds. Yields for three-month hryvnia securities fell from 11.3% to 10.5%; for six-month hryvnia securities, from 11.3% to 11% per annum;  and for seven-month dollar bonds, from 3.5% to 3.4% per annum. After a long break, the Ministry offered nine- and 12-month hryvnia government bonds. Their cut-off rates were 11% and 10.97% per annum, respectively.
A US federal grand jury in Cleveland is investigating massive money laundering of PrivatBank deposits into US real estate by Ihor Kolomoisky, reports BuzzFeed News. In a five year spending spree that ended around the time of the 2014 Maidan, Kolomoisky and his partners reportedly became the largest commercial real estate investors in Cleveland, owning  2.8 million square feet, including "a 484-room, luxury hotel in Cleveland with lakefront views and a 21-story office tower…with vaulted ceilings and murals that once featured the largest bank lobby in the world.
Federal agents have traveled multiple times to Ukraine — including in February — where they met with Ruslan Riaboshapka, then Prosecutor General and investigators from the National Anti-Corruption Bureau of Ukraine to discuss the case, reports BuzzFeed. The next month Riaboshapka was fired and a movement started to fire Artem Sytnyk, head of the Anti-Corruption Bureau. The IMF has made clear that retaining Sytnyk is a condition for the aid deal.
Yesterday's vote upholding the 'anti-Kolomoisky' banking bill is the latest setback for the oligarch who one year ago was Zelenskiy's primary media backer in the presidential campaignk, reports Bloomberg. The blocking of`Kolomoisky from PrivatBank erodes his defense against lawsuits in Britain, the US and Cyprus demanding a total of $10 billion. The coronavirus pandemic has also cut the value of his investments in metals plants and Ukraine International Airlines. On the political side,  Dmytrov Boyarchuk director of economic-research company Case Ukraine tells Bloomberg: "Evidently, the president is trying to distance himself from him."
In a move to democratize banking, the Rada approved in first reading yesterday a bill to allow Ukrposhta to become a postal bank. At post offices, patrons could open bank accounts, use ATM machines and receive pensions and pay bills electronically. Currently, 37% of Ukrainians do not have bank accounts and cash payments account for 56% of transactions, Ihor Smeliansky, general director of the state post office told the parliament.
Over the last five years, one third of  Ukraine's bank branches have closed. Today, there are branches in only 6% of Ukraine's settlements and ATM machines in only 30%. About half of Ukrainians over 60 do not have access to banking facilities.
Economic disruption caused by the fight against coronavirus will add 6 to 9 million people to the population of poor people in Ukraine, estimates UNICEF. This year,  the portion of Ukrainians living in poverty will increase from 27% to 43-51%.
"There is no reason why Ukraine cannot become at least as prosperous as neighboring Poland over the next decade," Mikheil Saakashvili, chairman of President Zelenskiy's new National Reform Council, writes in an Atlantic Council blog: 'Why I am Optimistic Georgia's Reforms Can Change Ukraine.' "As in Georgia before, much of Ukraine's economic and political dysfunction stems from the Soviet legacy. When sprawling bureaucracy and regulatory regimes are eliminated, so are opportunities for graft. Corrupt officials, criminal authorities, and their lackeys in the civil service are all starved of illicit income. In this way, patronage networks that have persisted since Soviet times finally collapse."
Withe new coronavirus cases receding to the level of one month ago, officials plan to open hotels, fitness centers, large stores and beaches this weekend. Yesterday, authorities announced 260 new cases, the lowest level since April 19.  Viktor Lyashko, Ukraine's chief sanitary doctor, says sun and saltwater destroy the coronavirus. Also this weekend municipal surface transport — busses, trolleys, and trams — are to resume.
On Monday, the Kyiv Metro is to reopen with riders asked to wear masks and to only make necessary trips. Also on Monday, kindergartens are to reopen, freeing up many parents to go back to work. Intercity train service is to resume Monday June 1.
Concorde Capital's Zenon Zawada writes: "With Kyiv's Metro being notorious for its tightly packed, overcrowded trains, its reopening would eliminate any gains from social distancing requirements…reopening metro rail is so risky that we believe it's a political move that is aimed at shifting the blame for quarantine restrictions on local governments, having them make the unpopular decisions to extend prohibitions.
As of Sunday, 62% of Ukraine's restaurants had reopened. Business had crept up to about half of pre-crisis turnover, estimates Poster, the restaurant automation company. With the recovery weak, a newly formed national restaurant association calls for capping rents at 10% of turnover, according to Taras Seredyuk, founder and co-owner of the Mafia restaurant chain.
Prime Minister Shmyhal predicts international flights will resume from Ukraine in June. Flights will resume selectively, he told Ukrainian TV, as Ukraine will coordinate closely with EU nations.
Foreign Minister Dmytro Kuleba spoke to RBC-Ukraine about reopening Ukraine's land borders: "We are absolutely liberal in this regard, but we will take into account two factors: the first – how partners open the border, and the second – the real situation with the pandemic in Ukraine. But no one is going to keep Ukrainians under lock and key, we have no such ideas."
Flights between Georgia and Ukraine should resume July 1, Ukraine's Infrastructure Minister Vladyslav Krykliy said after a video call with Georgia's Economy Minister Natela Turnava.
To varying degrees, southern European countries are preparing to open their tourist destinations for the summer season, Western media report. Despite the continued threat of the coronavirus, Croatia, Cyprus, France, Portugal, Spain and Italy are drawing up sanitary rules designed to save their annual tourism high season while protecting public health.
From the Editor: Eagle-eyed  business editor and attentive UBN reader Lidia Wolanskyj spots a mischaracterization of Ukraine's low Covid-19 rate. According to the Worldometer Coronavirus site, Ukraine's Covid mortality is 15/million inhabitants, based on a population of 37 million. Poland with almost the same population, has a mortality of 25/million inhabitants. Worldwide, Ukraine ranks 61st for Covid mortality. In Estonia and elsewhere, airline executives and public health planners look at mortality and infection rates when deciding restoration of air links. With Best Regards Jim Brooke jbrooke@ubn.news