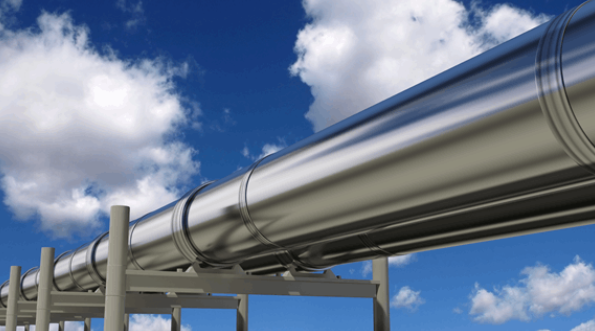 Wednesday, May 15
US Senate Prepares Sanctions Against Nord Stream 2 Companies...Cleanup Bill for Russia's 'Dirty' Oil Scandal: $1.5 billion?...Zelenskiy Reassures Foreign Bank Execs...UIA Doubles Flights to Canada...Kyiv to Start Towing Illegally Parked Cars
Two U.S. senators have introduced a bill targeting the Nord Stream 2 Russia-Germany gas pipeline, Bloomberg reports. Drafted by Texas Republican Ted Cruz and New Hampshire Democrat Jeanne Shaheen, both members of the Senate Foreign Relations Committee, the bill targets ships that lay the pipes and denies visas to executives from companies linked to the ships. It blocks transactions in U.S.-based property belonging to these executives and penalizes companies providing insurance to Nord Stream 2.
Modeled after Iran oil sanctions legislation, the bill would target the two pipelaying companies: Swiss-based Allseas Group SA. and Italy's Saipem S.p.A. Uniper SE, Engie SA, Royal Dutch Shell Plc, OMV AG and BASF SE's Wintershall are European partners of Gazprom in financing the project, designed to double the existing Nord Stream by adding 55 billion cubic meters a year. The project is half built, but commissioning is expected to go past the December 2019 target date due to changes in EU laws and a lack of Danish construction permits.
European gas futures do not reflect worry over the future of Russian pipeline gas through Ukraine after the 10-year transit contract expires Jan. 1, says Andree Stracke, chief commercial officer for gas for RWE AG, a large German electricity generation company. "If you look at the spread between prices in the fourth quarter of 2019, when there will be transit, and prices in the first quarter of 2020, when the transit situation is not clear, you will see that it is small – this means that the market does not expect real problems," he said, Interfax-Ukraine reports from Flame 2019, the annual gas conference in Amsterdam. He said this small spread reflects the belief that Russia and Ukraine will ultimately sign a new contract, the belief that EU reservoirs will be filled with gas by this fall, and the fact that growing amounts of non-Russian gas are available to the EU.
In addition to denting Russia's reputation as a reliable energy supplier, the price for cleaning up Russia's month-old dirty oil problem could run as high as $1.5 billion, according to a note by Citigroup Inc. cited by Bloomberg. "This doesn't include the cost of cleaning [Russia's] Transneft pipelines or refining equipment in Belarus and eastern Europe," reports Bloomberg. In Belarus, where one of the nation's two oil refineries is still closed, the clean up is expected to cost hundreds of millions of dollars and stretch to the end of the year.
An estimated 5 million tons of Russian oil were contaminated with organochlorides, compounds that can corrode refinery equipment. Ukraine's oil pipeline operator will pump 350,000 tons of contaminated Russian oil it is storing to Hungary and Slovakia by November, Nikolai Gavrilenko, Ukrtransnafta CEO, told Reuters Tuesday.
One impact of Russia's 'dirty oil' scandal may be to breathe new life into Ukraine's 674 km Odesa-Brody pipeline. The oil pipeline was built in 2002 to carry Azeri and Kazakh oil north from the Black Sea to Brody, a junction in Lviv region with the east-west Druzhba pipeline. In practice, the pipeline flow was reversed, taking Russian oil south to Odesa. But, as Sergei Kuyun, director of A-95 Consulting Group, writes in DT.UA, loss of confidence in Russian oil supplies could lead to the Odesa-Brody supplying Central Asian oil to Ukraine, Belarus and Poland. Five years from now, Belarus is to start paying market prices for Russian oil. As a result, Belarus is studying alternate sources of supply, either from Lithuania or Ukraine.
President-elect Zelenskiy told executives of foreign banks Tuesday that Ukraine's macroeconomic stability depends on an independent central bank, continued cooperation with the IMF and following sound financial policies, his press service reports. Judicial reform and protection of the rights of investors and creditors are cornerstones for economic growth and attracting foreign investment, he said. Talking to the bank executives, largely Ukrainians, he said: "Reducing interest rates will be a boost to economic growth. For now people are scared and do not trust the banks."
Joining Zelenskiy were: Aivaras Abromavicius, Oleksandr Danylyuk, Andriy Bogdan, Ivan Bakanov, Victoria Strakhov. Banks participating were: Alfa Bank, Citibank, Credit Agricole, Credit West, Deutsche Bank, Piraeus, Pravex Bank Intesa Sanpaolo, ProCredit Bank, Raiffeisen Bank Aval, SEB, and Ukrsibbank BNP Paribas.
Lviv is taking steps to win a €50 million loan to buy 100 electric trolley buses and to modernize the city's 210 km of electrified routes for trams and trolley buses. On Monday, the Lviv City Council a letter of intent to take the loan from the World Bank's International Finance Corporation on concessional terms – an interest rate around 5%, 13-year repayment period, and a 3-year grace period. A tender for the buses is to made public later this year, with the goal of receiving buses next year. The City Council calls the loan "one of the largest in the history of attracting funds from an international institution to the development of the city."
Today UIA starts to double the frequency of its Kyiv-Toronto flights, to four a week. A third Wednesday flight starts today. A fourth, Thursday flight, starts on June 13. Eying profit in long haul routes, UIA President Yuri Miroshnikov tells avianews that later this year, he would like to start a direct flight from Kyiv Boryspil to Guanzhou or Shanghai.
To ease train travel to Ukrzaliznytsia's new top international destination, tickets for all trains to Poland may be bought online, starting today, Yevhen Kravtsov, the railroad's CEO writes on Facebook. The railroad also is working on online bookings for auto transportation by train. Meanwhile, passengers traveling to CIS countries, including Russia, may pay for tickets on line, but they have to pick up paper tickets at rail stations.
To change the face of Kyiv from 'post Soviet' to European, Mayor Klitschko plans to start towing illegally parked cars next month. A team of parking inspectors has been hired and trained, he tells Interfax-Ukraine. "We will tighten the screws on parking issues – it will be expensive to park illegally, especially in the city center," said the Mayor of a city where drivers enjoy free parking on sidewalks. Without fines and towing, public garages sit half empty. To cut the number of cars going into the center, Kyiv is building parking lots near key metro stations.
From the Editor: Red tape is strangling Ukraine, suffocating economic activity, encouraging emigration, and shutting the country off from new blood and outside experience. Those are my conclusions after going through a four-month, $3,000 obstacle course to simply renew my 1-year residency permit. Cutting red tape will be a big challenge for a Zelenskiy administration. This week, the Atlantic Council kindly opens their UkraineAlert space to my warning: "Will Ukraine Become a Giant Moldova?"