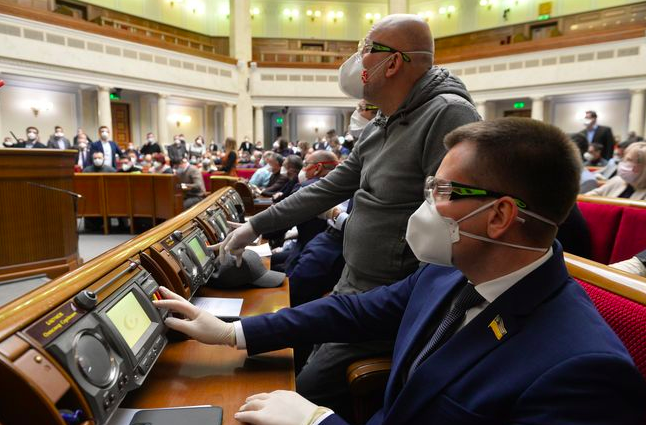 Wednesday, May 13
Key Rada Vote Today to Block Kolomoisky, Unblock IMF $5 billion...Saakashvili to Focus on Customs, Creating a Ukrainian Batumi...Shopping Centers Lose $2 billion in Rents and Sales...Government Throws Cold Water on Early Re-Start of Foreign Flights...
Today, the Rada is to vote on the 'Anti-Kolomoisky' financial bill the final obstacle between Ukraine and a $5 billion IMF Standby deal. If the bill blocking Kolomoisky from regaining control over PrivatBank is approved, his allies in the Rada are expected to counterattack with resolutions to cancel the voting. This move would require another Rada session next week to give the bill final approval.
"Banking law is now the lone critical hurdle to opening IMF lending," Nick Piazza of SP Advisors writes in a note to investors. "Ukraine is facing a decisive moment. The renewal of cooperation with the IMF and other IFIs is the only way for the country to muddle through the crisis at a reasonable cost. The plan to fund the huge fiscal deficit is largely based on the availability of funds from external lenders."
Prime Minister Shmygal told Chancellor Angela Merkel Tuesday that he hopes that Ukraine will sign the IMF deal before the end of May. "This is not just financial support. It is a guarantee of receiving funds from other international financial organizations and an indicator that we are on the path of systemic reforms," ​​Shmygal said in a video conference. Separately, Schmygal said in an interview with Germany's Handelsblatt newspaper: "I see absolutely no reason for insolvency."
The Finance Ministry auctioned off $718 million worth of short term hryvnia bonds yesterday, almost twice the volume of last week. Average yield rates were: 11.26% for 77 days; and 11.28% for 196 days. The Ministry did not offer securities denominated in dollars or euros.
Ukraine's GDP contracted by 1.2% y-o-y in the first quarter of 2020, dragged down by coronavirus curbs on March production, reports the Economy Ministry. Industrial production fell 5.1% in Q1. The National Bank of Ukraine offers these forecasts for the rest of this year: Q2 – down 11.3%; Q3 – down 5.3%; Q4 – down 2.3%; and for all of 2020 – down 5%.
Mikheil Saakashvili's focus in the government this summer will be to shake up Ukraine's 6-month-old Customs Service, drawing on his experience reforming Georgia's customs a decade ago. In addition, President Zelenskiy hopes the former Georgian leader will repeat in Ukraine his success in drawing "some of the biggest international hotel chains" to develop Batumi into a major Black Sea resort city. President Zelenskiy sketched out these tasks in remarks to reporters Saturday that were picked up in an Atlantic Council roundup of reaction to Zelenski's appointment of Saakashvili to be a presidential reform advisor.
After giving a round of interviews to the foreign press, Saakashvili yesterday received in his new office Kristina A. Kvien, the acting US Ambassador to Ukraine. "We discussed the possibility of closer involvement of the United States Agency for International Development (USAID) and the Embassy in the reform program of Ukraine," Saakashvili wrote of the meeting on Facebook.
The New York-based law firm Skadden, Arps, Slate, Meagher & Flom has paid $11 million or more to avoid a lawsuit by former prime minister Yulia  Tymoshenko, reports The New York Times. She blames the firm for aiding in her political persecution during the Yanukovych presidency. The Times reports that Tymoshenko and her lawyer, Sergiy Vlasenko, each received about $5.5 million from the law firm, which was eager to avoid a trial.
The first two months of quarantine cost Ukraine's shopping centers $260 million in lost rents and cost their tenants $1.85 billion in lost sales, calculates the Ukrainian Council of Shopping Centers. Supermarkets lost 15% in revenue, Maxim Gavryushin head of the council, tells Interfax-Ukraine. Because most shopping centers stopped charging rents, few stores have closed. However, he estimates that in 'weak shopping centers' vacancies will rise up to 20% in the second half of this year.
Arricano Real Estate Plc, owner of five shopping centers in Ukraine, reports that local authorities in Kriviy Rih and Zaporizhia allowed stores to reopen yesterday in its local malls. By contrast, Arricano's three shopping centers in Kyiv remain in quarantine mode, with only supermarket food sales allowed.
UNIAN reports a calendar for restoring passenger transportation, citing a source in the Infrastructure Ministry. The source stresses that the timetable has yet to be approved by the Cabinet of Ministers and is subject to change.
May 22 – city buses
May 29 – 50% elektrichka suburban trains; 42 long distance Intercity trains
May 29 – domestic flights
June 9 –interregional and international buses
June 12 – 100% of suburban trains
After mid-June – international trains and air flights
Last – Kyiv Metro
Airline moves to sell international air tickets starting May 23 "are premature and mislead passengers," the spokeswoman for Ukraine's Infrastructure Minister Vlaydslav Krikliy tells Hromadske. On the Ukraine side, the Cabinet of Ministers will have approve dropping the ban on foreigners entering Ukraine, said the spokeswoman, Oksana Gerasimova. In the case of the EU, the European Commission has recommended to maintain to mid-June a ban entry of most non-EU citizens.
With airlines on the edge of bankruptcy, UIA, SkyUp, Wizz Air, Lufthansa and Czech Airlines started selling tickets last weekend for travel as early as May 23, the day after the latest end date of the quarantine. But yesterday afternoon, Gerasimova said: "Recommendations regarding the operation of airports are now being prepared, while reopening traffic with other countries depends on decisions of the respective governments."
With resumption of normal flights in doubt, UIA has one more confirmed flight this month from Kyiv Boryspil to New York's JFK. The flight leaves next Wednesday, May 20 and costs $850 one way.
The shutdown of Kyiv Boryspil airport is near total. In April, the entire passenger flow was 5,548 people. In April 2019, the airport handled 1,155,000 passengers. In Kharkiv, Ukraine's second largest city, Vladyslav Ilyin, airport commercial director, tells Ukrinform that resumption of flights depends entirely on government decisions. Last year, the airport handled about 100,000 passengers a month.  Since the pandemic arrived two months ago, Kharkiv has recorded two coronavirus fatalities a week.
Ryanair, Europe's largest discount carrier, announced yesterday that within six weeks it plans to be flying 1,000 flights a day, reaching 80 European airports, 90% of its pre-shutdown route network. The volume of flights by July 1 will be 40% pre-shutdown levels and strict hygienic procedures will be followed, said the Dublin-based airline. Since mid-March, Ryanair has been operating 30 flights a day between Ireland, the UK and the EU.
From the Editor: Airlines are broke. Shopping centers have lost $2 billion. Millions are unemployed. The deficit has tripled. Now that an epidemic has been averted and deaths have been kept to 425, it is time to fight smart: to work closely with business to restore the economy while balancing public health. Otherwise, Ukraine's quarantine will be remembered as far costlier than the coronavirus. With Best Regards Jim Brooke jbrooke@ubn.news