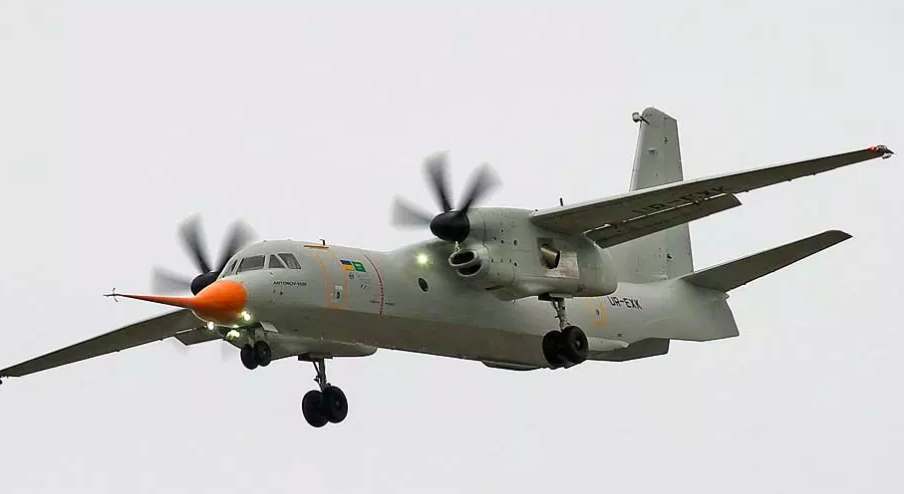 Wednesday, May 1
Under Kremlin Pressure, Saudi Drops Antonov Cargo Plane Deal...India Could Be Replacement...Antonov's Future: Regional Passenger Jets and Mid-size Military Cargo Jets...Fire Forces Nuclear Reactor Shutdown...Russia and Ukraine Gird for Gas Transit Talks in May
Antonov's deal to build up to 300 An-132 cargo turboprops for the Royal Saudi Air Force has ended, apparently falling victim to the new Russia-Saudi rapprochement. Under a joint venture contract signed three years ago, Antonov and Taqnia Aeronautics were to build the advanced military cargo planes, some in Kyiv and some in Saudi Arabia. Two years ago, the first prototype flew from Antonov's airport outside Kyiv. Each plane was valued at $30 million.
Last week, Alexander Donets, president of Antonov, told UNIAN: "For reasons not related to Antonov state enterprise, in Saudi Arabia, there was a change of the program partner, and the process was halted…Antonov did not freeze the An-132 project." London-based Middle East Monitor speculates that dropping the Ukrainian cargo plane project is a price Moscow exacted for Russia-Saudi collaboration on oil prices.
India may succeed Saudi Arabia in the project, Donets tells UNIAN. Two months ago, an An-132D was flown in a demonstration flight in Bangalore at Aero India 2019. Donets said: "The plane made a good impression, largely because it was created on the basis of the AN-32, which is well-proven in the operation of the Indian Air Force." Traditionally supplied by Soviet aircraft, India's air force uses 104 An-32 cargo planes, the 1980s/1990s predecessor of the An-132D. Antonov has signed a commitment to participate in the 'Make in India' program and is now waiting the outcome later this month of India's general election.
Since 2016, Antonov sales and production deals have fallen through with Azerbaijan and Turkey, two countries that work to maintain good relations with Russia. A 2016, deal for an Azeri company to buy 10 An-178 military transport jets has not materialized as the Azeris have not found financing for Antonov to buy replacements for Russian components. A cross-Black Sea venture to build an An-188 military transport jet with Turkey is stalled. "From the Turkish side there was a great interest," Donets told UNIAN. "But at this stage, interest is diminished, perhaps due to lobbying the interests of large aviation concerns.
"Ukraine's SkyUp and FANair have shown interest in Antonov's regional commuter jets — An-148 and An-158. But, in this highly competitive market, Boeing, Airbus, Bombardier and Embraer can easily outcompete Antonov on financing. "As far as I know, An-148s are being built in Voronezh at the VASO enterprise," Donets said, referring to Voronezh Aircraft Production Association, a Russian manufacturer that has produced these 100-seat passenger jets under license from Antonov.
For the future, Antonov's strategy should be to produce about 20 mid-size military cargo jets a year, Donets said. It is not economical to build the massive, Soviet-era cargo jets — Mriya An-225 or Ruslan An-124. A major priority is to win Rada approval of about $50 million in funding to complete the program of substituting Russian parts with components from Western suppliers.
To prepare for Antonov's post-Russia future, Boeing's Aviall is building a warehouse in Kyiv that will be stocked with Western parts used in Antonov planes. Under the Antonov-Boeing contract, Aviall will perform maintenance for all new purchasers of Antonov planes. Separately, Antonov plans to open in United Arab Emirates this year a service center to maintain Antonov planes flying in the region and in Africa.
Belarus predicts that clean oil will start flowing from Russia to Belarus' two refineries by Saturday. This would be two weeks after contaminated Russian oil was detected in Belarus, prompting Ukraine, Poland, Slovakia and Hungary to stop oil imports on the Soviet-era Druzhba pipeline network. "Full restoration will take a couple of months of heavy work," Belneftekhim, the state energy company, said in a statement Tuesday. Without including refinery repairs, Belarus estimates it will lose $100 million in oil exports, Reuters reports. According to Belneftekhim, levels of corrosive organochlorine compounds in the Urals oil coming through the Druzhba pipeline were 10-25 times greater than the standard limit.
A 950 MW nuclear reactor remained turned off Tuesday after a fire burned out an electrical transformer at the Rivne Nuclear Power Plant Monday night. "Radiation levels have not risen," Ilona Zayets, spokeswoman for Energoatom, the state nuclear agency, tells AFP. Ukraine's 15 nuclear reactors supply about the half of the nation's electricity. Commissioned in Nov. 1986, six months after the Chornobyl nuclear disaster, the Rivne reactor is of the VVER design, considered safer than Chornobyl's RBMK reactors. The Rivne Plant has four reactors and is located in Varash, about 40 km south of Belarus and 180 km east of Poland.
As Ukraine, Russia and the EU stake out positions for talks next month on renewing Russia's gas transit contract with Ukraine, President Putin warns Ukraine that no gas in the pipeline means no gas for Ukraine. "Imagine that there is no transit, then there will be no gas supply to Ukraine," he tells reporters, according to UNIAN. Currently, to avoid dealing with Gazprom, Ukraine buys Russian gas from EU companies. Gazprom's 10-year gas transit contract expires at 10 a.m. Monday Jan. 1. Gazprom said in January it would only negotiate seriously after Ukraine's presidential elections.
Due to repairs on Russia's Yamal-Europe gas line, the volume of Russian gas shipped across Ukraine to the EU increased by 5.3% during the first quarter, to 20 billion cubic meters. In one week in April, shipment volumes jumped by 25%, to 300 million cubic meters a day. This flexibility makes Ukraine's gas line system essential to Europe's energy security in the 2020s, Naftogaz CEO Andriy Kobolyev writes on his Facebook page.
Ukraine and the EU plan to offer Gazprom a 10-year contract, with a guarantee of 60 billion cubic meters a year in transmission. "Ukraine will provide capacity at 90 billion cubic meters per year," Yuriy Vitrenko, executive director of Naftogaz, briefed reporters last week. "Thirty billion cubic meters will be free capacity, which will be available for booking by other companies." He calculates that at this level, Ukraine would keep its annual gas transit fees at the current level, $3 billion.
If Russia cuts off gas to Ukraine next year, Naftogaz plans to reverse flows in the main pipeline, allowing Slovakia to pump gas east to Ukraine, Vitrenko tells NV Business. To this end, workers are rebuilding a key compressor pipeline station in Bar, 70 km southwest of Vinnytsia city. To strengthen its negotiating position with Russia, Naftogaz plans to fill all reservoirs this summer, allowing Ukraine to get through the heating season of a normal winter. Ukraine has the largest gas storage capacity in Eastern Europe – 31 billion cubic meters.