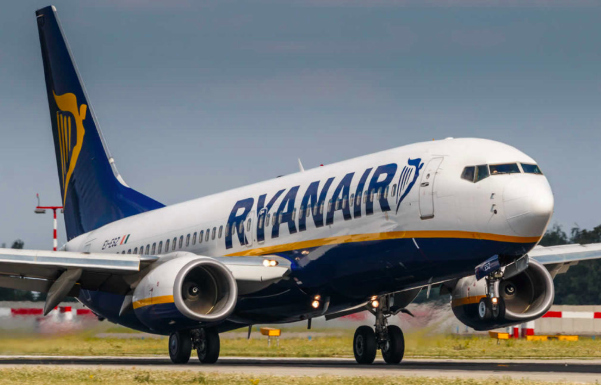 Wednesday, March 27
Ryanair Starts Flying in June From Kharkiv and Odesa...Wizz Air to Fly from Kyiv to 10 German Cities...China's COFCO to Double Grain Purchases from the Black Sea...Prior to Sunday's Vote, Zelenskiy Gets Mixed Reviews in Business Press
Ryanair, Europe's largest airline, starts flying in June to Kharkiv and Odesa, expanding from its current Ukraine destinations – Kyiv Boryspil and Lviv. The expansion is cautious, catering to Poland-bound workers and students, launching flights to Krakow from Kharkiv and Odesa in mid-June. In response, discount rival Wizz Air immediately moved up the launch of its Kharkiv-Krakow flight by two months, to August 2. In October, Ryanair launches flights from Odesa to Wroclaw, Poland and from Kharkiv to Vilnius, Lithuania.
With these new flights and 11 new ones from Kyiv Boryspil, Ryanair will double its Ukraine routes this year to 32. Speaking in Kharkiv on Tuesday, Mikhail Kachmazhik, executive director of Ryanair Sun, the Polish unit operating the flights, said: "In 2019 we plan to connect Ukraine with 24 cities in 11 countries and transport 1.4 million passengers per year." Kharkiv airport, serving Ukraine's second largest city, aims to increase passenger traffic this year by 25%, to 1.2 million. This month it welcomed two other low cost airlines: SkyUp with a flight to Sharjah; and Ernest Airlines with flights to Rome and Milan Malpensa.
With Germany's Bundestag working on a law to allow temporary Ukrainian workers, Wizz Air is betting on Germany. On July 5, Kyiv launches flights from Kyiv Sikorsky to Leipzig, its 10th German destination from Kyiv. The other cities are Berlin, Bremen, Cologne, Dortmund, Frankfurt, Hamburg, Hanover, Memmingen, Nuremberg. From Kyiv, Wizz Air flies to five Polish cities: Katowice, Poznan, Warsaw-Chopin, Wroclaw, and on April 5, Krakow.
French discount airline Aigle Azur aims to attract 10% of the 160,000 passengers now flying between Paris and Kyiv, Frantz Yvelin, the airline's CEO, told reporters in Kyiv on Tuesday. With only UIA and Air France flying between Kyiv and Paris, Yvelin predicts the airline will expand beyond its April 18 launch with three flights a week.
In May, regular flights are to start between Mykolaiv and Kyiv, ending a six-year gap in service, Infrastructure Minister Volodymyr Omelyan said Tuesday in Mykolaiv. With the flight, Mykolaiv will compete with Kherson, 75 km to the south, which also has a flight to Kyiv. SkyUp airlines, which recently started regular flights from both airports to Sharm El Sheikh, Egypt, plans to launch regular flights from both airports to Antalya, Turkey.
China's COFCO plans to double its Black Sea grain purchases by 2022, Jingtao Chi, chairman of the agricultural trading group, said Tuesday in Lausanne at the FT Commodities Global Summit. COFCO plans to increase the amount of crops it buys around the world by 50%, to 60 million tons in 2022, Reuters reports. COFCO's emergence as an international merchant challenges the ABCD quartet of Western farm commodity giants: Archer Daniels Midland, Bunge, Cargill and Louis Dreyfus.
Chicken exports jumped 43% in January-February y-o-y, reports the Association of Food Industry Manufacturers. Of the 69,000 tons in sales, the biggest buyers were Saudi Arabia, the Netherlands, and Slovakia. Last year, exports to the EU jumped by 54%, more than double the overall increase of 21%. Last year, Ukraine exported 329,000 tons of poultry meat, earning half a billion dollars.
A four lane, 500 km divided highway connecting Mariupol, Berdyansk, Kherson, and Mykolaiv, would cut today's eight hour truck drive to five hours in the early 2020s. That vision of a modern east-west 'autobahn' linking Ukraine's Azov Sea ports with Black Sea ports was presented Tuesday by Infrastructure Minister Volodymyr Omelyan in Kherson. Omelyan's goal is a feasibility study this year and construction next year.
Volodymyr Zelenskiy, the new face and the new leader in all opinion polls prior to Sunday's presidential vote is getting mixed reviews from the business press. In addition to citing his political inexperience, many analysts worry about his ties to Igor Kolomoisky, former owner of now nationalized PrivatBank.
"Unpredictable election makes Ukraine's friends wary," headlines a Reuters story out of Kyiv and Brussels. "Ukraine's Western backers fear the country's next president may prove unwilling or unable to accelerate reforms they have spent five years investing in, whoever it turns out to be," starts the story based heavily on an interview with Western diplomats. One said: "With Zelenskiy, we have no clue." Last month, European ambassadors met with Zelenskiy. Summarizing one diplomat's impressions, Reuters wrote 'Zelenskiy was clearly intelligent but did not articulate a policy or vision. Citing a second diplomat, Reuters wrote: 'He left an impression of being light on substance.'
"Ukraine's Reformers Back a Comedian President" headlines a different view, a Bloomberg Opinion piece by Leonid Bershidsky. Citing interviews with former Finance Minister Oleksandr Danilyuk and former Economy Minister Aivaras Abromavicius, Bershidsky writes: "Their willingness to gamble on a political novice speaks volumes about Poroshenko's failures as Ukraine's leader." Danylyuk, he writes, hopes Zelensky will adopt, on his advice, a "radical agenda including an overdue reform of the corrupt judiciary and the intelligence service…Abromavicius, too, expects forceful moves from Zelensky to improve the rule of law and stop law-enforcement interference with business while sticking to a tight fiscal policy under International Monetary Fund guidelines."
Bershidsky writes of "the willingness of two of Ukraine's most prominent reformers to stake their unusually clean reputations on a comedian who wants to cut taxes, deregulate business, introduce more direct democracy, strip legislators of their legal immunity and make it easier to impeach a president." He quotes Dragon Capital CEO Tomas Fiala saying: "If Zelensky wins, it will depend on what role Abromavicius and Danylyuk play on his team. If they're in control, [bond] spreads will tighten; if Kolomoisky people show up, they'll widen."
Reacting to the Bloomberg Opinion piece, Timothy Ash, the senior sovereign analyst for Blue Bay Asset Management, writes: "Danylyuk and Abromavicius coming out for Zelenskiy could well be the game changer. This could mark Zelenskiy out as a candidate for reform/change/youth. Poroshenko is the candidate for the status quo/security/stability. Tymoshenko more for the older more conservative electorate with populist tone. I think Zelenskiy wins."
Dragon Capital writes: "Political newcomer Volodymyr Zelenskiy's current rhetoric raises no major concerns, unlike his relationship with tycoon Igor Kolomoisky. Zelenskiy's potential presidency poses no immediate threat to the IMF program, in our view, but there is little visibility going forward given Zelenskiy's political immaturity."
"Election or earthquake?" headlines an analysis in the Kyiv Post by Bohdan Nahaylo, the analyst of Ukrainian politics since the 1980s. "For the first time since the former dissidents ran for president in 1991 in the first election after independence, a strong candidate with a very real chance of winning has emerged from outside the system," he writes. "Initially a joker in the pack, Zelenskiy represents a massive protest vote and call for change. At this late stage though he has neither elaborated his vision, let alone program nor unveiled his team, fueling suspicion, disdain and even alarm in some quarters."
"Political Revenge: A Ukrainian Oligarch Waits in the Wings" headlines a story in The American Interest by Adrian Karatnycky who asserts that Zelenskiy is a political project created by Igor Kolomoisky to return to power in Ukraine. He writes in summary: "Vladimir Putin…must be licking [his] chops at the thought of squaring off against a counterpart who has never engaged in politics, run a complex business, served as an officer in the military, occupied a top management position in the private sector or government, or expressed a single thought about geopolitics."