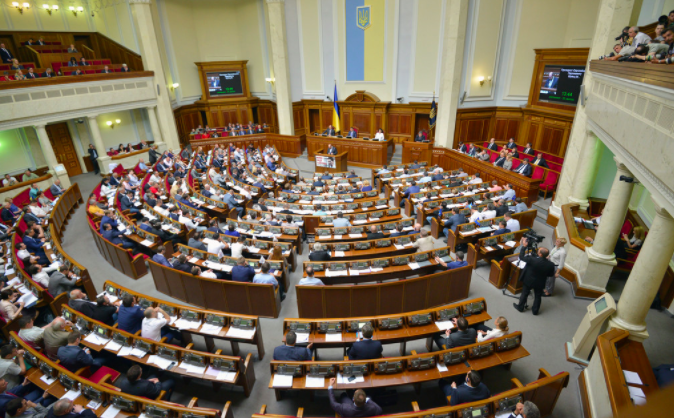 Wednesday, March 25
Rada Meets Tomorrow in Bid to Unlock $10 billion in IMF Aid...Ukraine's Gas Import Bill Down 14%...Finance Ministry Sells Almost $1 billion in FX Bonds...Central Bank Stops Selling Dollars to Defend Hryvnia...Thanks to Coronavirus Curbs, Job Applications Jump 60%, Half Kyiv's High End Hotels Suspend Operations.
Rada members are to cut short their spring break and to meet tomorrow in emergency session to debate a banking bill designed to unlock as much as $10 billion in IMF and international aid. Reportedly approved by IMF staffers, the bill would block Ihor Kolomoisky and owners of 103 other banks from regaining their banks after the central bank declared the institutions insolvent in the 2014-2015 banking crisis. Although the government has a majority in the Rada, ruling party officials are only cautiously optimistic that the bill will pass the legislative hurdles to win final approval next week.
With three Rada members hospitalized for coronavirus, many members are reluctant to go to the Parliament building. An alternative – debating and voting by video – would have to be approved in a parliamentary vote with the majority of members physically present. Prime Minister Denys Shmyhal says he needs the IMF money to help fund his special $7 billion coronavirus mitigation and economic stabilization fund.
Concorde Capital's Alexander Paraschiy writes: "Funding the state budget with IMF money is what Ukraine critically needs, taking into account that fiscal needs will surge due to challenges related to the coronavirus. By the end of this year, Ukraine will have to repay $4.1 billion in external debt, and it is important for the government to secure external financing that will more than cover this amount."
European oil prices could fall in half from their current price of $29 a barrel, David Sheppard, Financial Times Energy Editor writes in an analysis headlined: "Oil industry faces biggest crisis in 100 years." While the Saudi-Russia price war attracts attention, coronavirus restrictions drive down demand. "As Europe and North America hunker down, the latest estimates suggest 10 to 25 per cent of global consumption could vanish in the coming few months," he writes. "The result is likely to be storage tanks being filled to the brim within months. Even supertankers at sea, called into action as emergency storage vessels, could be maxed out by the end of summer…Analysts are starting to predict the price could fall to the teens or even into single digits."
Low European gas prices are filtering down to the monthly gas bills paid by Ukrainian households. Naftogaz tweets: "The gas price for March for the population has been reduced by 14%." Ukraine's state energy company notes that it does not supply gas directly to the population. Referring to intermediary companies, the company tweets: "We hope that private suppliers will adjust their price according to the market decrease."
For the first time in two weeks, the central bank did not sell dollars Tuesday to defend the hryvnia. Today's official rate is 27.77 hryvnia to the dollar, 33 kopiykas stronger than Monday. "The good news is that in recent days we have seen an increase in the number of currency sellers in the interbank market," the National Bank of Ukraine reports on Facebook. "We also believe in positive news – both the gradual curbing of the coronavirus in the world and the conclusion of a new program with the IMF that will signal a continuation of reforms in Ukraine."
The Finance Ministry sold almost $1 billion worth of government bonds at its weekly auction Tuesday. The government sold $801.6 million worth of 3-month dollar bonds with an average rate of return of 3%. The government sold €75.7 million worth of 14-month euro bonds with a rate of return of 2.22%. Tuesday's auction was 11 times larger than the one the previous week when $71.6 million worth of 9-month bonds went for an average rate of return of 3.5%. On March 3, at the last hryvnia bond auction, six-month bonds went for an average rate of 9.9%.
Due to coronavirus restrictions, Raiffeisen Bank Aval, the largest foreign-owned bank in Ukraine, suspends operation this week at 71 branches – about 15% of the total. Bank Board Chairman Alexander Pisaruk said branches will not close in cities where there is only one branch. Separately, through work at home programs, the bank has been cut in half the number of staffers inside branches that are open.
In the midst of the coronavirus pandemic, Ukraine's corn, wheat and barley exports rose 26% last week over the previous week, reports APK-Inform consultancy. In the week of March 14-20, Ukraine's grain exports by sea hit 1.2 million tons. In the export year that ends in July, Ukraine's grain exports are up 22%, to 44.2 million tons. Last week, most exports went to three densely populated nations heavily dependent on food imports: China, Egypt and South Korea. Taras Vysotskiy, Deputy Economy, Trade and Agriculture Minister, said this month Ukraine could export a record 52-55 million tons of grain this season, including 19-20 million tons of wheat.
Kernel, Ukraine's largest sunflower oil producer, has sold its 50% stake in its Russian grain terminal at Taman, on the Sea of Azov. A subsidiary of Russia's VTB Bank paid €61 million cash for the terminal, which is 10 km east of Russia's new bridge to Crimea, over the Kerch Strait. In a statement to the Warsaw Stock Exchange, Kernel said it hasn't been involved in Russia operations since 2017, when it assigned its transshipment quota to Global trade giant Glencore, which owns the other half of the terminal.
Ukraine has 97 publicly confirmed cases of COVID-19, with almost half in Kyiv city or region, reports Viktor Lyashko, Ukraine's chief sanitary doctor. Since the beginning of the outbreak in Ukraine, three patients have died from COVID-19.
Now that public health officials are steering Ukraine's economy, they might want to read: "Coronavirus Took My Job": People Who Lost Their Jobs During the Quarantine. Hromadske International profiles five missing faces from Kyiv's workforce: a cook, an IT worker, a photographer, a physical therapist and a musician.
In the first 12 days of Ukraine's March quarantine, job applicants to the hh.ua placement agency jumped by almost 60%. Compared to February, new applicants are more male, more experienced and more managerial, the job agency reports. Job applicants from March 12-23 were 63% male, compared to 53% in February. In March, 67% had more than six years of experience, compared to 53% in February. The company says it works with 77,000 companies and has 1.3 million resumes on files. Separately, an American lawyer tells the UBN that he posted an opening for a lawyer on Wednesday and got 100 CVs by Friday.
InterContinental Kyiv, Fairmont Grand, Radisson Podil, Park Inn and CityHotel are closed for the duration of Kyiv's coronavirus quarantine. Hilton Kyiv, Hyatt Regency Kyiv, Aloft, the two Ibis hotels, the Premier Palace and Radisson Blu on Yaroslaviv Val remain open, generally with reduced services. Kyiv Mayor Vitaliy Klitschko estimates the quarantine will cost the city budget $35 million.
From the Editor: Yesterday I wrote that politicians suffering from coronavirus hysteria threaten to drive the world economy off a cliff. That provoked 10 readers emails – five in agreement, five in disagreement. For perspective: in the US, the unfolding coronavirus flu epidemic has claimed 553 lives. It seems on track to claim several thousand more. For comparison, one reader emails me the US Center for Disease Control estimate on 'normal' flu deaths in the US. For the now completed 2019-2020 winter, the estimat is: 23,000 to 59,000 deaths. For another comparison, the number of Americans who died of opioid drug deaths in 2018 was 46,802. Neither of these tragic death tolls is being used to shut down the economy of a nation of 330 million people. If that happens, the only way to pay for it will be to print US dollar bills like Argentine pesos. With Best Regards, Jim Brooke jbrooke@ubn.news