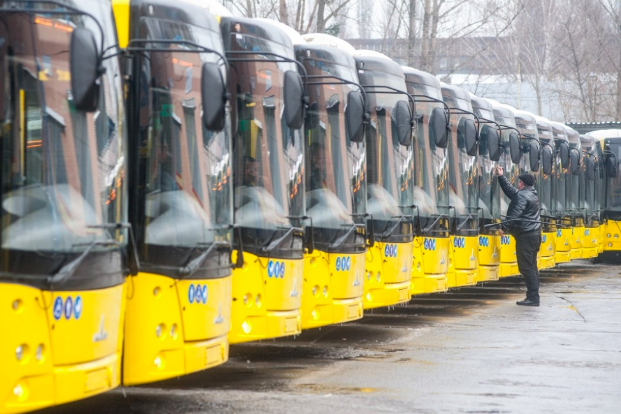 Wednesday, March 20
EBRD to Loan €420 Million to Modernize Kyiv Mass Transit…Dnipro, Lviv, and Kharkiv Get New Ukrainian-made Buses…Zelenskiy Wants to Stay on Track with IMF…US-Ukraine Solar Plant Opens in Khmelnitskiy Region…Škoda Car Assembly to Move from Zakarpattia to Serbia?
The EBRD is committed to loaning nearly half a billion dollars over the next three years to dramatically upgrade mass transit in Kyiv. By 2021, the capital should see new buses, trolleybuses and subway cars, says Mayor Klitschko.  As part of the EBRD's Green Cities program, the mayor says, the EBRD has approved €320 million in funding for four projects, including renovating tram lines around Podil's Kontraktova Square and renovating Metro Bridge, first opened over the Dnipro in 1965. Separately, the EBRD is loaning €100 million for the purchase of 50 new subway cars, 185 new buses and 202 new trolleybuses. Bohdan Motors of Lutsk recently won a tender to supply 55 extra-long trolleybuses.
Noting that Ukraine has five trolleybus manufacturers and 10 bus manufacturers, Andrei Glushchenko, analysts for GMK, the nation's metal news site, says: "The EBRD project means a favorable opportunity to support the domestic market of metal products." He said makers of wheels, rails and subway cars should keep an eye out for the upcoming tenders.
With the number of cars in Kyiv expected to increase by 60% by 2025, the city has adopted a $3 billion, 5-year transportation program. Heavily oriented toward non-car mobility, the program calls for buying 400 trams, trolleybuses and electric buses by 2023. Bicycle paths, removal of cars from sidewalks, better marketing of the subway system and linking Left Bank and Right Bank tram networks are elements of the plan recently approved by the City Council. Andriy Strannikov, chairman of the Council's Budget Committee, tells Interfax-Ukraine: "Now the capital's bridges are overloaded, the tram network is degraded, and there is no associated bicycle infrastructure in general."
Upgrading urban mass transit across Ukraine is the goal of a combined credit line of the EBRD and the European Investment Bank. Under the Ukraine Urban Public Transport Project, two development banks are financing this year the purchases of 227 buses, 153 trolleybuses, 56 trams, and 35 subway cars. The Infrastructure Ministry reports that last year, the credit line helped finance the purchase of 167 trolleybuses: 47 for Odessa, 40 for Kremenchuk, 23 for Dnipro, and eight for Kryvy Rih.
Electrontrans, a Lviv-based German-Ukrainian joint venture, won two tenders in recent days totaling $37 million to supply a total of 20 self-propelled trams to Kyiv. The Lviv-based manufacturer is to deliver the low floor trams from May 1 until the end of this year.
Odessa plans to spend $50 million over three years to upgrade its central North-South tram route. The city will buy 21 single car electric trams and 16 double car trams. Last year, Odessa's trams and trolleys carried 171 million passengers. With only 20% paying full fare, most were students and retirees.
The EBRD and the World Bank's Clean Technology Fund are providing low-interest loans totaling €17.5 million to Lviv to buy 50 low floor electric trolleybuses from Electrontrans. Under a loan agreement signed two weeks ago, the money also goes for modernizing two electric transport depots and for equipment maintenance. Separately, Lviv also plans to buy this year 10 new trams and 100 buses. Last year, the city bought 30 used trams from Berlin, 50 new buses from Electrontrans, and 100 new buses from MAZ, the Belarus manufacturer.
Similarly, the EBRD and the Clean Technology Fund are loaning €13 million to Dnipro to buy 44 new trolleybuses. Last month, Bohdan Motors won an €11.5 million tender to supply 57 new trolleybuses to Kharkiv.
Ternopil has placed tenders for 100 used buses from EU countries. Expected to cost $6 million, the auctions take place on ProZorro May 15-16. Last year, Mariupol bought 20 used trams from the EU, its fourth such purchase. Similarly, Konotop, in Sumy region, has posted a $500,000 tender for six used trams from the EU. Set for delivery by Oct. 31, the trams would increase the municipal fleet by 50%.
In a US-Ukraine joint venture, a $55 million, 64MW solar plant was inaugurated Tuesday in Kamenets-Podilskiy, in Khmenlnitskiy region. The plant was financed on a 50-50 basis by ICU, the Kyiv investment group, and VR Capital Group, a US investment fund. Richard Deitz, VR president, said: "Having invested more than $1 billion in Ukraine, we are one of the largest foreign investors in the country and are ready to continue to support the Ukrainian economy." Makar Paseniuk, ICU managing partner, said:  "In the near future, we plan to launch our second solar power plant, with a capacity of 35 MW, in the Kherson region."
Volodymyr Zelenskiy, currently the leading presidential candidate in election polls, met Monday with leaders of Ukrainian business associations. He was accompanied by former finance minister Oleksandr Danylyuk and former economy minister Aivaras Abromavicius. Dragon Capital reports: "Zelenskiy said he supported continued cooperation with the IMF and was committed to keeping Ukraine current on its debts in order to support the country's investment image. On other matters, he said he was in favor of introducing an exit capital tax; implementing a tax amnesty for businesses, at 8-10% for large companies and at 5% for SMEs; doing away with law enforcement agencies' interference with business, and canceling the ban on farmland sales."
Separately, Bloomberg writes of Zelenskiy: "There's nothing funny about why a comedian is getting a shot at becoming president of Ukraine, a country at war. In dramatic revolutions of 2004 and 2014, Ukrainians have twice sought to buck a political system in which wealthy oligarchs appeared to take turns milking the state…. [Zelenskiy] also pledges to strip lawmakers, judges, and the president of their immunity from prosecution, and to make the courts free from political interference."
With the loss of portions of Donetsk and Luhansk to Russian-separatist control five years ago, Ukraine lost almost one-quarter of its industrial capacity, President Poroshenko said on ICV's Freedom of Speech show. As in past Red Army occupations, valuable factory machinery was put on flatbed rail cars and shipped east and the remainder was cut up for scrap metal, he said. At present, he said, the unemployment rate in the occupied regions is 60-70%.
Serbia's largest Škoda importer tells Večernje Novosti, a leading Belgrade newspaper, that executives from Škoda and parent company Volkswagen talked to him last week about moving assembly from Zakarpattia, Ukraine to Serbia. Expecting more talks Friday, at the Belgrade Motor Show, Milenko Kostić, the importer, said: "There is smoke. But whether there will be fire, we will know soon."
Located on a rail siding three kilometers from the Slovak border, Eurocar assembles Škoda models, largely for export to the EU. With a production line capacity of 80,000 cars, the plant produced only 5,659 Skoda cars last year. This was 8% less than in 2017. During the first two months of this year, Eurocar produced 1,066 cars, virtually unchanged year over year. Eurocar is the last surviving automaker in Ukraine, a country that only a decade ago, in 2008, produced 424,000 cars. While auto parts plants now employ 50,000 people in Ukraine, plans for a major foreign automaker to enter the country foundered last year on the abrupt shift by EU automakers to electric cars.