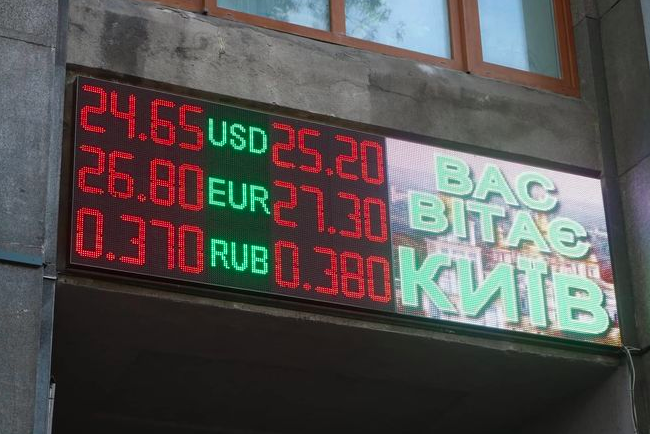 Wednesday, March 11
Central Bank Sells Half a Billion Dollars to Defend Hryvnia...Low Oil, Gas Prices Push Ukraine into Deflation...Ze Tells Bloomberg He Is Working Through IMF Checklist...Smuggling Costs State $2 billion, Kyiv Judges Believe iPhones Cost $10...Coronavirus Cuts Flights, Business Conferences...
With the hryvnia down almost 7% against the dollar this year, the central bank intervened Tuesday morning, selling $250 million in foreign currency reserves. This followed the net sale of $307 million late last week. Today's official rate is 25.31 hryvnia to the dollar, down from 23.69 on Jan. 2.
The National Bank of Ukraine says its mission is not to defend a rate, but to smooth out ups and downs caused by market volatility.  The bank said in a statement: "The NBU is maintaining an active presence in the interbank FX market in order to smooth out the excessive hryvnia exchange rate volatility, which has intensified over the past week as market sentiment has worsened amid heightened uncertainty over whether the coronavirus will continue to spread around the world and to rattle the global financial and commodity markets."
Noting the bank controls almost $27 billion in foreign currency reserves, the highest since Nov. 2012, the bank warns speculators that it "wields sufficient resources to mitigate hryvnia exchange rate fluctuations." The bank also says that Ukraine has so far "emerged virtually unscathed from the coronavirus's global spread in February and early March, with Ukrainian exports continuing to rise…Import prices are declining even faster than export prices, especially energy prices, reducing the value of imports."
Pulled down by a 31% y-o-y drop in the price of natural gas, consumer prices in Ukraine were down 0.3%, compared to January. In annual terms, Ukraine's y-o-y inflation rate in February was 2.4% — the lowest level since Feb. 2014. By comparison, it was 3.2% in January, 2020, and 4.1% in 2019. Monday's drop in oil prices is expected to translate into 10-15% reductions in gasoline and diesel prices.
To block the return of nationalized banks to former owners, lawyers are drawing up a banking bill designed to withstand constitutional challenges, President Zelenskiy told Bloomberg Monday. "We need a little more time to agree on this bill," he said referring to a key demand from the IMF. "I have repeatedly met with the IMF. That's why [our] lawyers are doing their best." Ihor Kolomoisky, the main media backer of Zelenskiy's presidential bid last year, has filed hundreds of lawsuits in a campaign to win back his old bank, PrivatBank.
Zelenskiy said his government is working down the IMF checklist with the goal of winning an agreement. "We have already done more than any previous government," Zelenskiy said of the free market changes demanded by the IMF. "We have [farm] land left. And banking law. I have pledged to adopt a law on land and to end banking law – we will do that."
The bill to create a private farm land market in Ukraine should win final approval by the Rada by the end of next week predicts Oleksiy Mushak, economic advisor to the Cabinet of Ministers,. "10 days until land reform," he writes on Facebook. "This and next week will be dedicated to the promotion of land freedom and description of opportunities and risks of opening the land market. Stay with us. It will be fun and hot."
Reviewing two options for an 'anti-Kolomoisky bill,' Concorde Capital's Alexander Paraschiy wrote last week: "Worsening global market sentiment, amid the government's tough international debt repayment schedule, may force the authorities to reach a compromise with the IMF. For that reason, we remain optimistic about an IMF deal in 2Q20, or 3Q20 the latest."
With no ministers at the heads of key ministries after last week's purge, the Cabinet of Ministers promoted four deputy ministers to serve as acting ministers. Pavlo Kukhta will be acting Minister of Economic Development, Trade and Agriculture. Vitaly Shubin will be acting Minister of Energy and Environment. Yuriy Poliukhovych will be acting Education and Science Minister. Svitlana Fomenko will be acting Culture Minister.
By reaching a final agreement with the IMF on the 3-year, $5.5 billion program, Ukraine will unlock additional low interest financing of €500 million from the EU and up to $1 billion from the World Bank, outgoing Finance Minister Oksana Markarova, wrote last week in a 1,500-word farewell message on Facebook. Markarova, a 5-year veteran of the Finance Ministry, wrote: "We also have agreements with other official lenders, which this year can cover almost all of Ukraine's financing needs, so as not to resort to market borrowing, which, due to the global crisis unfolding amid the coronavirus epidemic, may be unavailable at an affordable price."
Kukhta called for continuity, writing on Facebook: "It is important for our team that the changes and reforms that we managed to launch in six months of work (this is the land market, launching privatization, reforming state enterprises, creating tools to attract investment and much more) do not disappear without a trace and continue for the benefit of the people of Ukraine."
Smuggling costs the state budget $2 billion in lost import duties every year, Maxim Nefyodov, head of the new State Customs Service, tells NV Radio. In courts last year, the government lost 85% of customs cases, because judges believe that importers "were lucky enough to buy an iPhone for $10," Nefyodov said. Behind the recent statistical rise of consumer goods imports, Nefyodov says, importers are starting to declare the real value of their goods. Last week, in a speech to the Rada, President Zelenskiy complained that the Customs Service has not eradicated customs in its first six months of work.
Due to coronavirus, four major Ukraine business conferences are being postponed. Dragon Capital's annual Investor Conference in Kyiv is postponed from its March 19 date. Scheduled for the same day, DEF'2020 International Space and IT Days in Dnipro will be moved to this fall. In New York, Strategy Council's Ukrainian Investment Roadshow moves from April 14 to Oct. 13. IForum, Ukraine's largest IT gathering, is moving from May to this fall.
Due to coronavirus, UIA is reducing flights to Italy, Israel and 14 other countries, largely in the EU. In addition, it will cut frequencies of domestic flights to and from Boryspil, its flight hub. Similarly, Ryanair and Wizz Air are suspending flights to and from Italy until early April. Neither airline flies between Ukraine and Italy.  SkyUp, Ukraine's discount airline, says it is 'amending [its] large-scale plans,' Presumably, this refers to its plans to triple Italy destinations from Boryspil, to nine, at the end of this month.
With coronavirus constricting international travel, President Zelenskiy urges Ukrainians to take domestic vacations. Noting that Ukraine only has one confirmed case of coronavirus, he said last week: "Compared to many European countries, we have the smallest number of these cases — and we are controlling it. We have a beautiful country. We have many places where you can rest properly until this story is over."
From the Editor: Son George and I arrived at school yesterday morning to be greeted by the school guard wielding a handheld thermometer gun. Back home, the water delivery man surveyed my growing stock of water bottles and suggested I go vertical with a rack. A friend heard I had an 'extra' mask and cadged one for the metro. Kyiv is on edge, waiting.  With Best Regards, Jim Brooke jbrooke@ubn.news