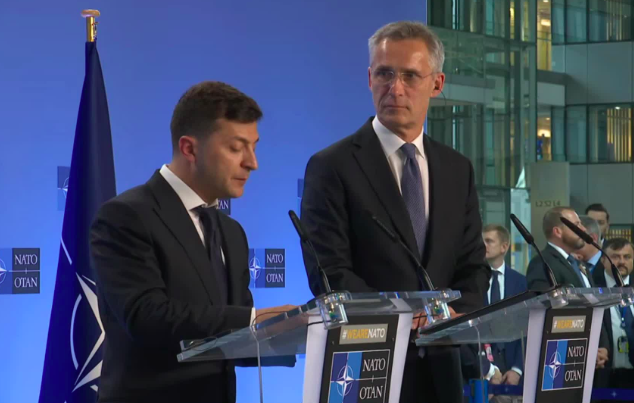 Wednesday, June 5
Zelenskiy Slaps Down Kolomoisky...US LNG Breaks Russia's Gas Monopoly in Bulgaria...Norwegians and Chinese Build Big Solar Plant in Mykolaiv...MHP Builds Largest Poultry Plant in Europe...UZ Mulls Private Trains on the Boryspil Express
President Zelenskiy, on his first trip to Brussels as Ukraine's leader, clearly distanced himself from his main campaign backer Igor Kolomoisky. Kolomoisky bought PrivatBank, Ukraine's largest bank to bankruptcy, a path he advocated for Ukraine in an interview with the Financial Times.
 "As for Privatbank, I will protect only the state, only citizens. I am not interested in these games of the former owners in the courts. I am not going to be on their side," Zelensky said during a meeting Tuesday with Valdis Dombrovskis, the European Commission's vice president for the Euro. After Ukraine nationalized PrivatBank and injected $5.5 billion in December 2016, Kolomoisky filed 240 cases in Ukraine and abroad to try to get the bank back.
As for Kolomoisky's argument that Ukraine should follow the default paths of Greece and Argentina, Zelenskiy was equally dismissive: "As for the default, these are rumors. These are well-thought-out actions that have nothing to do with my official position."
Separately, in Brussels, President Zelenskiy told Polish President Andrzej Duda on Tuesday that Europe's energy independence from Russia is crucial. He said: "One of the important areas of our common interaction at the European level is the issue of energy security, preservation of the strategic role of the Ukrainian GTS and counteraction to Nord Stream 2."
Breaking Russia's monopoly on gas exports to Bulgaria, the Black Sea nation plans to receive two LNG loads of American gas this year via Revithoussa, Greece's only LNG terminal. Bulgaria's Energy Minister Bulgarian Energy Minister Temenuzhka Petkova tells reporters that the first tanker has arrived at Revithoussa, an island 30 km west of Athens. The US suppliers are: BP America and Cheniere Energy, of Houston.
Norway's Scatec Solar and PowerChina Guizhou Engineering Co. Ltd. have started to build a €124, 148 MW solar power plant in Prohressivka, 100 km west of Mykolaiv city. PowerChina is covering 65% of the construction costs of the station, which is to be ready by next June. For commissioning this year, before the 'green' tariffs expire, Scatec is building two other solar plants: a 47 MW station in Mykolaiv and a 30 MW station in Kamyanka, Cherkasy.
Meeting one IMF demand, President Zelenskiy submitted his draft law on illegal enrichment to the Rada on Monday. The bill is to replace a law ruled unconstitutional by the Constitution Court in February. The Zelenskiy version proposes punishing public officials who possess unexplained assets exceeding their official income by UAH 204,000, or $7,520.  Penalties would be five to 10 years in jail, confiscation of property, and a ban on holding public office for three years.
Concorde Capital's Zenon Zawada writes: "It's positive to see the Zelenskiy administration take a proactive approach to this legislation, submitting it to parliament promptly… this simple legislation is a source of optimism for the investment community."
Ukraine's Constitutional Court will hold hearings next Tuesday on the legality of Zelenskiy's move to advance Rada elections by three months. Parties already have held congresses and selected candidate lists for the July 21 elections. The constitutional challenge was brought by a group of Rada members. The Court classified the case as 'urgent' — but did not give a judgment date.
A fire destroyed a 15,000 square meter henhouse containing an estimated 2.5% of the hens of Ovostar Union, one of Europe's five largest egg producers. The fire on Tuesday hit Ovostar's unit in Vasylkiv, about 50 km southwest of Kyiv.
Ukraine could start exporting eggs to the United States this year, part of a major drive that sends Ukrainian egg products to 60 countries worldwide. Last year, exports were up 20% y-o-y, to 1.8 billion eggs, according to an industry overview in World-Grain.com. UkrLandFarming, parent of Avangard, a major egg producer, plans to invest over $200 million in a terminal to handle its egg exports to 40 nations worldwide.
Through April, poultry meat exports were up 40% to $199 million, compared to January-April of last year, reports Ukraine's Association of Food Industry Producers. During 2018, poultry exports rose 21% in volume, to 329,000 tons and by 30% in monetary terms, to $507 million, according to the State Fiscal Service. So far this year, the top buyers are: Saudi Arabia – $55 million; Netherlands — $33 million; and Slovaki $20 million.
MHP is building in Vinnytsia the largest poultry farm in Europe, World-Grain reports, citing Yuriy Kosiuk, the company founder/CEO. Located in central Ukraine, this project represents a major expansion of an existing poultry farm to 560,000 tons of broiler meat a year.
Thanks to MHP exports, Ukraine became last year the third largest supplier of poultry meat to the EU and the sixth largest poultry exporter worldwide. According to Sergey Karpenko, general director of the Ukraine Poultry Union, the nation's biggest sales markets are: The Netherlands, Iraq, Saudi Arabia and Slovakia.
The EBRD is reviewing a €100 million loan request from MHP to buy a 91% stake in Perutnina Ptuj, Slovenia's main poultry producer. "Some media reports that the EBRD allegedly rejected this project are not true," Anton Usov, the EBRD's regional spokesman, tells Interfax-Ukraine.
Prior to Austria's May 26 European Parliament elections, Kurier, a major Vienna newspaper, ran an article charging MHP was ducking EU quotas on chicken fillet imports by sending half-processed chicken cuts to its EU factories for final processing. The newspaper announced: "The KURIER managed to uncover the export tricks of MHP…when cutting the birds in Ukraine, a bone remains on the chicken breasts."
In response, Sergii Karpenko, executive director of the Poultry Union, said Ukraine's goal is to "deliver quality poultry products at affordable prices for our consumers." He told GlobalMeat news site: "Unfortunately, we have seen a rise in anti-Ukrainian rhetoric ahead of the European elections later this month. We regret that fake news, misinformation and wilful inaccuracies are freely used now in the debate about European poultry."
After Boryspil airport handled a record 52,000 passengers on Sunday, Evhen Kravtsov, CEO of Ukrzaliznytsia, suggests a radical expansion of the 'train to the plane,' including private trains on the 35-minute route from Kyiv's Central Railway Station. Instead of the current single and double wagon self-propelled trains, 5-car trains carrying 500 passengers could ply the route, marketed as the Boryspil Express. Since the route is only partially electrified, the locomotives could either be diesel or electric with on-board energy storage, allowing for autonomous travel. Six months after inauguration, the Boryspil Express now carries 3,000 passengers a day.
Investing in increased ridership, Ukrzaliznytsia is building a multimodal station at Vydubychi, the southernmost stop on the Metro's Green line, before it crosses the Dnipro. Due for completion this fall, this covered station will allow bus riders from the south and metro riders from the north to transfer at Vydubychi to the train Boryspil.
Note from the Editor: As UZ mulls allowing private trains to take passengers to Boryspil, it is useful to remember the no nothing hostility to the project six months ago in Kyiv's press. Ignoring the fact that the project was completed on time and at a fraction of the cost of the Chinese proposal, the Kyiv media obsessed over the breakdown of one train on day two. Trains to planes are successful the world over – from Moscow to New York to London to Shanghai. In Kyiv, airport passengers are willing to pay five times the fare for a comparable suburban electrichka, making the line a rare moneymaker for UZ. When healthy skepticism sours into hostility, journalists lose readers, becoming, in the words of the late William Safire "nattering nabobs of negativism."