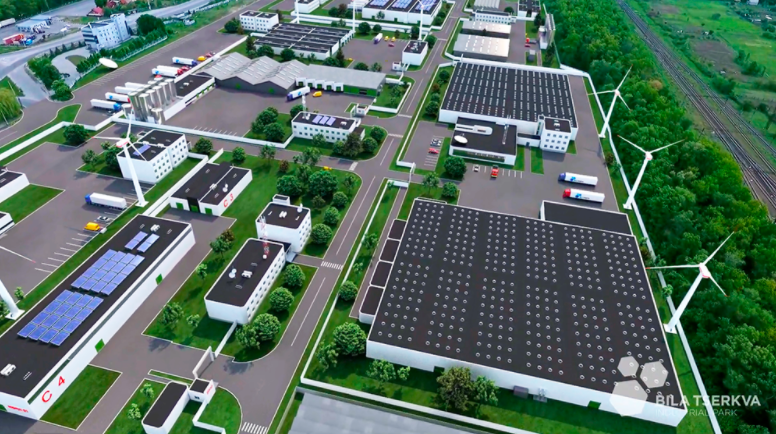 Wednesday, June 3
Millionaires Club: $250 million Goal for Bila Tservka Investments, €300 million from EIB to Winterize 1,000 Buildings, $110 million Hryvnia Bonds Sold...Russia's Gas Transit Drops in Half...Corona Recession: Car Imports Cut in Half, IT up 20%...Windrose Offers Kyiv Residents: Fly to Odesa for Lunch, Back to Kyiv for Dinner...
Targeting foreign companies seeking to diversify supply chains from China, UFuture Holding is embarking on a 6-year project to attract 30 companies and $250 million in investment to Bila Tserkva Industrial Park, a 50-minute drive south of Kyiv's Ring Road.  Last month, Industrial Park Management became manager of Bila Tserkva 1 and Bila Tserkva 2 Industrial Parks. Six companies already operate in the parks, which cover a total of 70 hectares. With the parks expected to generate 4,000 jobs, the management company plans to work with local schools to upgrade skills, says Andriy Ropitsky, head of business development.
An initial agreement toward a €300 million loan by the European Investment Bank to winterize 1,000 Soviet-era public buildings across Ukraine was signed by yesterday by representatives of the bank and of Community and Territorial Development Ministry. Benefitting 2.5 million people, or 7% of Ukraine's population, the low interest, long term loan will pay for modern heating systems, thermostats and insulation in kindergartens, hospitals and schools.
The Finance Ministry sold $110 million worth of government hryvnia bonds yesterday, three times the amount at the auction one week earlier. Yields fell for all four bonds, but yields for 3-month and 6-month bonds fell to "pre-quarantine levels,"  the Ministry reports on Facebook. According to the posted results, final yields were: 3-month – 9.84%; 6-month – 10.11%; 9-month – 10.89%; and 1-year – 10.86%.
Russian gas transit through Ukraine dropped by 46% January-May y-o-y, to 20 billion cubic meters, says Ukraine's state-run gas transit operator. At this rate, Russia may send 52-55 bcm across Ukraine this year, about 40% less than last year and 15-20% less than the contracted volume. Under the contract signed Dec. 30, Russia commits to paying for shipping 65 bcm this year, whether it ships it or not. Russia is up to date on payments, reports Ukraine's Transmission System Operator.
"If they walk away, it will open a Pandora's box," Yuriy Vitrenko, the Naftogaz executive who negotiated the new transmission contract, tells the UBN. "They may not like it, but they can only walk away if they have a legal justification." Under the five-year contract, Gazprom commits to shipping 40 bcm a year from 2021 to 2024.
Taking advantage of historically low gas prices, Naftogaz has increased its stored gas reserves by 13% since mid-March, to 18 bcm today. These low prices will be passed on to industrial users this month with a 19-21% cut in prices, Naftogaz promises. Last month, the state energy company cut gas prices to consumers by 21%, to $85 per 1,000 cubic meters.
Poland could increase gas supplies to Ukraine 5-fold this year, PGNiG CEO Jerzy Kwieciński, CEO of PGNiG, Poland's state energy company, tells Polish Radio 24. During the first quarter, PGNiG sold 690 million cubic meters of gas to Ukraine. If rates are maintained, Poland could ship 2.7 bcm to Ukraine – five times the 554 million cubic meters of last year. With storage reservoirs filling fast, it is not clear if Ukraine wants to buy that much gas. At the beginning of last winter's heating season, Ukraine had 21.8 bcm in storage, a record high for the decade.
The May rains came too late and did not fall far south enough to save the winter wheat harvest in Odesa, Kherson and Mykolaiv, Tetiana Adamenko, head of farm weather for the state Hydrometereological Center, tells UNIAN. Coupled with a shift to planting to corn, this may depress this year's wheat harvest by 18%, to 23.2 million tons. For the upcoming marketing year, wheat exports could be down by one quarter, to 14.9 million, traders tell Reuters.
Here did Ukraine's economy really fare in April, ground zero of the coronavirus shutdown? ICU investment bank's researchers gleaned these insights from new data from the National Bank of Ukraine. All figures are for April, year over year:
Exports down: ferrous metals – 18%; aviation 61%; inbound tourism 96%
Exports up: food – 6.6%; mineral products (mainly iron ore) – 12.1%; IT services – 19.9%
Imports down: machinery (largely cars) 29%; and outbound tourism 72%
Wage remittances from workers abroad – Ukraine's second largest export– decreased in April by 16.5% to $794 million. But for January through April, they increased by 1.6% to $3.7 billion. Last year's official level was $12 billion.
ICU looks at April's surprise $1.4 billion current account surplus and concludes: "Favorable terms of trade, relative resilience of exports and remittances, a sharp decline in imports and dividend payments provided a sharp improvement in the current account."
Car imports dropped by 46% during the first quarter y-o-y, to 115,800, with a total value of $823 million, according Ukravtoprom, the car industry association. Measured by value, new car imports almost equaled used car imports. From January to March, 21,800 new cars were imported for $404 million. During the same time, 94,000 used cars were imported for $419 million. The largest sources of new cars were: Japan – 4,574; Romania – 3,849; and China — 3,335. The largest sources of used cars were: Germany — 26,425; US — 15,723; and France — 10,177 units. Last year, Ukraine imported 544,000 cars worth $3.6 billion.
McDonald's is opening five new restaurants in Ukraine this year, the same pace of expansion as last year, Yulia Badritdinova, Ukraine CEO, said yesterday in an online press conference. She said the company has 93 restaurants in 20 cities, accounting for 14% of all restaurant visits in Ukraine. According to Olga Vasilyeva, marketing director, delivery service increased by 65% during the quarantine.
Starting today, 10 hryvnia coins go into circulation. Made of a galvanized nickel-plated zinc alloy, this silver-colored coin will gradually replace the red 10 hryvnia notes, reports the National Bank of Ukraine. In a program to phase out small notes, there are now 1,2,5 and 10 hryvnia coins. Ten hryvnia is worth 37 American cents.
Developing domestic air travel, Windrose Airlines launches daily flights June 15 from Kyiv Boryspil to Dnipro, Kharkiv, Lviv and Odesa. Kyiv-Mykolaiv starts July 15. In July, several routes will be three times a day. Priced to compete with Intercity train tickets, minimum one way air fares will be $30-35.
The camera never sleeps. Within the first minute of turning on Kyiv's new speed camera system, just after midnight Monday morning, the first speeder was snapped in the act. Seventeen hours later, the cameras had recorded 35,762 violations. Internal Affairs Minister Arsen Avakov reports the speed champions were: the driver of a Mercedes clocked moving around the city at 208 kph (120 mph), and the driver of a BMW who sailed through three cameras at 200 kph (124 mph). Drivers get fines by email and mail, with QR codes linked to mini videos showing their cars breaking the speed limit. On the second day, the number of violators dropped by 40%, reports Deputy Interior Affairs Minister Anton Gerashchenko.
From the Editor: My comments and math yesterday about Ukraine's corona death toll drew emails of praise and condemnation. For the condemners: as the title "Ukraine Business News" conveys, I do not write about US, UK, or Europe. I am happy that Ukraine's corona toll has been kept to nine people a day — less than half of one percent of the 1,600 people who die every day in Ukraine. For readers with a history bent, this 45-minute documentary on the Spanish Flu of 1918-1919 shows in hair raising detail what a real plague is like: https://www.youtube.com/watch?v=UDY5COg2P2c It has been watched by 9.5 million people worldwide. Best not for family viewing. With Best Regards Jim Brooke jbrooke@ubn.news