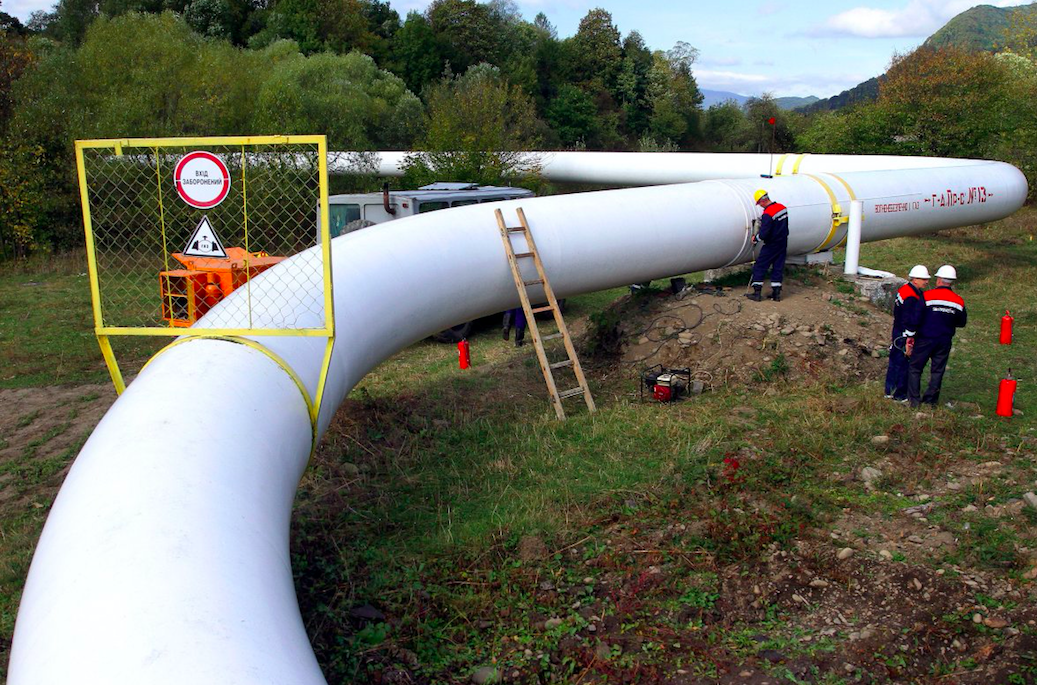 Poland is ready to build a 2 billion cubic meter pipeline to link the Polish gas transportation system with Ukraine's network at Hermanowice, a Polish town bordering southern Lviv region. "This is not much, but when Ukrainians need urgent assistance, we are ready to provide it," Piotr Naimski, Poland's minister for strategic energy infrastructure, tells Ukraine's ZN.UA website.

Racing possible US sanctions, about 60% of Nord Stream 2 – or 1,450 km – has been laid along the bottom of the Baltic Sea, reports Gazprom. In addition to US bills sanctioning the European contractors, the Russia to Germany pipeline has yet to win permission from Denmark to pass through its waters.
The EBRD may loan €60 million to Naftogaz to increase gas stocks for the next heating season, the development bank reports on its website. In addition, the gas company is expected to launch a Eurobond this summer to raise as much as $1 billion to fill gas reservoirs. As of Sunday, the reservoirs hold 13 billion cubic meters, 65% of the 20 bcm goal.
Donetsksteel is investing $100 million this year to develop its coal mines and coking coal production plant in Pokrovka, government-controlled Donetsk. By 2024, the company plans to increase production by 50%, Ildar Saleyev, the company's general director, writes on Facebook. The company, 25% owned by Metinvest, is joining the European Association for Coal and Lignite, or EURACOAL.
Ukraine's central bank may ease restrictions on how much money in dividends foreign investors can take out of the country, Governor Yakiv Smoliy told reporters on Tuesday. Smoliy did not say whether the central bank would raise or end the limit, which is now €12 million a month.
Ukrainian corporate and municipal bonds should be made available through Clearstream, the international depository, recommends André Küüsvek, director of the EBRD's local currency and capital markets development initiative. He spoke Monday at 'Connect Ukraine to Clearstream,' an ICU-EBRD conference in London. Investments in hryvnia government bonds have increased 8-fold since the start of the year, to the equivalent of $2 billion, Finance Minister Oksana Markarova said at the conference.
ICU managing partner Konstantin Stetsenko predicts Ukraine's new currency liberalization and cooperation with Clearstream will further boost investments in hryvnia bonds. He said: "Infrastructure changes, along with the favorable situation in global markets, allow us to look at the government bonds with optimism and expect an influx of new investors."
On Tuesday, at the Finance Ministry's weekly T-bill auction, investors bought the $284 million equivalent of Ukraine government bonds. This was 6% less than one week earlier. With this strong demand for hryvnia bonds, Minister Markarova predicts that Ukraine will not need to return this year to the Eurobond market.
Ukraine's first electricity auctions are to take place tomorrow through the website of the Ukrainian Energy Exchange — www.ueex.com.ua/eng/ueex/. "About 200 bidders were trained, including representatives of state-owned manufacturers: Energoatom, Ukrhydroenergo, Centrenergo," Alexander Kovalenko, director general of the commodity exchange, or UEEX, tells Ukrinform. Auctions are a prerequisite for the new electricity market that is to start Monday.
No longer the preserve of big cities, the ProZorro electronic tender and auction system now operates in all 24 regions and in 238 cities and towns, reports Stepan Kubiv, Economic Development and Trade Minister. Referring to 3,500 auctions in the last 18 months, he says: "At these auctions, local governments sell and lease communal property, conduct small privatizations, provide the right to advertise, hold fairs, provide parking and entertainment services. The vast majority are small privatization auctions."
Lviv IT Cluster will present a regional investment fund, Lviv Tech Angels on Friday, the first day of the Leopolis Jazz Fest, an event that draws business leaders from across Ukraine and Central Europe. "Top managers of Lviv IT companies will select the best Ukrainian start-ups for investment, mentoring, and consulting," reads the launch release. Initiators of the fund are: Mykhailo Puzrakov, co-founder and COO of Intellias; Volodymyr Chyrva, co-founder of Sigma Software; and Andriy Pavlov, CEO of N-iX.
The government is preparing to test technology for conducting the 2020 national census by smartphone, Kubiv, the economic development minister, writes in his column on LIGA.net. Although Kubiv is not expected to be in his post at the time of next year's census, President Zelenskiy advocates the goal of 'a state in a smartphone.' The last census, conducted on Dec. 5, 2001, counted 48,457,100 people living in Ukraine. In the intervening two decades, the population is believed to have fallen to 40 million due to: emigration; the birth rate lower than the death rate; and the loss of Crimea and the most heavily portions of Donetsk and Luhansk regions.
President Zelenskiy wants Ukraine to join the EU's Digital Single Market during his five-year term in office. Instituted in 2015, this EU policy is credited with freeing EU residents of cellphone roaming charges two years ago. The EU policy seeks to promote e-commerce, to protect personal data, and to build a 'data-driven economy.' After calling for "the state in a smartphone," Zelenskiy told business leaders in Kyiv last week: "Joining the European Digital Single Market is another task of ours over five years."
This fall, Ukraine will come out with a 1,000 hryvnia banknote, worth $38 at current rates. The bill will end the 500 hryvnia bill's 13-year run as the highest denomination in the land. Designed for convenience, the new big bill could trigger inflation, some economists tell UNIAN. Price rises are trending downward, expected to reach 6% y-o-y in December.
Austria's Supreme Court authorized on Tuesday the extradition of Ukrainian oligarch Dmitry Firtash to the United States for trial. He is accused of paying $18.5 million in bribes to officials in India to open a titanium mine. A US federal judge in Chicago ruled the case could be tried in Chicago because Firtash planned to sell the titanium to Chicago-based Boeing. The decision to sign the extradition order rests with Austria's new Justice Minister Clemens Jabloner.
BlaBlaBus, France's low cost bus line, plans to expand from Germany to Ukraine, Nicolas Brusson, BlaBlaCar co-founder and CEO, tells Oktobus.Zhurnal website. The announcement comes two weeks after Flixbus, Germany's largest intercity bus company, unveiled a major Ukraine network expansion, starting bus routes from nine Ukrainian cities to EU destinations.
Note from the Editor: If you have friends and colleagues who do not want to face English at 6 AM, remind them that the UBN now is also in Ukrainian, Russian and German. Check it out: www.ubn.news Best Jim Brooke jbrooke@ubn.news.