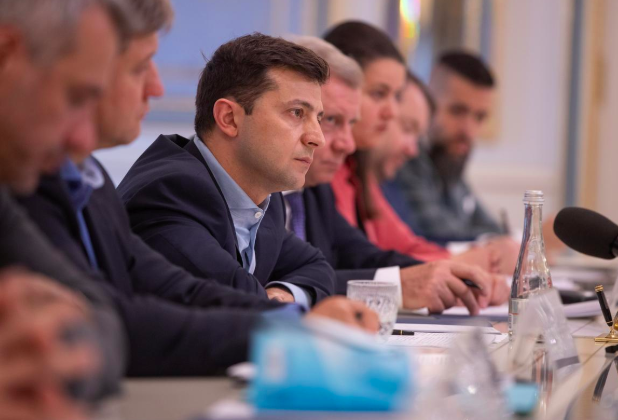 Wednesday, June 19
Zelenskyy Optimistic on a Gas Transit Deal with Russia...William Taylor Returns to Kyiv as Acting US Ambassador...More FX Freedoms...Ryanair Starts Flying from Kharkiv and Odesa...One-Third of Ryanair Ukraine Traffic to be with Poland
President Zelenskyy believes Russia and Ukraine will work out a new gas transit deal before the old one expires Jan. 1. "I think that in the near future our groups will sit down — and I am sure that we will agree," the new president said in Berlin on Tuesday, giving his most substantive public opinion on the issue to date.
Separately, the central bank writes in Kyiv: "The risk of stopping the transit of gas through Ukraine is moderate." However, in its June 'Report on Financial Stability,' the National Bank of Ukraine also warns: "In the medium-term, there is a risk for the balance of payments." Gazprom's transit pact with Naftogaz earns Ukraine about $3 billion a year. The central bank predicts that Nord Stream 2 will be commissioned sometime next year, cutting earnings for Naftogaz.
President Zelenskyy asks French investors to look beyond Ukraine's fertile farms and "beautiful women" to focus on his nation's fast-growing IT sector. "IT industry, IT technologies, and companies are developing very quickly in Ukraine," he said during a visit Monday to Station F in Paris. "We will develop in this direction," he said on a tour of what is often billed as the world's largest startup campus.
Addressing France's more traditional sectors, he invited French automakers to start producing in Ukraine, appealed for expansion of French hypermarkets in Ukraine, and talked of the solar potential of the degraded industrial land around Chernobyl. He said Ukraines new government will improve the investment climate and business protection. On a one-day visit to Paris, he said: "We need from French businessmen high-quality goods, fair competition and job creation in Ukraine."
In Berlin on Tuesday, Zelenskyy sounded a similar pro-investment note at a press conference with Chancellor Angela Merkel. He said: "I will be the guarantor of the legality and observance of the rights of foreign investors working in Ukraine."  German companies are major investors in Ukraine and Germany is Europe's largest exporter to Ukraine.
Starting today, businesses no longer have to sell 30% of their foreign exchange earnings for hrvynia, the National Bank of Ukraine decided Tuesday. The central bank noted that this measure is the latest of 30 foreign exchange liberalization rules adopted since Feb. 7. The bank says the goal is free movement of capital.
To promote foreign investment in hryvnia government bonds, the central bank now allows foreign companies and banks to take hryvnia loans from Ukrainian banks for bond investments. Loans are limited to 14 business days. "Allowing banks to finance such operations in the hryvnia gives investors the opportunity to better plan their participation in [bond] auctions," says Oleh Churiy, deputy governor of the National Bank of Ukraine. "This will increase their interest in the Ukrainian market."
If President Zelenskyy stays on the rule of law, pro-investment track, Dragon Capital can invest $250 million in 10 real estate and private equity deals over the next year, Tomas Fiala, Dragon's CEO, tells Interfax-Ukraine. "So far, everything that President Zelensky and his team are doing does not scare us," says Fiala who invests with Goldman Sachs and Soros. "After the [Rada] elections, we and our partners can quietly double, over two or three years, our investments in real estate and private equity," he says. "With the right government policies, we can invest up to $1 billion."
Since 2015, Dragon has bought 22 properties with a total area of ​​620,000 square meters. Half of this portfolio are Kyiv region warehouses and 150,000 square meters are offices. Fiala says: "We had to create a real estate management team from scratch – more than 100 employees."
William B. Taylor, US Ambassador to Ukraine from 2006 to 2009, returns to Kyiv this month to serve as Chargé d'Affaires or acting ambassador. "He will lead our team during this period of historic elections and transition," the embassy says. Given Washington's slow process of nominating and approving an ambassador, Taylor could be here as long as a year. A West Point graduate, Taylor directed US aid to the former Soviet Union from 1992 to 2002. Most recently he served as executive vice president of the U.S. Institute of Peace, an American federal institution tasked with promoting conflict resolution worldwide.
Ukraine should get double the funding from the Black Sea Development and Trade Bank, Stepan Kubiv, Economic Development and Trade Minister, said at the annual meeting in Istanbul of the 11-member group. Ukraine contributes 13.5% of the funding but gets only 6% of the project money. Kubiv proposed that next year's meeting be in Ukraine. Both proposals may go nowhere as the bank president through July 2022 is Dmitry Pankin, a former deputy minister of finance of Russia.
Ryanair, Europe's largest airline, is doubling the number of Ukrainians cities it serves, launching service this week from Kharkiv and Odesa. Today, Ryanair starts flights from Odesa to Kraków. In October, flights start from Odesa to Berlin-Tegel and to four more Polish cities: Gdansk, Katowice, Poznan, and Wroclaw.
On Monday, Ryanair started flights from Kharkiv to Kraków. In October, the discount airline plans to start Kharkiv flights to Vilnius and Poznan. This spring, Ryanair started flights from Lviv to Krakow, London-Stansted, Warsaw-Modlin, and two German cities Memmingen and Weeze. From Kyiv Boryspil's newly reopened Terminal F, Ryanair now flies to 17 EU cities. In October this number jumps to 24, with new direct flights to Madrid, Valencia, Katowice and four German airports: Hahn, Karlsruhe/Baden-Baden, Nuremberg and Weeze.
Polish routes will account for more than one-third of the 1.4 million passengers flying Ryanair from Ukraine this year, predicts Michał Kaczmarzyk, CEO of Ryanair Sun, the discount airline's Warsaw-based subsidiary. Ryanair predicts that 500,000 passengers will fly its 16 Ukraine-Poland routes this year, linking four Ukrainian cities with seven Polish cities.
Almost one third more Ukrainians bought foreign tours last year than in 2017, according to the Economic Development and Trade Ministry. Last year 3.4 million Ukrainians spent $638 million with travel agencies, a 26% increase in spending. Of travel vouchers sold, 97% were for foreign travel. Top agencies were: Join UP! (affiliated with SkyUp airlines) – 902,600 people; ANEX Tour – 515,600; Accord Tour – 279,700; TEZ Tour – 284,900; Coral Travel – 243,700; and TUI Ukraine – 230,400.
For Egypt, Ukraine ranked second after Germany last year for foreign visitors. One attraction for some Ukrainians is the lack of Russian tourists. After the October 2015 bombing of a St. Petersburg-bound flight, Russia has banned flights to Egypt's beach resorts.
For Turkey, Ukrainian tourists broke into the top 10 this spring after January-April numbers grew by 14% y-o-y, to 211,804. In April Turkish Airlines started a Kyiv Boryspil-Bodrum flight. On Saturday, UIA started at Kyiv Boryspil-Izmir flight. Both cities are on the Aegean.
 Note from the Editor: UBN's readership is growing, and steadily building an audience. The best way for new readers to discover UBN is through word of mouth. If you know of someone who would appreciate receiving a daily update on Ukraine's business and investment news, please forward UBN, or encourage them to sign up at ubn.news/subscribe. Best Jim Brooke – jbrooke@ubn.news.