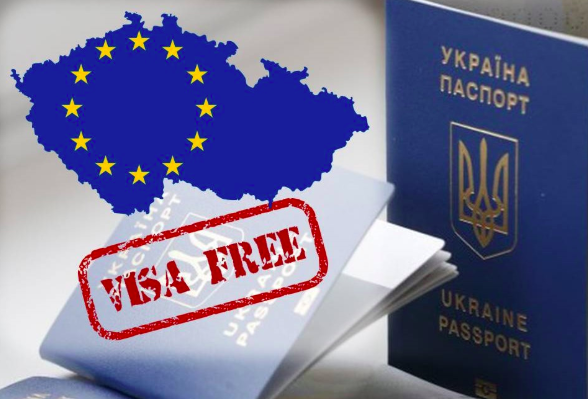 Thanks to visa-free travel with the EU, train passenger traffic between Ukraine and the EU has grown 13-fold in two years. In 2016, before visa-free travel to the EU, Ukrzaliznytsia carried 62,000 passengers between Ukraine and the EU. In 2018, the first full year of visa-free travel, the state railroad carried 821,000 passengers. Today, 16 trains ply the EU market, traveling to eight EU nations — Latvia, Lithuania, Hungary, Austria, Romania, Poland, Slovakia, Bulgaria. Shortly, UZ plans to add dedicated trains to two more national capitals: Kyiv-Berlin and Mukachevo—Prague.
Since visa-free travel to the EU started on June 11, 2017, UZ carried 980,000 passengers to the EU. But during the same two years, it carried 615,000 passengers back. It is unclear what happened to the missing 365,000 Ukrainians – the population of a Vinnytsia. Presumably, most stayed. Others may have earned enough money to fly home.
In the first two years of visa-free Ukrainians made 42.6 million trips to the EU, reports the Interior Ministry. Nearly 3 million Ukrainians traveled without visas, using only their biometric passports. In the second year of visa-free, 2.35 million Ukrainians traveled on biometric passports — 4.2 times the 560,000 who used the new passports for travel in the first year. Land crossing volumes were: Poland -1 million; Hungary – 350,000; Romania – 245,000; and Slovakia – 226,000. In addition, 1 million Ukrainians flew to the EU, visa-free, using only biometric passports.
Flixbus, Germany's largest intercity bus company, is aggressively expanding its Ukraine routes. On Tuesday, the Munich-based operator announced EU routes from nine cities: Kyiv, Lviv, Kharkiv, Dnipro, Odesa, Chernivtsi, Ivano-Frankivsk, Vinnytsia, and Ternopil. Partnering with Euroclub, a Ukrainian bus company, Flixbus offers low prices: Kyiv-Krakow – €21; Kyiv – Prague – €44; and Kyiv-Hanover – €72. Michael Lehmann, Flixbus CEO for Poland and Ukraine told reporters in Kyiv that all 24 buses serving Ukraine are to have wifi, electrical charging sockets, onboard entertainment systems, clean toilets, an app to track the bus location, and, for safety, two drivers at night.
If Germany opens its labor market next year as planned to skilled non-EU workers, one-quarter of all Ukrainians working in Poland could migrate west to Germany by 2023, according to an employee poll by the National Bank of Poland. Ukrainian labor — about 800,000 workers — has increased Poland's GNP growth by about one percentage point for each of the last five years, Jakub Growiec, a central bank analyst, tells Business Insider Polska.
A regular Kyiv-Leipzig container train is to start in coming months, Ukrzaliznytsia CEO Yevhen Kravtsov says after talks in Munich with IPC Business UG. Running 1,500 km from Kyiv to the industrial city in eastern Germany, the train will benefit from Ukraine's double-digit growth in container traffic. Next month, UZ launches a container train between Odesa and Chisinau, capital of landlocked Moldova. Also next month, the Chinese Association of CCTA and Chengdu International Railway Service Co., Ltd. plan to restart the Trans-Caspian International Transport Route, running a container train from China to Poland, through Ukraine.
The Finance Ministry's 4-day, 4-city roadshow for a new 7-year, Euro-denominated Eurobond is getting good reviews – even before bids are made for what could be a €500 million placement. ICU writes: "We expect the pricing will be set close to 6.5%… This EUR-denominated placement looks like a good idea, as it will widen the investor base. Currently, EUR accounts for just 9.2% of the total debt portfolio of Ukraine, versus 42.4% of USD-denominated debt."
With the hryvnia exchange rate stable and interest rates expected to drop, the Finance Ministry debuted Tuesday the longest bond of its portfolio – a 6-year hryvnia note. In the weekly auction, these long bonds placed for a yield of 15.85%. Reflecting strong demand, $128 million in equivalent were sold, accounting for 51.5% of the total value sold.
Dragon Capital writes the long bond "is apparently targeted at non-residents betting on monetary easing."
The EU and Ukraine have agreed to a poultry accord that would essentially cut Ukraine's poultry exports in half, to 70,000 tons, Deutsche Welle reports in a story headlined "How Ukrainian poultry becomes Europe's Produce." Ukraine's EU quota this year is 18,400 tons for chilled poultry and 20,000 tons for frozen chicken. However last year, Ukraine exported 123,000 tons, taking advantage of an EU law allowing unlimited exports of semi-processed chickens. Under this exemption, MHP, Ukraine's largest poultry producer, exported chickens for final processing at its plants in Slovakia and the Netherlands.
Pending parliamentary approval in Brussels and in Kyiv, the deal comes after news stories in Austria charged MHP with using 'tricks' to exploit legal loopholes. Hardly a victim of Ukraine's poultry giant, the EU exports 180,000 tons of poultry to Ukraine – more than double its proposed import level. Ukraine is the third largest exporter of poultry to the EU. Thailand and Brazil supply more than twice as much, Deutsche Welle reports.
Determined to become Europe's largest poultry producer, MHP is investing $420 million over five years to increase its poultry production by 19%, to 855,000 tons in 2023. To feed the chickens, the company plans to increase its land under cultivation by 35%, to half a million hectares. Forecasting stagnation or shrinkage in EU market share, the company plans to develop the Middle East and North Africa, increasing that segment from 34% of sales last year to 43% by the end of 2020.
As India and Ukraine negotiate to renew a big contract to modernize 20 Kyiv-made An-32 military cargo turboprops, Russia is reverting to a Cold War tactic – using a third country journalist to smear an adversary in India's press. "With the implosion of society and economy in Ukraine, following the US-sponsored coup, things only got worse for India," Rakesh Krishnan, "a New Zealand-based journalist," writes in India's 'Business Today' about a $400 million An-32 maintenance contract India signed in 2011 with Ukraine.
Ukraine modernized only 45 planes out of a fleet of 105 before the 2014 outbreak of war with Russia-controlled separatists cut work short. Recently, a Ukranian delegation from SpetsTechnoExport visited the headquarters of the Indian Air Force to negotiate to upgrade the remaining 60 An-32s by the end of next year. But, Krishnan focused on last week's disappearance of an Indian Air Force An-32 on a flight to a Himalayan airstrip near China, writing of "the sheer incompetence of the Ukrainians" in implementing the modernization contract.
Referring to a separate naval engine deal, he writes: "Ukraine has also attempted to play spoilsport in another major defense deal involving Russia." In conclusion, he warns Indian business readers: "Pakistan and Ukraine have been carrying on a chummy defense trade…Considering the chaotic state of Ukraine's economy and its close ties with a leading exporter of terror, India should review its defense ties with Kyiv."
The missing An-32 had not been serviced or certified for flight by Antonov technicians from Kyiv, writes Rada member Dmytro Tymchuk, a coordinator of  Information Resistance, an NGO dedicated to exposing Russian disinformation. He writes on Facebook: "It is not surprising that Russia is interested in discrediting Ukraine since there is a tendency for India to gradually abandon Russian weapons, components, and services in favor of the American, European, and Ukrainian producers."
Note from the Editor: You may notice that UBN has a slightly different look this week. We have upgraded our email server. Going forward, the morning email will be sent more reliably and efficiently. If you notice problems — or if someone you know is not receiving the emails since the change — please email me —  Best Regards, Jim Brooke – jbrooke@ubn.news.