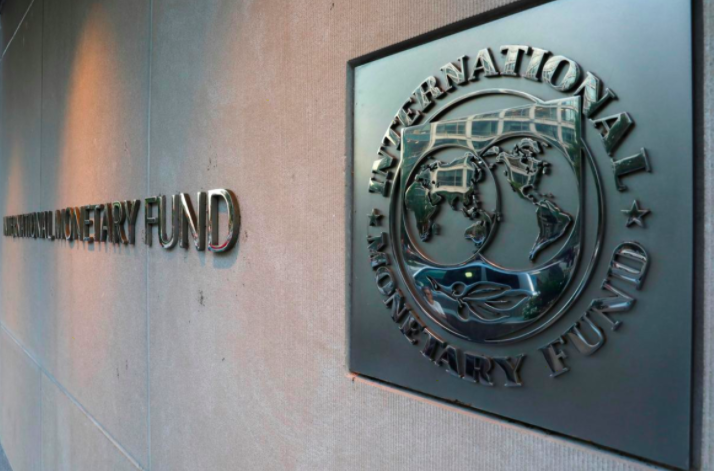 Wednesday, June 10
IMF Approves $5 billion Stand-by Deal with Ukraine...Market Indicators Return to Pre-Crisis Levels...Inflation Drops to 1.7%...First China-Ukraine Container Trains Pulls into Kyiv...Starting Monday: Metro, InterCity, and Bus Direct Link to Boryspil Express...
The IMF Board approved an 18-month, $5 billion Stand-by Arrangement with Ukraine last night Kyiv time. The first tranche of $2.1 billion should be transferred by this weekend. The rest will come in four installments through December 2021. The Board said in a statement that the conditionalities are "promoting a small set of key structural reforms to guarantee Ukraine's return to growth after the crisis is over." Keys are: preserving central bank independence and a free-floating exchange rate.
The world economic downturn sparked by coronavirus pandemic clearly prompted the IMF to act after nine months of talks with the Zelenskiy government. "Reform implementation has been uneven and steadfast implementation of structural reforms will be needed to create a more dynamic and competitive economy," the IMF said. "At present, the humanitarian and economic crisis stemming from the COVID-19 pandemic, has refocused policy priorities away from deep structural reforms."
The IMF gave a bearish forecast for Ukraine's economic performance this year: GDP shrinkage of 8.2% in 2020 and growth of only 1.1% next year. By contrast, the World Bank forecast yesterday that Ukraine's economic contraction will less than that in 2020 — 3.5%. For next year, the World Bank predicts that Ukraine's economy will grow by 3%. Ukraine's government predicts this year's drop will be 5%.
"Uncertainty is large," writes the IMD Board. "The economy is projected to contract sharply in 2020 as strict containment measures—in Ukraine and globally—led to sizable falls in domestic and external demand…The risks to the new program are very large. The uncertainty about the severity and length of the global downturn is exceptionally high. On the domestic side, uncertainty about the direction of economic policies remains substantial."
As investors price in an IMF deal, Ukraine's market indicators are returning to pre-corona crisis levels. The yield on Ukraine's 12-year sovereign bond has fallen to 6.7%, the level of January. In late March, it spiked to near 12%. The price of GDP warrants fell to almost 50 in April. Now they are around 75, the level of last August. In the wider Emerging Market universe, Barclays USD High Yield EM Index, based on about 700 bonds, fell 23% in March. It has recovered 21.5% to near the level of December.
With the coronavirus lockdown depressing demand, inflation dropped in May to 1.7% yoy, down from 2.1% yoy in April, reports the State Statistics Service. Pulling down prices were these yoy drops: natural gas – 53.5%; gasoline – 28%; and vegetables — 21%. Pushing up prices were: fruit +35%; water + 25%; and education + 13.5%. The National Bank of Ukraine has set a year-end inflation target of 5%.
Kyiv has jumped 44 spots in a worldwide ranking of expatriate cost of living. In the Mercer index, Ukraine's capital is now in 106th place, up from 150th place last year. Kyiv's rise in the list of 209 cities seems to be largely due to the strengthening of the hryvnia in the second half of last year.
Capital investment in Ukraine fell during the first quarter by 35.5%, a reversal of 21% growth in the fourth quarter of last year, reports the State Statistics Service. For this January-March period, the hot spots were: services + 51%; telecom + 41%; and IT + 9%. About 75% of the $2.8 billion in investment was financed from company cash flows. Of the investment, 42% went for machinery and vehicles, and 49% for buildings.
With the central bank expected to cut the prime rate tomorrow, the Finance Ministry cut yields on short term hryvnia debt at yesterday's weekly auction. The 3-month debt dropped from 9.9% per annum to 9%. The 6-month debt fell from 10.27% to 9.5%. The 9- and 12-month issues fell slightly, from 10.89% to 10.79-10.8%. For the first time since late February, just before the coronavirus crisis, the Ministry auctioned 18-month bonds, selling $215 million in equivalent with a yield of 10.8%.
After a two-month break, the Ministry sold bonds in euros, the press service reported on Facebook. Investors bought €353 million 11-month bonds, for a yield of 2.2%. In euros and hryvnia, the auction yielded the dollar equivalent of $664 million. One week earlier, the Ministry sold $108 million worth of hryvnia bonds.
The first China-Ukraine container train arrived Monday at Kyiv's left bank freight terminal near Darnytsia. Carrying 41 containers, the train took 15 days to travel 9,000 km from northern China through Mongolia and then Russia to Ukraine. By ship, the same trip  takes 45 days, Ukrzaliznytsia Infrastructure Director Roman Veprytsky writes on Facebook. The next container trains from China are to arrive June 16 and 26.
To date, 10 Chinese container trains have traveled through Ukraine to the EU, a lucrative business that Ukrzaliznytsia seeks to expand. Last month, China sent 1,033 container trains to Europe, 43% more than in May 2019. The number of containers totaled 93,000, up 48% yoy. With traffic backing up at the Belarus-Poland rail gauge break, Ukrzaliznytsia hopes to attract trains bound for Austria, Hungary and the Balkans. In January, a test Chinese train traveled from Lviv region 400 km into Poland on an old Soviet gauge line that runs to Sławków, a city in south-central Poland.
The Boryspil Express, Kyiv's train to the plane, restarts Monday with direct links to Metro, bus, and Intercity trains at the newly rebuilt Vydubychi station. Referring to the Metro Green Line station, Ivan Yurik, acting CEO of Ukrzaliznytsia writes on Facebook: "We created the promised transport hub there. We combined several types of transport at once into a single logistic chain: rail, bus, air transport and the subway."
With Kyiv Boryspil looking like Pyongyang International on a slow day, Ukraine's largest airport handled 28,200 passengers in May, 98% below normal levels. In January and February, the airport handled 1,950,387 passengers 15% more than the first two months of last year. Two domestic routes re-started last weekend – to Odesa and Dnipro. On Monday, international flights are to re-start. The EU and the UK are largely closed to non-Schengen passport holders through the end of June.
Aivaras Abromavicius, director general of Ukroboronprom has fired Alexander Donets, president of Antonov. In his place, Alexander Losya, vice president for design, is to serve as interim head. Aviation analysts say that the best strategy for Antonov in the 2020s is to focus on producing cargo planes and regional commuter jets.
From the Editor: With the IMF deal in place, some of Ukraine's financial indicators are looking like the New York stock indexes – back to 'normal.' Behind this 'normalcy' are the highest unemployment rates and biggest barriers to travel in a generation. Hopefully, the second half of this year, will see Ukrainians build a new normal – a more open, more transparent economy with far less red tape and far more opportunities for entrepreneurs. With Best Regards Jim Brooke jbrooke@ubn.news