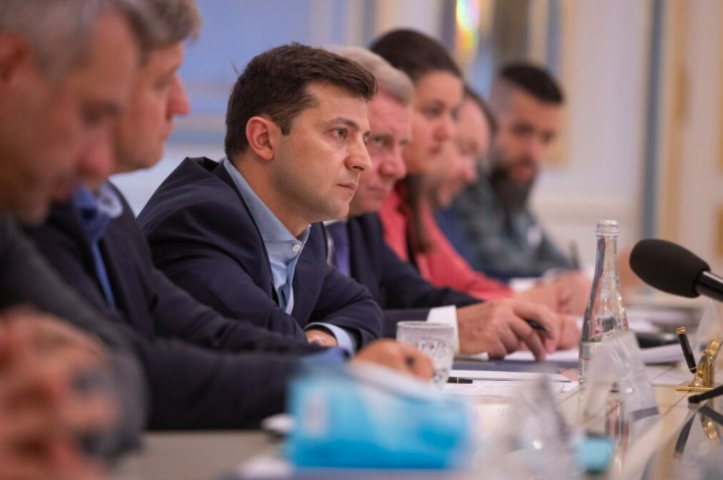 Wednesday, July 8
Ze Wanted Central Bank Chief Out...Smoliy: IMF Deal Can be Saved If Successor is Independent...Gontareva: If Ze Waffles on Bank Independence, IMF Should Get its Money Back...Air France Re-Starts Flights from Paris on Monday...List: Who Gets into the EU...
Yakiv Smoliy's resignation as head of Ukraine's central bank last week came after nine months of pressure from President Zelenskiy to cut interest rates and to print more money. "I realized I had to ask the president if I should resign – he said yes," Smoliy tells LB.ua of his June 30 meeting with Zelenskiy. "We are all adults. I just realized I had to go….I understood from the context that I had to resign."
Asked about timing – now or in the fall – Zelenskiy, responded 'now,' Smoliy said Saturday in a 6,800-word interview conducted Saturday at the National Bank of Ukraine office he occupied for two years. The President wanted to give the Rada the time to accept the resignation and to approve a successor before the parliament goes on recess July 17 for six weeks.
The timing ruined the Finance Ministry's placement of $1.75 billion in Eurobonds. Before the offering was yanked Thursday, the bonds were four times oversubscribed and yields had dropped 50 basis points, to 7.3%. "The Ministry of Finance reacted very correctly," Smoliy said. "If the money had gone before investors learned of the resignation of the NBU chairman, there would have been an even bigger scandal. It would be perceived by investors as a deception, saying that the Ministry of Finance knew about the resignation, but investors did not."
A theme running through the interview is that Zelenskiy wants his own appointee as central bank governor, an official who will respond favorably to telephone calls from the president's office. "How many people have called me from the President's Office with questions about when we will reduce the discount rate?" he recalls. To gin up economic growth, the President's team wants a weaker exchange rate, higher inflation and lower interest rates.
To keep on track with the IMF and Western lenders, Smoliy said the central bank remain independent from pressure from the President and the Rada. "Neither the IMF, nor the World Bank, nor any corporation work with individuals, they work with the institution," said Smoliy who has a background in the private sector. "Everyone will be waiting for a message from the newly appointed Governor. What will he do? If he does not change the policy of the National Bank, he will immediately declare that he will try to be independent, maintain the independence of the institution, maintain a floating exchange rate, continue inflation targeting, will not finance the budget, will not print hryvnia – this will be a clear signal."
Smoliy also complained of pressure from Ihor Kolomoisky who seeks to regain control of PrivatBank. There were noisy, paid rallies outside the central bank building and outside his residential compound.  "Horses, people, orchestras, funeral marches. My wife and I were forced to move to an apartment whose address they did not know."
Concorde Capital's Alexander Paraschiy writes of Smoliy's interview: "Given (1) recent statements from Western institutions concerned about the NBU's independence, (2) the removal of Smoliy and [Oleh] Churiy to the satisfaction of Zelenskiy's entourage, (3) Smoliy's accusations of political pressure and (4) what [NBU Council member Vitaliy] Shapran confirmed about Ukraine's de facto "traditions," it's apparent that the President is about to take control of the NBU monetary policy. Western institutions have a right to be concerned about the threat to the bank's independence, which had been among the top achievements of the Poroshenko administration."
The IMF should suspend payments to Ukraine if the country's government does not appoint an independent central bank governor, Valeria Gontareva, former governor of the National Bank of Ukraine, tells Central Banking news site. Noting that Smoliy, her successor, was pushed out as governor only three weeks after Ukraine received $2.1 billion in IMF aid, Gontareva says from self-exile in London that Zelenskiy's team "fooled the IMF. They waited until they had the first tranche of IMF aid and then they put more pressure on Smoliy."
If President Zelenskiy does not appoint a central bank governor willing to stand up to Ihor Kolomoisky, the IMF should ask for its money back, she adds. "Those tranches were paid under the agreement that there would be central bank independence and economic reform," she says. "If those conditions are no longer effective, the IMF should say Ukraine must pay its aid back." The IMF has made no public statement since Smoliy quit last week.
The Finance Ministry sold $11.7 million worth of hryvnia government bonds yesterday's weekly auction, the lowest amount since late May. The main seller yesterday – $10.8 million worth — was the 3-month bond. It sold yesterday with a 7.24% per annum rate. Since the start of this year, foreign ownership of government hryvnia bonds has declined by 11%, to $3.7 billion today.
On Monday, Air France resumes regular flights between Paris Charles de Gaulle and Kyiv Boryspil. The flights will be twice a week through Aug. 24. After that the frequency becomes three times a week.
In June Boryspil handled 48,398 passengers, down 97% yoy from the June 2019 volume — 1,532,580. Scheduled air service only re-started on June 15.
The 23 countries accepting tourists from Ukraine include: Britain, US, South Korea, Albania, Croatia, Montenegro, North Macedonia, Serbia, Egypt, Turkey, Dubai, Iraq, Iran, Belarus and Ethiopia.  Several countries require visas and some require Covid-free certificates.
After 12 Ryanair passengers from Kyiv Boryspil were detained at Athens airport for three days, Ryanair now asks that all passengers flying out of Ukraine confirm that they have read Ryanair's Flight and Passenger Restrictions page.
The EU allows entry of Ukrainians for study, business, work, health care, diplomacy, transit, and trucking, according to Dmytro Kuleba, Ukraine's Foreign Minister Documented proof of need to enter is required. Border guards at different checkpoints may interpret rules differently.
On Ukraine's northern border, Ukraine has opened six border checkpoints with Belarus. Two of these are open for cars as well as pedestrians and cars – Dolsk, Volyn Oblast and Polessy, Kyiv Oblast. To the east, Ukraine opened four pedestrian border crossings with Russia yesterday, reports Ukraine's Border Service. Ukraine, Russia and Belarus also opened their unique 3-country crossing – at Senkovka, northern Chernihiv Oblast.
A summer travel survey of online users of Rozetka Travel finds: 45% plan to vacation in Ukraine, 24% plan a foreign vacation, and 17% plan to go to the dacha or visit relatives. Of the overseas group, 36% plan to go to Turkey and 40% to Egypt. Of domestic vacationers, half fear crowds and that quality will not match price. Top domestic destinations are: Odesa – 30%; and Zakarpattia – 30%. The survey of 1,200 users of the online travel service was conducted June 19-24, largely before the big floods in Zakarpattia.
From the Editor: Thank God for the inertia of bureaucracies! Just after the Ze gov't does a clean sweep of all leading Western-trained reformers from government, here comes the good news: "EU provides €11.5 million in budget support for Ukrainian public administration amidst COVID-19 crisis." Amb. Matti Maasikas, head of the EU Delegation to Ukraine, writes: "Now more than ever, it is important to ensure respect for the core principles of public governance, accountability and transparency in order to nurture the confidence of citizens and business in state institutions and thus help faster recovery from the severe health and economic crises." Hopefully, there will be plenty of workshops with tasty buffet lunches! With Best Regards Jim Brooke jbrooke@ubn.news