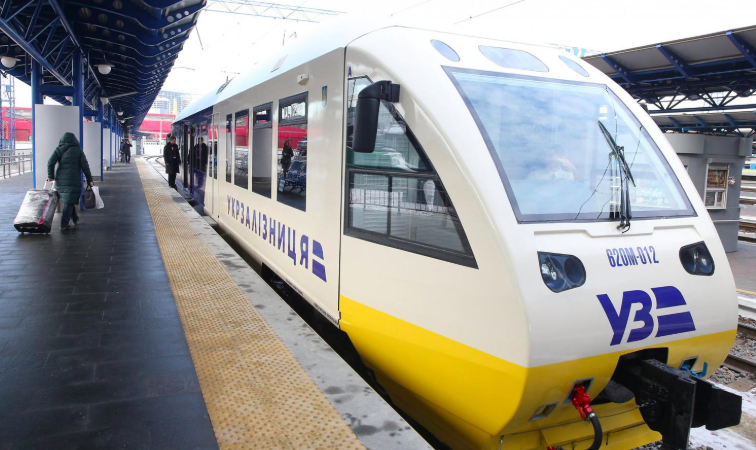 Ukrzaliznytsia has placed a 5-year $500 million Eurobond at 8.25% per annum, the lowest level in the company's history. By comparison, in 2013 the company issued its first Eurobond at 9.5% and then restructured it into a 2021 amortizing issue at 9.875%. Two weeks ago, Ukraine settled its new 7-year €1 billion Eurobond at 6.75%.

Reflecting strong international demand, the issuance was oversubscribed five times, with bids totalling $2.5 billion. Evhen Kravtsov, CEO of the state railroad, writes on Facebook: "Note that more than 175 investors from the UK, Continental Europe, the United States, and Asia have submitted their proposals." He adds: "The bond coupon is the lowest since 2011 among quasi-sovereign borrowers from Ukraine. Thus, we open the way to other state companies to international markets – Naftogaz of Ukraine."
Only last November, Naftogaz aborted a roadshow for a Eurobond with a benchmark of 10.9%. Today, analysts were positive on Ukraine's latest Eurobond launch.
Timothy Ash writes from London: "Mid-May, Ukraine 10Y [Eurobond] in dollars was trading at 9.5%, and its now down at 7.7% — a massive reduction in Ukraine's cost of borrowing overseas…appreciation finally of the Ukraine story…optimism over the Zelenskiy presidency, et al."
Concorde Capital's Alexander Paraschiy writes: "The placement looks successful, as the rate is closer to lower end of the range we expected (8% to 9%). Additionally, the bond's spread to sovereign is just 155 bps. With $500 million raised by Ukrainian Railway, the company has no more liquidity risk and is set to smoothly repay all its foreign currency obligations due in 2019."
Volodymyr Kuzyo, the railroad's former investment director, now at the Center for Economic Strategy, writes on Facebook: "Now the financial burden will not pressure the company and the focus will shift to the key task – preparation for the opening of the traction [locomotive] and competition market, financing of investment projects of development."
Locomotives top the railroad's shopping list. General Electric would like to sell Ukrzaliznytsia 40 new Evolution series diesel locomotives for $150 million. In April, GE completed the delivery of 30 locomotives, the first phase of a $1 billion, 15-year contract signed last fall. France's Alstom, Canada's Bombardier, and China's CRRC are competing for a similarly sized contract to deliver electric locomotives.
In hryvnia bonds, the Finance Ministry again squeezed yields at Tuesday's weekly auction. Filling only 55% of bids, the Ministry pushed cutoff rates down from one week earlier: for four-month hryvnia securities, from 17.75% to 17.44%; for seven-month securities, from 18.25% to 17.94%; and for 1 year securities, from 18.4% to 18.3%. The government sold 3 billion hryvnia worth of bonds, the dollar equivalent of $115 million. No dollar bonds were sold.
To ease foreign investor access hrvynia bonds, the Finance Ministry has come out with an illustrated 12-page booklet, "How to Access UAH Domestic Bonds Market." Last week, Finance Minister Oksana Markarova predicted that strong investor demand for hryvnia treasuries means that the government will not go back to the Eurobond market this year.
As the electric car boom spreads east, Tesla will set up supercharging stations across Ukraine over the next year, tweets Elon Musk, CEO of Tesla Inc. DTEK has installed four STRUM chargers on the Kyiv-Lviv highway and four more on the Kyiv-Odesa highway, part of a growing nationwide network.
During the first quarter of this year, electric car sales in Ukraine grew 71% q-o-q, to 1,276. This matches a similar 70% electric vehicle sales growth in the EU, hitting 24,000 for April alone. Looking east, Hungary's oil company MOL is building 700 charging stations across Hungary, Romania, Croatia, Slovenia, Slovakia, and the Czech Republic. Similarly, Germany's E.ON, Croatia's HEP, Slovenia's Petrol, BMW and Nissan's Hungarian unit are jointly building 252 charging stations in Hungary, Romania, Croatia, Slovenia, and the Czech Republic.
Fighting for regional air travelers, Ukraine International Airlines launched yesterday its first "SkyBus" — from Vinnytsia Airport to Kyiv Boryspil. Painted in the airline's blue and gold livery colors, the bus takes four hours to make the 250 km route, replacing what had been UIA's shortest flight, a 35-minute hop. If this "multimodal" experiment proves popular, UIA plans bus routes from other regional capitals within 200 km of Ukraine's busiest airport: Chernihiv and Zhytomyr. To prevent giving bus rides to passengers on Ryanair and SkyUp, UIA bus tickets sales are tied to purchase of a UIA air ticket. Ryanair plans to carry 1 million passengers in and out of Boryspil this year.
Similarly, Lviv airport is strengthening its position as western Ukraine's main airport by offering hourly 20 UAH, Lviv's rail station, and the airport. In the first half of this year, Lviv's traffic hit 950,000 passengers, a 46% increase compared to the same period last year.
JoinUp, the travel agency parent of SkyUp airlines, runs free buses from 14 cities to its Lviv airport flights. Riding first on buses to Lviv or Kyiv Boryspil, 100,000 Belarussians flew last year from Ukraine last year on package tours to Egypt and Turkey. Referring to buses-to-planes, Oleksandr Alba, sales director of JoinUp and owner of SkyUp, tells UBN: "We have been doing this for six years."
The month-long, well publicized legal harassment of SkyUp has drawn the attention of foreign investors, but not public comment from President Zelenskiy. Two weeks ago, the new president addressed 500 members of foreign business chambers and promised to end 'raider attacks' on businesses.
While he spoke, SkyUp was undergoing six government agency inspections, apparently ordered by Anna Romanova, an outgoing Rada member. At the same time, SkyUp was fighting shut down order made by a small city Kyiv region judge. That order, made in Baryshivka, was immediately suspended for jurisdictional reasons. RFE/RL's Schemes program tracked down Oksana Pasenko, the 'complainant.' She said she does not have a passport and never bought a ticket on the airline. The 'complaint' referred to a SkyUp flight from Kyiv Sikorsky in May. SkyUp moved all its Kyiv flights from Sikorsky to Boryspil on March 31.
Countering negative news through emails and an expanded call-in center, SkyUp's revenue has "fully recovered" and sales are up 20% over pre-attack levels, says Alba. He adds: "After all, black PR is still PR."
For SkyUp, harassment is the price of success. The one-year-old airline plans to carry 2.8 million Ukrainian passengers this year, triple the level of last year. By next spring, it plans to increase its all-Boeing fleet by 50%, to 12 jets. By the end of next year, SkyUp plans to fly from 12 airports across Ukraine. The only regional airports closed to SkyUp are Dnipro and Ivano-Frankivsk. Both are owned by Igor Kolomoisky, the oligarch TV backer of Zelenskiy. Kolomoisky also owns Ukraine International Airline, the nation's largest airline.
Editorial: To all the 'smart' journalists who carped about Infrastructure Minister Volodymyr Omelyan: watch out. Over the last three years, Omelyan worked an air travel revolution in Ukraine, bringing in Ryanair, Wizz Air, SkyUp and Ernest. After Omelyan goes, prepare for the counter-revolution. Anonymous munchkins installed in the bureaucracy will try to clip the wings of low cost airlines. Zelenskiy should step very carefully here. These are his voters. Best Jim Brooke jbrooke@ubn.news