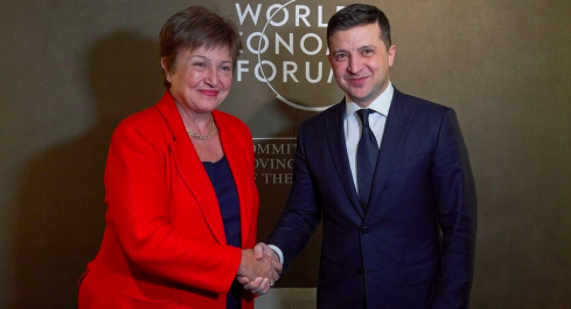 Wednesday, July 15
MF Ties Future Aid to Central Bank Independence...Rada to Vote Friday for a New Central Bank Chief...After a Decade in the Basement, Gambling Goes Legit in Ukraine...Radisson to Build High End Hotel in Kyiv's Pechersk...Rail Cargo Dropped Only 9% in H1...UIA Could Let Go One Third of Staff...
IMF Managing Director Kristalina Georgieva spoke by telephone yesterday with President Zelenkiy and warned him: "It is in the interest of Ukraine to preserve the independence of [the central bank] and it is also a requirement under the current IMF-supported program." In a statement posted last night Kyiv time, Kristalina Georgieva, said of the National Bank of Ukraine: "The reform of the NBU and its performance over the past five years is a clear success story for Ukraine…The successful clean-up of the financial sector – which was ravaged by fraud – is also credit to the supervisory work of the NBU."
Central bank governor, Yakiv Smoliy, resigned July 1, complaining of "systematic" political pressure from the President's office. His abrupt resignation forced the Finance Ministry to abort what was shaping up to be a successful $1.75 billion eurobond sale. Since then, financial analysts warn that the nomination of a credible successor to Smoliy is key to Ukraine receiving in September a second tranche of its $5 billion IMF aid package.
After the IMF call, Zelenskiy tweeted that he will present "an independent technocrat" as a candidate for a Rada vote on Friday, the last day before parliament's breaks for a 6-week summer vacation. "Informed @KGeorgieva that by the end of the week, I will have a new candidate for Head of the NBU for Parliament's approval," Ukraine's president wrote. "S/he will be an independent technocrat and continue the Bank's independent course." Zelenskiy has not made public the name of his candidate for a post that has a 7-year term.
 With investors newly wary of the hryvnia, the Finance Ministry managed to sell at auction only $393,000 worth of hryvnia bonds at Tuesday's auction. By contrast, investors bought $306 million in dollar-denominated 1-year bonds, with a yield of 3.5%. This was the first auction since Zelenskiy called last Wednesday for a 10% or more devaluation of the hryvnia.
Breaking a decade-old ban, the Rada passed a bill yesterday to legalize gambling. Voted 248-95, on the second reading, the bill is expected to overcome final hurdles and go to Zelenskiy for his signature by Friday. Advocates say it will draw gambling out of the shadows, generating $150 million in revenue for the government annually.
 Highlights:
In Kyiv, casinos can be in 5-star hotels with more than 150 rooms; in other cities, 4- and 5-star hotels with more than 100 rooms.
Licenses will be as high as $10 million for five years, plus $30,000 a year for each game table and $2,000 for each slot machine.
Nationwide, the number of slot machines will be capped at 40,000; the machines are to be in 3-, 4-, and 5-star hotels.
Bookmakers will work at horse tracks and 3-,4-, and 5-star hotels with at least 50 rooms in Kyiv and 25 in other cities. A 5-year bookmaker's license will cost $5 million.
 For a street front gambling hall, the 5-year license will be $1.3 million; for online poker $870,000..
Internet gambling will be registered, monitored and taxed.
The minimum age to gamble rises from 18 to 21.
Foreigners – except for Russians – may own gambling operations.
Ukraine's opening up to legalized gambling has drawn the attention of the international trade press, with articles in I gaming business.com, and in Europeangaming.
Gambling could create "Klondikes" in depressed regions of Ukraine, Mikheil Saakashvili, chairman of the National Reform Council, predicts on his Facebook page. A decade ago, as President of Georgia, Saakashvili brought gambling to Batumi, transforming a backwater Black Sea city into an international tourism destination. "We can identify certain depressed regions or territories and literally turn them into Klondikes," he writes. "The main thing in this is not to invent new corruption troughs. Not to create any useless commissions, regulatory bodies and other schemes whose sole purpose is to knock taxes out of business."
Radisson Hotel Group announced yesterday it plans to open in two years the Radisson Hotel Pechersk Park Kiev, a 167-room high hotel now under construction on a site with views of the Lavra and the Motherland Monument. Noting that by the summer of 2022 the Radisson Group will have seven hotels, with 1,355 rooms in Ukraine, David Jenkins, vice president of business development, said: "Radisson Hotel Group is the first and leading international hotel chain in Ukraine." No mention was made of applying for a casino license.
 Ukraine's coronavirus quarantine may be extended to last for one more month, to mid-August, a Health Ministry official tells Segodnya newspaper. During the four months of the pandemic in Ukraine in Ukraine, 1,412 people are known to have died of the coronavirus-related causes, 125 of them in Kyiv.
In a nationwide telephone poll completed Sunday, 34% of the 1,000 respondents said they believe government coronavirus numbers to be overestimated and 35% said they have not changed their work habits during the quarantine. Another 20% said the official numbers are underestimated, according to the polling companies, Active Group and Expert Club.
The state railroad carried 9% less cargo during the first half of this year, compared to the same January-June period last year. Ukrzaliznytsia reports:  exports were down 5.4%; imports were down 19.4%; transit was down 10%; and domestic by 8%. Overall, the railroad moved 143 million tons during the first half of this year.
UIA reports that it carried half the air cargo during the first half of this year, compared to the same January- June last year. Despite special flights carrying Covid protection gear from China this spring, Ukraine International Airlines carried only 5,323 tons during the first half of this year, Sergey Fomenko, UIA commercial director, tells the Center for Transportation Strategies.
Without a rebound in air travel, UIA may be forced to let go 900 employees, about one third of the current staff, Fomenko says in the same interview. He predicts that next year the airline, Ukraine's national flag carrier, will have 26-28 planes flying, about 75% of last year's level.
Austria is extending to July 30 its ban on air travel from 18 countries, including Ukraine. Tracking the evolution of the pandemic, Ukraine is adding Albania, Bulgaria and the Czech Republic to its list of 'red zone' states. Travelers from these countries must be tested on arrival in Ukraine, or go into self-isolation for two weeks.
Setting an example:  Horizon Capital CEO Lenna Koszarny has been recognized by Emerging-Europe.com as 'Emerging Europe's No. 2 Female Business Leader' for this year. Elena Hristova Marinova, president of Musala Soft, a software services company, came in first in the annual awards by sponsored by the London-based online publication.
From the Editor: Hopefully, Kristalina Georgieva, the Bulgarian economist who is MD of the IMF, worked her Black Sea magic and gave President Zelenskiy a reality check on his real chances of going it alone. Yes, there is an alternative to the IMF. It's called Moscow. With best regards, Jim Brooke