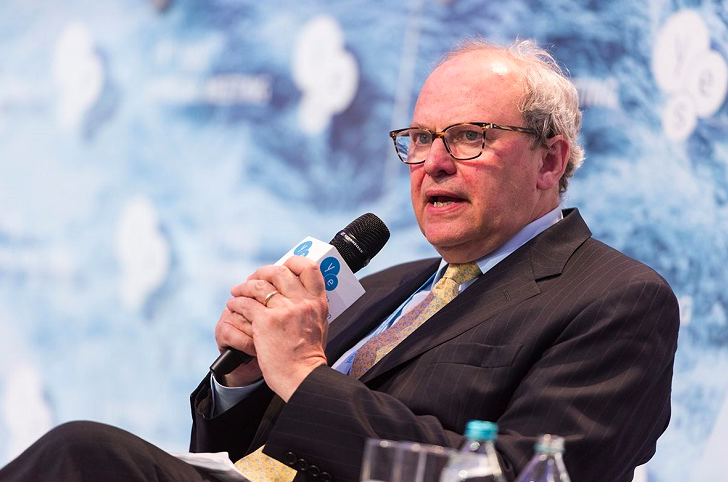 Wednesday, January 8
US Analysts: Bullish Views on Ukraine for 2020...Turks Ink $600 Million Deal to Buy 500 Drone Engines from Zaporizhia...Snapchat Snaps Up Ukraine AI Startup for $166 million...Today: Putin and Erdogan Inaugurate Ukraine Bypass Gas Line...Luxury Apartments on Sale at 75% Off
"Ukraine's underrated economy is poised for a strong 2020," headlines an article by Swedish-American economist Anders Åslund on the Atlantic Council's UkraineAlert site. Praising the macroeconomic stability built by Poroshenko and the free market reforms initiated by Zelenskiy, Åslund writes: "New Prosecutor General Ruslan Ryaboshapka has launched an admirable cleansing from the top, demanding both competence and integrity from his prosecutors…Corrupt judges need to be removed also from lower-level courts."
Turning to the new government's ambitious GDP growth targets, Åslund, a Ukraine observer of 30 years, writes: "Prime Minister Honcharuk aims at 5% in 2020 and 7% in the ensuing years. These are sensible and realistic goals. Any doubters should remember that Ukraine averaged GDP growth of 7.5% a year from 2000-2007. The macroeconomic foundations are now in place to enable a repeat of this performance."
"The surprising news from Ukraine: Zelensky is succeeding despite Trump's abuse," headlines a Washington Post opinion piece by Jackson Diehl, deputy editorial page editor. "Zelensky's government so far has been an extraordinary — and, under the circumstances, almost miraculous — success," Diehl writes, citing high export growth, high GDP growth and low inflation. "As James Brooke of Ukraine Business News notes, the Ukrainian currency, the hryvnia, is appreciating faster than any other in the world."
Diehl concludes on a political note: "Arguably the most influential American paying attention to Ukraine is Trump's personal lawyer, Rudolph W. Giuliani — and he has allied himself with Ukraine's anti-Zelensky, pro-Putin forces, including some of the country's most corrupt oligarchs and politicians."
The hryvnia "most likely" will strengthen against the dollar this year, Economy Minister Timofei Mylovanov writes on Facebook. "But it all depends on the development of the economy and the situation in the world markets." Fixed exchange rates, he notes, led to abrupt devaluations in 1998, 2008 and 2014. "The exchange is the relative price of the Ukrainian economy to the world," he writes, adding that a central bank can smooth bumps but cannot stand against world economic forces.
Zaporizhia's Ivchenko-Progress design bureau has won a $600 million contract to supply the Turkish armed forces with 500 cruise missile engines through the 2020s. The Ukrainian state company will supply AI-450 turboprop engines to Turkey's new Akinji military drone, and AI-25 turbojet engines to an unmanned fighter, reports Ukraine's Defense Express news site. Last August, President Zelenskiy visited Turkey's main unmanned aerial vehicle producer, Baykar Aerospace and Defense.
Snapchat has acquired Ukrainian startup AI Factory for $166 million, reports AIN.UA. AI Factory was founded 18 months ago by Viktor Shaburov, whose previous startup, Looksery, also was acquired by Snap Inc. for $150 million in 2015. With offices in Kyiv, Zaporizhia and San Francisco, AI Factory employs 70 people. The company developed a new feature for Snap: editing a user's photo to turn it into a video. The feature was launched Dec. 18. Days later, Snap bought out other shareholders in AI Factory.
Grammarly was Ukraine's IT 'unicorn' of 2019, attaining a $1 billion valuation, according to a global survey by Crunchbase.  Around the world, 142 new unicorns appeared last year. The leaders were: US – 78; China – 22; and Brazil and Germany – five apiece. Founded in Kyiv a decade ago, Grammarly uses artificial intelligence and natural language processing to offer spell checking, grammar checking, and plagiarism detection services.
Russia could meet all of Ukraine's gas import needs this year, selling gas at a 20-25% discount, Nick Butler, FT energy commentator, writes in the Financial Times. The lower price would come from short transit and high volumes. Naftogaz says any purchases of Russian gas will come through international energy brokers bidding in open tenders. Last year, Ukraine imported 14.2 billion cubic meters of gas.
The new 5-year Ukraine pipeline deal and the expected completion of Nord Stream 2 in 2021 will strengthen Russia's position in Europe's gas market in the 2020s. "Russia will have multiple lines supplying the European gas market," Butler writes. "With the costs of production and pipeline transit low, Gazprom…will be able to take a growing share of a market that is, at best, static in terms of total volumes and on some forecasts set to decline over the next 20 years. That will make it very difficult for potential alternatives — for instance, liquefied natural gas from the US — to compete on price."
Today, Presidents Putin and Erdogan formally inaugurate TurkStream, a twin-tube pipeline that takes gas across the Black Sea in a Russia-Turkey bypass of Ukraine. On Jan. 1, one line of TurkStream started shipping gas at a rate of 4 bcm a year into Bulgaria. This allowed Bulgartranz to stop receiving gas from the Trans-Balkan gas pipeline, which crosses Ukraine, Moldova, and Romania. Gas distributor Bulgargaz says TurkStream will save $46 million in transit fees, allowing the company to cut household gas bills by 5%.
Belarus restarted processing crude oil from Russia Monday after Moscow suspended shipments for five days. In a price dispute, Moscow cut off oil shipments through Saturday evening. Belarus is a major source of gasoline for Ukraine.
To draw foreign film production to Ukraine, filmmakers now can get rebates of up to 30% of qualified costs for making a film in Ukraine. With this new law on rebates, Ukraine catches up with Czech Republic, Romania, Poland, where rebates have been in effect for several years, reports FilmNewEurope.com. One beneficiary could be Zelenskiy aide Andriy Yermak, owner of European Partnership Media Group. This company recently did a Slovak/Ukrainian historical TV series, Slavs / Slovenia.
Location, location, location…Luxury apartments on sale now for 25 cents on the dollar…in Donetsk. Spektr, a Russian language news site, offers a rare look at "How private business in the DPR and LPR works." Cash and 'krisha' –political protection – are hallmarks. Growth opportunities: 7-seater vans to take retirees across the line of control to get their Ukrainian pensions — and apartment sitting. "Leaving a luxury property without oversight can be dangerous," the article writes. "This has resulted in the creation of a new job – Donetsk residents have been setting themselves up as supervisors of posh apartments. They live in them and receive salaries equal to doctors or teachers."
From the Editor: A nice New Year's gift for the UBN: a citation in The Washington Post. Deputy editorial page editor Jackson Diehl later penned me this note on Facebook: "Jim, I read your newsletter every morning and find it quite useful, so a shout out was the least I could do. Best Jackson." With best regards Jim Brooke jbrooke@ubn.news