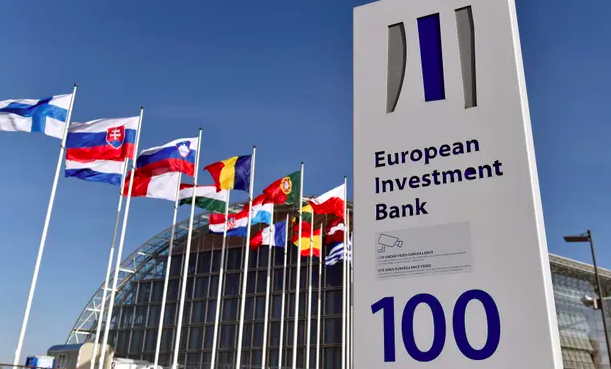 Wednesday, January 22
Ukraine Lacks Administrators: €4 Billion Stays in Euro Bank...Davos: Investment to Flow Into Infrastructure...A Green Tariff Switch Could Turn off Investors...Feeding Western China: Ukrainian Corn, Wheat To Fill Empty EU-China Trains...Ukrposhta May Win Banking Services
Lack of a "well-functioning public administration" holds up disbursement in €4 billion in approved European Investment Bank loans to Ukraine, Jean-Christophe Laloux, the bank's head of lending, told the Ukraine House Davos. Noting that only €2 billion of €6 billion in approved loans have been disbursed, he said Ukraine needs to invest in public administration. "People need to be paid enough to make it a career – not to exit after a couple of years."
From London, Tim Ash wrote about the debate of public service pay: "[Zelenskiy] can either have ministers paid decent salaries – akin to those at the National Bank of Ukraine – and have top talent join the government. Or ministers are paid sub-market, [and] Ukraine ends up with a second tier ministerial bench."
Infrastructure will become a prime target for investors during the five-year Zelenskiy administration, predicted several Davos speakers.
Citing Monday's award of a concession tender for Kherson port, Olga Magaletska, office head of the National Investment Council, said: "We have been talking about concessions for 20 years — and finally it has happened." On Tuesday, Prime Minister Honcharuk formally announced that a Swiss-Georgian consortium, Risoil-Kherson, won the tender. Magaletska said ports, regional airports and private freight trains will be priority areas for foreign investment this year. Toll roads require new legislation.
Ukraine no longer can afford the luxury of debating public private infrastructure partnerships, said Michael Yurkovich, CEO of TIU Canada. "90% of Ukraine's infrastructure will fail in 10 years," he said, citing a recent study by the Ukrainian Institute for the Future. "Ukraine needs $80 billion to keep the country where it was in 2005."
Switching gears on green tariffs without a consensual agreement could be a barrier to new foreign investment, warned Alain Pilloux, EBRD's vice president for banking. "The investment climate of Ukraine is at stake, the ripple effect could hit concession tenders and privatization."
In the audience, a major green investor, Joar Viken, group CEO of Norway's NBT, warned that retroactive changes to the tariff would cause investors to "lost trust." NBT has a €1.1 billion pipeline of windpower projects for southern Ukraine. This fall, the company plans to inaugurate Syvash Wind Farm, a €376 million, 250 MW project in Kherson. In addition, NBT is trying to line up funding for Zophia, a €700 million windfarm in Zaporizhia, on the north shore of the sea of Azov.
Ukraine's strong macroeconomic position – 4% inflation and 4% forecast GDP growth – are catching the eye of foreign investors, several speakers said.
"Every week, I am getting calls from EU, US, Asia and Middle East investors, looking for bolt on acquisitions in Ukraine," Lenna Koszarny, Horizon Capital CEO, said of the mood shift. "In the next 3-5 years, I see in Horizon Capital's pipeline $1 billion of new deals that will be financed by Horizon together with our co-investors and debt partners." Noting that the government has set a goal attracting $50 billion in foreign direct investment over five years, she said: "That amount will only be reached through infrastructure."
Andrey Gorokhov, UMG Investments CEO, said Ukraine had to work faster to win more foreign direct investment. He predicted that his Kyiv group would invest $150-200 million in Ukraine projects in the next 3-5 years.
On the infrastructure side, Volodymyr Osadchuk, CEO of COFCO Agri Resources Ukraine, said his company is negotiating to win permission to fill China-bound container trains with wheat, corn and soybeans. Currently, trains return to China from Europe largely empty. COFCO, a Chinese company, predicts that 35 container trains a week could cross Ukraine, loaded with food for Western China, a food importing region. Urumqi, the largest city, is roughly equidistant from Shanghai and Kyiv.
Today, Germany's Deutsche Bahn and Ukrzaliznytsia are to sign a memorandum of cooperation in Davos. Alexander Sichko, a member of the Rada's Transport Committee, writes: "A large-scale cooperation project between Ukrzaliznytsia and the largest German railway operator Deutsche Bahn is being prepared…It is about attracting German experts, experience, managerial and technological solutions."
Rail passenger traffic between the EU and Ukraine, grew by 15% y-o-y last year, to 947,000 passengers. About half of the passengers, 482,000, took the train that runs between Kyiv and Przemysl, Poland.
In IT, a $100 million Ukrainian startup fund is being created by the government, said Oleksandr Bornyakov, Deputy Minister of Digital Transformation of Ukraine. The Finance Ministry reports this Saturday, nine finalists from 300 applicants will present their projects to the competition committee of the Ukrainian Startup Fund.
On Tuesday, the government unveiled 'Dilo Svita' a national project to teach 6 million people digital skills, Bornyakov said. This program meshes with a larger goal of closing internet 'white spots' – or extending internet use to the last 10 million Ukrainians. In addition, as part of increasing the nation's IT professionals from 200,000 today to 500,000 in 2024, the government wants to train people for key support roles, notably IT marketing managers.
Welcoming Ukrainians to Davos, analysts at Credit Suisse forecast the nation's GDP will grow at 4% and higher this year and next. "Our main expectation from the Ukrainian economy is that in the coming years it will grow at or above 4%," the report said. With the higher growth would come a higher payout ratio for the nation's 2015 GDP-linked warrants. The analysts also predicted that Ukraine's central bank would intervene more actively this year to prevent a strengthening of the hryvnia.
Radical cleanup of the nation's three big state-owned banks during the Zelenskiy government is envisioned in a strategy document posted on the National Bank of Ukraine website. Nonperforming loans are to drop from 53% today to 10% in 2024. The state banks' share of banking assets is to drop from 60% today to 25%. The level of public confidence in the financial system is to increase from 10% today to 60% in 2024.
To extend banking services to all population centers of Ukraine, the Rada has registered a bill tp allow Ukrposhta to offer the kinds of financial services seen at European postal banks — open postal accounts and  pay salaries, pensions and social benefits. "Opening of postal accounts is an opportunity for the 37% of the population who do not have access to bank services to receive modern financial services, through Ukrposhta," Igor Smilyanskiy, Ukrposhta CEO, told the post office's press service.
Ukraine's off the books, shadow economy amounts to $83 billion, according to a study by Yury Kharazishvili, chief researcher at the Institute of Industrial Economics of the National Academy of Sciences of Ukraine. If accurate, Ukraine's $150 billion GDP is really $233 billion. With this accounting, GDP per capita rises to $5,833.
From the Editor: "A Frozen Conflict Would Warm Ukraine's Investment Climate" I argue in an article posted yesterday on the Atlantic Council Ukraine Alert site. Stop the killing, freeze the conflict, work an economic détente with Russia, and foreign investment will flow. Sometimes the perfect is the enemy of the good. With best regards Jim Brooke jbrooke@ubn.news