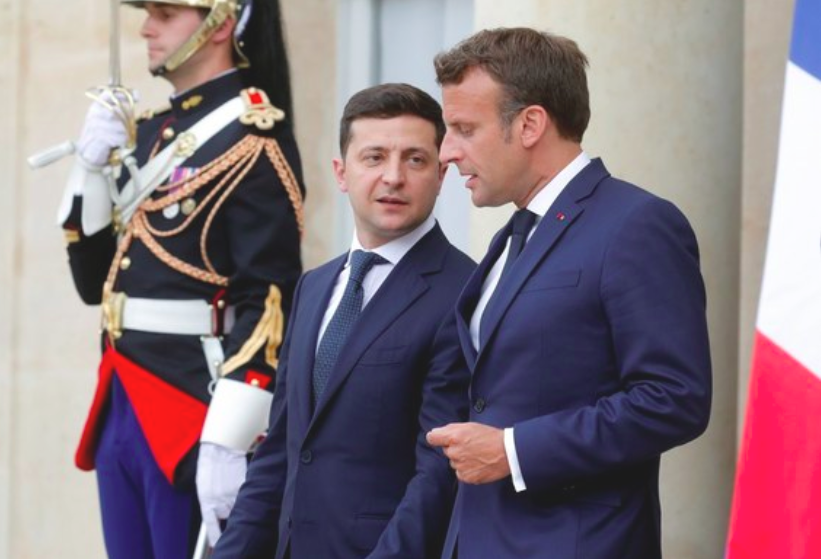 French President Emmanuel Macron is to visit Ukraine this spring to sign a contract for Ukrzaliznytsia's purchase of Alstom electric locomotives, Vadym Omelchenko, Ukraine's Ambassador to France, said yesterday. "First of all, [there will be] a major contract with Alstom and the Ukrainian government for the supply of electric locomotives, which also provides for local content in Ukraine," he told an online conference on the legacy of the Maidan. UZ executives say they need 50 locomotives, which could mean a €250 million contract. UZ has a $1 billion capital expenditure budget this year.
Ambassador Omelchenko said he hopes there will be a second Alstom contract — for building high speed train tracks between Kyiv and Lviv, and between Kyiv and Odesa. In addition, France and Ukraine will sign contracts for France's supply of water purification plants for Kyiv and Luhansk, similar to an ongoing French project in Mariupol.
France's Accor hotel group plans to open a second Ibis hotel in Lviv this year. The fourth Ibis for Ukraine, the new hotel is in rebuilt structure at Ivana Franka Street 23a, a 10-minute walk from Rynok Square. "Bright, modern and stylish hotel located in the center of this ancient city with historic and architectural heritage," proclaims the press release from Paris. Next year in Kyiv, Swissotel Living is to open a new hotel for Accor in a rebuilt historic building at Liuteranska 13, a five-minute walk from Kreshchatyk Street.
Almost $1 billion investment is going this year into the government-controlled portions of Donetsk and Luhansk, Oleksii Reznikov, deputy Prime Minister for Reintegration of the Temporarily Occupied Territories, writes in an Atlantic Council Ukraine blog. In addition to government budget money, he writes "credit and donor funds have allowed us to create a package of infrastructure projects in Donetsk and Luhansk Oblasts worth over $900 million, including highway and railway construction, water facilities modernization, improvements in energy infrastructure, agricultural infrastructure upgrades, and much more." Investments are coming from the World Bank, the European Investment Bank, Naftogaz, and the governments of Canada, France, Germany, and Sweden.
Private business investment will be attracted, Resnikov writes, through "a range of incentives including tax and customs preferences, insurance against military and political risks, and international commercial arbitration." The goal is to create "clusters of priority development in government-controlled parts of Donetsk and Luhansk Oblasts to encourage investment."
After starting daily train service last month between Kyiv and the frontline city of Avdiivka in Donetsk region, Ukrzaliznytsia now plans to extend train service to within several hundred meters of Crimea's two main Crimea checkpoints – Armyansk and Chonhar. By running Kherson region trains down to the checkpoints, UZ could pick up and deliver passengers traveling to and from the Russia-controlled peninsula. "We are working to restore communication with the territories adjacent to the Crimea," Volodomyr Zhmak, CEO of Ukraine's state railroad, tells Interfax-Ukraine. "Unfortunately, we cannot enter Crimea itself."
Bank profits fell by 27% through November to $1.5 billion, reports the National Bank of Ukraine. Of Ukraine's 73 banks, 11 reported losses and 62 reported profits. The leader was state-owned PrivatBank, the nation's largest bank with 23 million clients, at a net profit last year of $886 million. State-owned Oschadbank came in second, with $172 million in net profit. Two privately owned banks followed: Austria's Raiffeisen Bank Aval, with $133 million in net profit, and First Ukrainian International Bank, owned by Rinat Akhmetov, with a net profit of $89 million.
As Ukraine's banks moved to remote work and on line services last year, they permanently closed 11% of their branches, reports the National Bank of Ukraine. Oschadbank, owner of the largest branch network in Ukraine, closed the most branches – 490, or 56% of total closings. The other leaders were: PrivatBank – 211 branches closed; Raiffeisen Bank Aval – 100 closed; Alfa-Bank – 39 closed; and TAScombank and Sberbank – 16 closings each.
Ukraine's Central Bank will keep its prime interest rate at 6% to continue supporting an economy struggling out of recession, 14 out of 16 analysts predict in a Reuters poll. Tomorrow, the National Bank of Ukraine holds it scheduled monetary policy meeting. Inflation fears eased after the government imposed a two-month cap on gas prices, effective Feb. 1. Ukraine's 2020 inflation rate was 5%, within the central bank's target band.
Ukrainian businesses predict that 2021 will see 7.9% inflation and the hryvnia weakening by 5% to UAH 29.68 / $1. This are the consensus forecasts made by 693 business executives interviewed by the National Bank of Ukraine for its regular quarterly survey of business expectations of enterprises.
Highlights:
21% of companies plan to cut staff this year, down from 33% in the last survey.
63% of companies plan to increase salaries this year, up from 56% before.
42% of companies plan to borrow this year, unchanged from before. Of the borrowers, 77% plan to borrow in hryvnia.
On the eve of payments of UAH 12 billion on previously issued government bonds, the Finance Ministry raised UAH 12.33 billion, or $438.4 million, at yesterday's weekly auction. To raise the bulk of the money – 82% — the government tweaked interest rates up slightly – to 11.75% for 14-month bonds, and to 11.95% for 2-year bonds. By squeezing the offer of 3-month bonds, the government lowered the rate to 9.45%, from 10%, the Ministry posted on its website. The other novelty was the first sale of 6-year bonds since the financial crisis hit Ukraine in March. In late February, the government sold UAH 1.33 billion of these bonds at 9.95%. Yesterday, the government sold nearly the same amount, but for 12.6%.
State security guards yesterday blocked Oleksandr Tupytskyi, chairman of the Constitutional Court, from entering the Court's imposing courthouse at 14 Zhylianska St, Kyiv. Last fall, Tupytskyi started to dismantle much of the anti-corruption institutions installed in Ukraine. The court agenda included review of the farmland market law, the language law and the bank clean up law of 2015. President Zelenskiy reacted on Dec. 29 by temporarily suspending Tupytskyi. The Court responded saying only it can regulate itself. Yesterday, investigators also formally notified Tupytskyi that he is a suspect in a witness tampering case.
The cost of shipping a container from China to Northern Europe has quadrupled since November, hitting $9,000 and higher today, reports Interfax-Ukraine. While shipping costs are expected to recede, today's price spike could have two long term benefits for Ukraine. For one, it will stimulate EU manufacturers to shorten their supply lines and place manufacturing in Ukraine. Second, it will push Chinese shippers to send more containers by rail through Ukraine, routes that Ukrzaliznytsia promotes.
Editor's Note: Having crossed the North Korea – South Korea land border several times by bus, I think I know what the Zelenskiy Administration is up to in the Donbas. By providing banking services, government services, heated waiting rooms, and clean toilets, Kyiv is creating a clear contrast to the surly guards and shabby facilities on the other side. Russia noticed. After two of Ukraine's shiny new service hubs opened last month, Russia responded by unilaterally closing five Donbas control points. With Best Regards, Jim Brooke