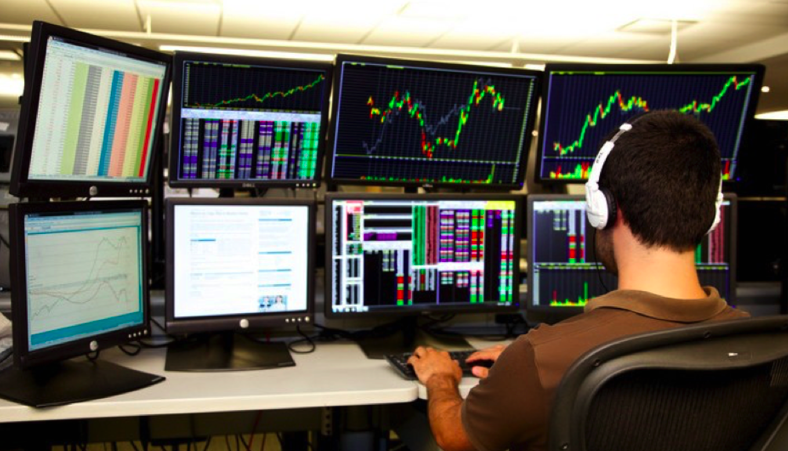 Wednesday, January 15
Chinese Buy Ukrainian Stock Exchange...Demand High for Government Bonds...GDP Warrants Hit Par...Goal: 1 Million New Jobs by 2024...Traveling Nation: 30% More Ukrainians in Airplane Seats, 43% More Drive Their Cars to EU...Ukraine Airlines Race to Grab Ernest's, Italy Market
China's Bohai Commodity Exchange has acquired a 49.9% stake in PFTS Stock Exchange, Ukraine's second-largest exchange, after Perspective. Last year, PFTS handled $3.2 billion in trades, 38% of the volume on Ukraine's three exchanges. Two years ago, the Tianjin-based exchange, known as BOCE, purchased the Ukrainian Bank for Reconstruction and Development.
A Singapore business delegation will visit Ukraine this year and a Ukraine-Singapore business forum will be held in Singapore, Ukraine's Foreign Minister Vadim Pristayko tweeted Tuesday at the end of a two-day visit to the island nation. Pristayko met with Singapore Prime Minister Lee Hsien Long and discussed the country's Smart Nation e-government project with officials. Also on Tuesday, the Rada approved a bill to end double taxation between the two countries. With only 5.7 million people, Singapore has a $370 billion GDP, more than twice as large as Ukraine's.
British and Ukrainian diplomats on Tuesday started 'working consultations' about a bilateral free trade agreement, tweets Ukraine's Foreign Ministry.  Larger negotiations, between the UK and the EU over Brexit, are to start Jan. 31.
With interest rate cuts expected two weeks from now, the Finance Ministry's first government bonds auction of the new year was four times oversubscribed, allowing the government to depress yields by about one percentage point across the board. Buying hryvnia bonds, investors paid UAH 6 billion, the equivalent of $250 million. About half of purchases were of 4-year bonds, where the weighted yield dropped by 102 basis points to 9.88%.
Timothy Ash writes from London: "Ukrainian markets remain hot — see another slam dunk local auction today. No one seems to care about the Privatbank issue, at least in the foreign institutional investor community."
Ukraine's GDP warrants, which were offered to bondholders during the 2015 debt restructuring, hit par, or 100%, this week. Over the last 18 months, as investor confidence returned to Ukraine, the warrants almost doubled in price.
Timothy Ash notes the buyout dilemma faced by the Finance Ministry: "Par pricing means a $3.4 billion,  or thereabout liability, which looks set to begin to payout as real GDP growth stays/accelerates above 3%… the more successful the reform agenda is – the higher real GDP growth, and higher USD GDP, the bigger the payouts."
The Economy Ministry has a five-year plan to create one million new jobs by 2024, Economy Minister Timofei Milovanov told the Rada Tuesday during a debate over a new Labor bill. At the same time, the government wants to cut the job search time to two months and the unemployment level to Europe's average – 5%. Employers say that last year's 10% growth in real wages combined with the16.5% appreciation of the hryvnia to erode incentives to emigrate to Poland.
Low wages have prompted several deputy ministers to quit the Cabinet, Milovanov said at the same debate. Stressing that his ministry has not suffered losses, he said: "It is because they have a salary of 18,000 hryvnias and an Uber driver can earn more. If we want qualifications to be appropriate, we need to pay appropriate salaries."
Advertising in Ukraine is to grow by 18% this year, slowing from 25% growth in 2019, predicts the All-Ukrainian Advertising Coalition. Of the $1 billion markets, TV took about half of advertising last year. This year is to see 25% growth for direct marketing and 20% for sponsorships. The second-largest sector, online, grew by 25% last year, to $240 million. This year, banner ads are to grow by 20% and digital video by 30%.
Starting tomorrow, all ads on TV, radio, and print must be in Ukrainian. Media in the official languages of the EU may run ads in these languages. Russian is not one of the 24 official languages of the EU.
Russian hackers have hit again, penetrating one of the servers of Burisma, a private Ukrainian gas company, reports The New York Times.  Rather than seeking commercial secrets, the hackers presumably were looking for dirt on Hunter Biden, a former Burisma board member who is a son of Joe Biden, a leading Democratic Party presidential candidate.
The number of Ukrainians traveling internationally by airplane jumped by 30% last year, to 15.1 million, reports Ukraine's Border Guard Service. By contrast, land crossings of Ukraine's border with its four EU neighbors were flat – 36.7 million people of all nationalities. And land crossings on the Russia-Ukraine border – by all nationalities – were down by 10% to 10 million. Commercial air flights between Russia and Ukraine stopped four years ago. Further underlining the EU allure, the numbers of Ukrainians traveling to Belarus were down 9% and to Moldova were down 6%.
Indicating an upsurge in cross-border driving, the number of Green Card international insurance contracts taken out by Ukrainians increased 43% through November y-o-y, to over one million. These insurance policies are obligatory for driving in the EU.
Speeding trucks across Ukraine's EU land borders, more than 8,000 international haulage permits were issued in the first half of January by the new e-transport.gov.ua electronic services portal. In addition, full truck scanners are now working at eight of Ukraine's EU border control posts. Prime Minister Honcharuk wrote on his Telegram channel about the scanner at Chop, the main crossing point for Hungary: "At the Chop checkpoint, the cargo inspection was reduced to seven minutes, instead of 3-4 hours!"
Within hours of Saturday's closing of Milan-based Ernest Airlines, two low-cost Ukraine airlines jumped to take Italy-Ukraine air traffic. Yesterday, SkyUp started selling tickets for a host of new routes and increased frequencies to Italy from Kharkiv, Kyiv Boryspil, Lviv, and Odesa. SkyUp's new route map shows flights from Ukraine to 10 Italian cities. Also yesterday, Windrose, another Ukrainian low-cost carrier, announced summer flights from Kyiv Boryspil to Ancona, Brindisi, and Lamezia Terme. Moving to capture Ernest's traffic between Albania and Italy, Wizz Air announced yesterday that it will fly between Tirana and five Italian cities.
With Kyiv banning Ukrainian aircraft from flying through Iranian airspace, UIA will end its flight to Bangkok in the coming weeks and is reviewing its Dubai fight, UIA President Yevgeny Dykhne tells LB news site. By flying around Iran, flights to Bangkok are no longer profitable. Flights to Dubai have stretched from 5.5 hours to 8 hours, necessitating refueling stops.
From the Editor: Ukraine Business News is multilingual – English, Ukrainian, Russian and German. Check out our website: www.ubn.news! With best regards Jim Brooke jbrooke@ubn.news