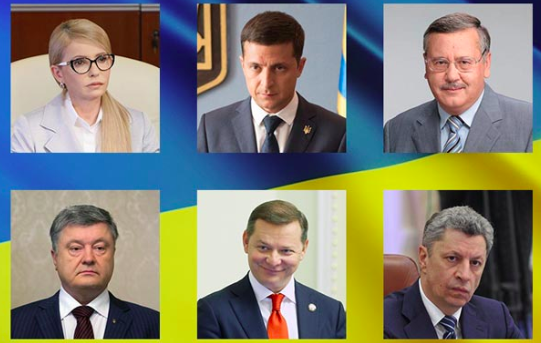 The main economic task of a second presidential term would be "overcoming poverty," President Poroshenko told the American Chamber of Commerce Tuesday evening. To get there, Ukraine needs foreign investment and decent paying jobs. "If you want to prevent people from going abroad, Ukraine should never again be the country of cheap labor," he said. Ukraine should process more of its farm production, "become the country of the biggest number of startups," and should increase tourism sevenfold, to 10% of GDP.
Populist presidential candidate Yulia Tymoshenko hewed a centrist line with the European Business Association Monday evening, saying that Ukraine cannot afford to stop cooperating with the IMF, Bloomberg reports. Calling Ukraine's debt burden 'heavy,' she said she would negotiate better terms from the IMF. She promised to "find a common language with investors before parliamentary elections and lift this burden a little." Tymoshenko and Poroshenko are roughly even in polls leading up to the March 31 election. Volodymyr Zelenski, a well-known comedian and entrepreneur, is currently in first place.
Dragon Capital and AVentures Capital have acquired minority stakes in Ciklum, the London-based IT outsourcing company with about 3,000 employees in Kyiv. Andriy Nosok, Dragon's Managing Director and Co-Head of Private Equity, said: "We believe that ongoing global digital transformation will support increasing demand for IT solutions and services and that Ciklum is very well positioned to capitalize on this sustainable trend." Michael Boustridge, Ciklum CEO, said: "This investment will continue to propel Ciklum's rapid growth in delivering cutting edge technologies to clients around the globe." All three companies are privately owned and the investment amounts were not made public.
 Retail trade in Ukraine increased by 6.1% in real terms last year, slightly below the 6.5% increase for 2017. The biggest jumps were in Ukrainian-controlled Luhansk – up 27% — and Donetsk – up 14%. Fueled partly by remittances from Ukrainians working abroad, retail was one of the three pillars of growth last year's 3.4% growth – led by agriculture – up 8.2%; and construction – up 6.3%. Concorde Capital's Evgeniya Akhtyrko writes: "We expect real retail to increase 6-7% yoy in 2019. It will be driven by real disposable income growth."
Consumer confidence of Ukrainians rose in December 2018 to 62 on a 200-point scale, GfK Ukraine reports. Across the board – the propensity to consume, job prospects, and changes in personal finances – rose by an average of 3.5 points in December. Similarly, inflation expectations dropped.
E-commerce grew by 31% in Ukraine last year, the second fastest rate in Europe, following only Romania's 37%, according to the Better Regulation Delivery Office, or BRDO, a regulatory advisory body funded by the EU. While growing faster than the world average of 24%, Ukraine has plenty of room to grow, Alexander Kubrakov, BRDO IT director, tells reporters. In 2017, online accounted for 3.2% of retail sales in Ukraine, compared to 8.8% in the EU, 10.2% in the US, 17.8% in Britain. To further promote online sales, the BRDO recommends the government allows online stores to email sales receipts, instead of requiring they issue printed paper receipts.
A high water mark for bricks and mortar retail? The half-built Respublika mall – designed to be the largest shopping center in Ukraine – was sold at auction Wednesday to Soltex Capital for $28 million. Located at a southern intersection on Kyiv's Ring Road, Respublika was to open in November 2014 with 135,000 square meters of leasable retail space. At part of the liquidation of Nadra Bank, the Deposit Guarantee Fund sold through ProZorro.Sale the property, which includes 16 hectares of land, buildings, and preliminary lease agreements.
Riding the e-commerce boom, Ukraine's package delivery war heats up:
Nova Poshta increased package deliveries last year by 20%, hitting 174 million. Points of sale grew by almost quarter, to nearly 3,000 across Ukraine. Deliveries from the United States double and deliveries from Europe tripled, bring international shipments to 2.7 million, or 1.5% of the total. About 21% of Nova Poshta's deliveries come from internet shopping. Nova Poshta has signed a deal to provide warehouse and delivery service in Ukraine for IKEA. This summer, the Swedish furniture retailer plans to open its first store in a showroom 'city format.'
Ukrposhta, the state company, plans to increase deliveries by 27%, to 28 million packages this year, Director Ihor Smilianskyi tells reporters. He says: "Today Ukrposhta delivers more parcels in a  day than in all of 2016." Last year, Ukrposhta entered into an alliance with Rozetka, Ukraine's largest online store. After launching a mobile app, Ukrposhta delivered 6 million packages ordered online last year. To further democratize e-commerce, Ukrposhta plans to complete the computerization this spring of all post offices in towns with populations over 2,000.  With the biggest commercial reach in the nation, Ukrposhta has 11,000 post offices.
Lviv-based Meest Express plans to increase by 50% the number of reception points in Ukraine, Poland and Kazakhstan, according to Interfax-Ukraine. Rostislav Kisil, president of Meest Group, says there are now 2,600 reception points in Ukraine. Last year, this network was boosted by the purchase of 1,900 locations in PrivatBank and A-Bank branches. Aiming at deliveries from online stores around the world, the company which originated in Toronto, Canada has launched an app — myMeest.
A new EU standard postal services law is being drawn up to crack down on "incomprehensible postal operators who are just engaged in smuggling," Omelyan told the American Chamber of Commerce on Wednesday. "Under the guise of postal companies, they are engaged in illegitimate services."
To cope with booming air cargo, Boryspil starts work in May on a new cargo terminal designed to more than triple handling capacity to 100,000 tons, Pavel Ryabikin, general director, tells reporters. Ideally, the terminal will be partially open in time for this year's Christmas rush. During the recent Christmas period, the airport was so overwhelmed with packages that it closed for air cargo for two weeks. Given air cargo growth rates, Minister Omelyan predicts this expansion will only be sufficient through 2022.
To offer a Kyiv region alternative for air cargo, Bila Tservka airport is to win international status in May and is to receive international cargo flights in August, Minister Omelyan tells reporters. Noting the airport is 80 km south of Kyiv's Ring Road, near the E95 Kyiv-Odesa highway and near rail lines, Omelyan says the goal is to turn Bila Tserkva into an "international multimodal transport hub." Airport director Sergei Kandaurov predicts the airport will handle 15 cargo flights a month this fall. A maintenance hub for four Ukrainian airlines, the airport did repair last year on 73 aircraft, largely Antonovs. Last year, an EU expert study recommended the government spend $63 million through 2022 to turn the airport into a hub for cargo and discount airlines.