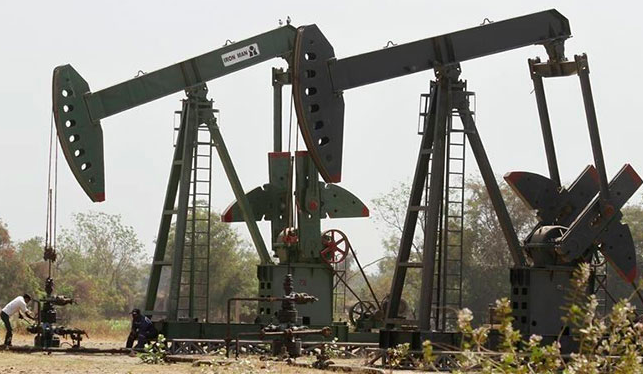 Wednesday, February 27
90-Window is Open for Bids on Oil and Gas Blocks…Worries Mount that 'Green Auction' Bill is Stuck in Rada…Warehouse Rents to Keep Rising Until New Projects in 2020…Cargo Hub at Uzhgorod Airport Would Straddle Slovak-Ukraine Border…Kyiv Hotel Room Rates up 6%
A 90-day clock has started running for energy companies to bid on nine oil and gas blocks put up for tender under 50-year production sharing agreements. By May 25, bids should be made to Ukraine's Interagency Commission accompanied by a non-refundable bid fee of $11,100. Tenders require minimum commitments to invest $16-35 million during a five-year exploration period. The production sharing agreements also stipulate percentages of produced oil and gas to be handed over to the state.
Concern is mounting that 'green energy' auction bill is stuck in the Rada, threatening new investments in Ukraine's booming renewable energy sector.
The law should be "be adopted before the elections — because otherwise we will lose at least six months," Torsten Wöllert, energy director for the European Commission's Ukraine Support Group, told the Ukrainian Energy Forum in Kyiv on Tuesday. As approved Dec. 20 on first reading, the bill provides for moving next Jan. 1 to competitive auctions for most solar and wind projects. Noting that Ukraine can benefit from the experiences of other European countries, Wöllert said: "I very much hope that Ukraine will have a very advanced law."
The EBRD, the largest lender to Ukraine, will resume lending for solar and wind projects only after the Rada passes the 'green energy' auction bill, Olga Yeromina, EBRD Ukraine's senior banker for electricity, said Tuesday at a Rada energy conference. As reported by ExPro Consulting, she said: "As soon as the law introducing the new renewable energy support system through the mechanism of auctions is adopted, we will be ready to actively start the preparation of new framework financing for the continued support of projects in the field of renewable energy." She said the EBRD hopes the bill will be approved by the Rada and signed by President Poroshenko in coming weeks.
Deputies under the control of "energy oligarchs" are sabotaging the auction bill by submitting extraneous amendments and blocking Rada consideration, Yuriy Chyzhmar, a Radical Party deputy tells UNIAN. The news agency reports: "A number of People's Deputies are blocking the approval and approval of amendments, so the fate of the bill being submitted to the session hall remains unknown."
Auctions are designed to lower Ukraine's 'green tariffs', among the world's highest. Last year renewable power sources provided 2% of the nation's electricity, but accounted for 8% of the nation's power bill, according to Olga Buslavets, director of energy markets for the Energy and Coal Industry Ministry. Reviewing solar and wind projects under way, she predicted at a Kyiv round table that the nation's installed renewable energy capacity will increase by 50% this year, to three gigawatts. In Ukraine's electricity pie, nuclear supplies 53%, coal, gas and oil power plant supply 37%, and largely scale hydro dams – 7%.
Worldwide investments in renewable energy hit $332 billion last year, the fifth year in a row the figure was over $300 billion, reports Bloomberg. Solar energy investment dropped by 24%, to $131 billion. Technological improvements cut  the average cost of installing 1MW of solar capacity by 12%. Investment in wind energy increased by 3% to $129 billion. Investment in biomass and waste-to-energy increased by 18% to $6.3 billion.
Bloomberg calculates that Ukraine attracted $2.4 billion in renewable projects last year. China remained the world leader investing $100 billion. But this was one third below 2017 due to a cut in the number of new solar projects. The US came in second, with $64 billion, 12% more than in 2017. In the EU, investment jumped by 27%, to $74.5 billion, largely due to five massive offshore wind projects and a big expansion of solar in Spain.
With office space tight and tourism rising, the Rada rejected a bill that would restrict the use of apartment buildings to private residences. While office vacancies have fallen to 5%, Kyiv has an estimated 70,000 unsold apartments. Similarly, the arrival this spring of discount airlines from Europe – Ernest, Ryanair and Wizz Air – demand for hostels and two-star lodgings are expected to increase sharply.
Warehouse vacancies fell to 2.8%, pushing rents up last year by 20-25% in dollar terms, Property Times reports in a lengthy analysis of the warehouse sector, largely in Kyiv. Rents are to increase more this year as only two projects, with a total of 31,000 square meters, are to be commissioned this year. In face of the space shortage, many companies are responding with 'build to suit' premises that do not go on the open market. Over the next three years, developers have announced projects totaling 190,000 square meters. But, Property Times reports, several developers are waiting to learn the outcome of the presidential elections before starting construction.
Uzhgorod will regain flights to Kyiv on March 15, Valerii Lunchenko, a Rada member from Zakarpattia, tells Mukachevo.net. Almost three year ago, Ukraine's westernmost airport lost air service, leaving Kyiv-bound residents with a stark choice: 10 hours by car, or 12-14 hours by train. The 627 km flight will be the nation's longest domestic flight, probably taking one hour.
Foreign investors propose expanding Uzhgorod airport into a Slovak-Ukrainian enterprise, with a free trade area and bonded warehouses for cargo on both sides of the international border, Eduard Maliar, infrastructure director of the Zakarpattia regional administration, writes on Facebook. To handle cargo planes from Asia, the runway would be extended 1,500 meters into Slovakia. After studying the airport, he writes, investors propose building "terminals both in Ukraine and Slovak territory that will serve both passenger and freight transport, including transportation of goods from China and South Korea to Europe."
To better connect Slovakia and Zakarpattia, test passenger trains are to start in April on the standard gauge track between Košice, Slovakia's second largest city, and Mukachevo, Zakapattia's rail hub. With Slovakia's ZSSK trains plying the 175 km route in four hours, service is start in June, in time for the summer tourism season. The new route "will make this region more attractive for tourists," Arpád Érsek,  Slovakia's Transport and Regional Development Minister, said after meeting with his Ukrainian counterpart, Volodymyr Omelyan.
Reflecting pent up demand for this east-west connection, two Czech private rail companies, Leo Express and RegioJet, recently started bus service between Mukachevo and Košice, the eastern rail terminus for both rail companies. Separately, in December, Hungarian Railways and Ukrzaliznytsia launched daily direct Mukachevo-Budapest trains. They use standard gauge tracks first laid in Zakarpattia during the Austro-Hungarian empire.
The average daily price for a hotel room in Kyiv hit 89 euros last year, 6.3% increase over 2017, according to a report by STR Global, an American company that tracks hotel supply and demand. Kyiv's occupancy rate inched up 3%, to 52.5% — well below the EU average of 72.4%.