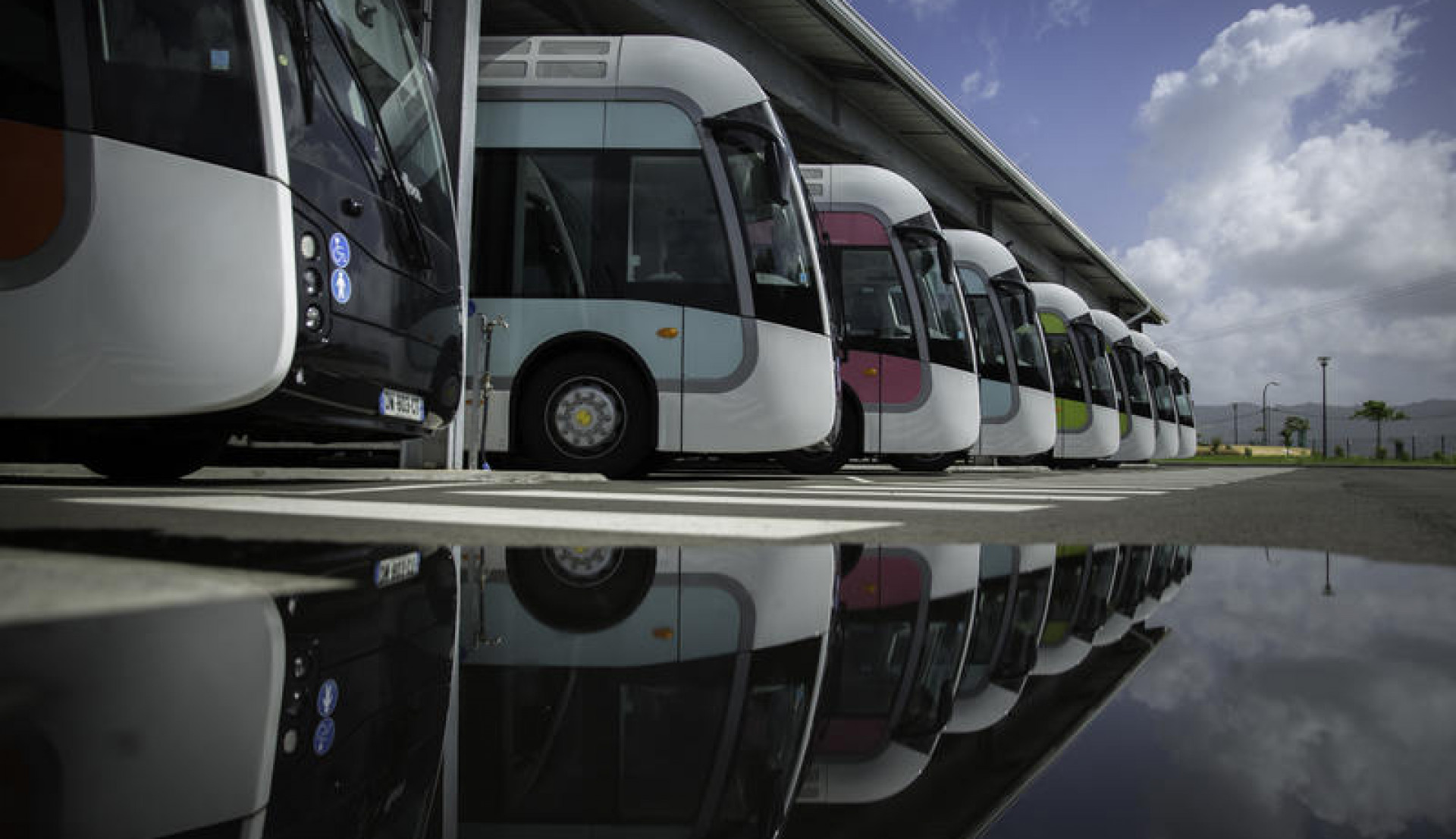 Wednesday, February 24
New Buses, Trams and Subway Cars to Rain Down on Ukraine This Year…Private Concessions to Bring Train Stations and Ports into Modern Era…With FX Stable, Foreign Investment Flows Back Into Ukraine Bonds…PrivatBank Execs Charged in 2016 Scam
With the support of a €200 million soft loan from the European Investment Bank, 29 cities across Ukraine will receive almost 1,000 mass transit vehicles – buses, trolley buses and trams, Infrastructure Minister Vladyslave Krykliy said yesterday at the government's Infrastucture Forum. Approved by the Cabinet of Ministers last fall, the loan will help modernize mass transit over the next year in each of the 24 regional capitals, plus five cities.
The EBRD will loan Kyiv €50 million to buy new subway cars, Mark Magaletsky, deputy head of the bank's Ukraine office, said yesterday. Mayor Klitschko said the City Council has voted to provide local guarantees for the loan. The money is expected to go to renewing the metro fleet where 100 of the 800 cars in service are considered to be in critical condition. One new subway car costs about €1 million.
More than a shopping list, the Forum provided a to do list for infrastructure projects committed for this year. Here are highlights. Roads will follow tomorrow.
Railroad stations concessions to private operators. First in line are: Kyiv-Passenger and Vinnytsia. Next in line are: Dnipro-Main, Kharkiv-Passenger, Mykolaiv, Chop and Khmelnitsky. Minister Krikliy said yesterday: "Now we are talking about Odessa and Lviv."
Seaport concessions: Chornomorsk ferry, Chornomorsk container; Odesa passenger; Berdyansk, Izmail and Mariupol. Last year's concessions to private foreign investors of parts of Kherson and Olvia, in Mykolaiv region, have brought in $131 million of investment.
Ski resorts: Construction starts this year on two resorts in the Carpathians – Borzhava in Zakarpattia, and Slavske in Lviv. Austrian investors interested in Borzhava.
High speed rail: China, Italy, South Korea and Turkey are interested in building a fast train network across Ukraine. "The only tool for building high-speed train networks is a concession – to realize this, Ukraine needs a powerful investor," said Volodymyr Zhmak, CEO of Ukrzaliznytsia. "Today these potential investors are looking at Ukraine in terms of organizing high-speed traffic."
EU rail gauge: Preliminary work on restoring a 20 km section of EU narrow track to connect Uzhhorod with Chop, the Ukrainian border town with rail ties to Hungary and Slovakia. By rebuilding this Hapsburg-era section of track, an $18 million project, Uzhhorod, the largest city in Zakarpattia, would become a transportation hub for trains to Bratislava, Budapest, Belgrade, Bucharest, Munich, Prague, Sofia and Vienna, says Oleksandr Kava, deputy Finance Minister.
Electrification: The European Investment Bank has promised to finance the electrification of tracks to Lysychansk and Severnodonetsk, Kava said. This would almost cut in half – to eight hours — the travel time between Kyiv and Severnodonetsk, capital of Ukraine-controlled Luhansk. As part of the same Restoration of Donbas program, UZ seeks international financing to build a 30 km section of track that would shorten by 200 km the train ride between Mariupol, the Donetsk sea port, and Kramatorsk, the capital of Ukraine-controlled Donetsk.
River locks: The European Investment Bank and the Infrastructure Ministry are preparing an agreement to rebuild the locks on the six dams of the Dnipro cascade. "This year is a preparatory year for us," Minister Krikliy said, saying the government plans to create a dedicated fund to modernize river infrastructure. Rebuilding all the locks is expected to be a 5-year, $40 million job. The government calculates that for each 1 million tons of cargo moved by river, almost $10 million is saved in road repairs.
The Finance Ministry depressed yields on five out of six bonds sold yesterday at auction, the Ministry reports on Facebook. For the hryvnia bonds, yields ranged from 9.2% for 3-month bonds to 12.05% for 3-year bonds. The lone dollar bond, a 1-year bond, went for 3.7%, down 10 bps from the last auction. Overall, the auction raised $377.2 million – up 10% compared to the prior week, according to results posted on the Ministry's website.
"Given still light positioning, there is a potential for ongoing massive foreign inflows into UAH bonds," ICU predicted yesterday in a 20-page report on the government hryvnia bond market, "UAH bonds – attractive again." Ukraine's bonds offer relatively high yields against a background of relatively modest macro, credit, and FX risks, especially on a short-term horizon," writes the Kyiv investment bank. "High real rates, fast economic recovery, and favourable external conditions support the currency…By the end of the year, we see the currency close to current levels (UAH27.5-28/USD)."
The Prosecutor General's Office yesterday charged Oleksandr Dubilet, former CEO of PrivatBank, with forgery and embezzlement of the equivalent of $5 million on the day before the bank was declared insolvent, in Dec. 2016. Dubilet was out of Ukraine when the charges were filed. Until last March, his son, Dmytro, was President Zelenskiy's Minister to the Cabinet of Ministers.
In the embezzlement case, prosecutors charged two other former executives of PrivatBank. After it was declared insolvent, the bank was bailed out with $5 billion in public money. One of the former executives, Volodymyr Yatsenko, was detained after he fled Dnipro Monday morning in a private jet bound for Vienna. Agents ordered the pilot to land at Boryspil. His arrest order was signed at 9 am without publicity. Yatsenko was airborne at 10 am. The National Anti-Corruption Bureau is investigating to see if there was an information leak. The jet reportedly is owned by Igor Kolomoisky, the principal owner of PrivatBank before it was nationalized.
Kolomoisky and his business partner Gennadiy Bogolyubov were not charged in the embezzlement case. But they are under investigation in the United States for allegedly laundering money from Ukraine to buy office buildings in the US. Yesterday, the US Embassy in Kyiv greeted news of PrivatBank charges, tweeting congratulations to prosecutors "for bold actions against former PrivatBank officials, charged with costing Ukrainian taxpayers millions. Courageous actions like these are an important step in the fight against corruption."
PrivatBank, Ukraine's largest and most profitable bank, is moving aggressively into the cashless economy. Last month, despite almost three weeks of lockdown, Ukrainians made 137 million cashless payments through PrivatBank trading terminals — almost double the 72 million recorded in January, 2020. The bank reported Monday that shoppers used cards to pay for $11.6 billion worth of goods through PrivatBank terminals, almost one third more than in 2019. The state-owned bank currently has 241,000 point of sale terminals. Almost 90% accept contactless payments by cards or smartphones.
Editor's Note: As the Biden Administration prepares Russia sanctions this week, Zelenskiy is flexing his own political muscles – indicting three PrivatBank CEOs, shutting down three pro-Russian TV stations, muzzling Putin's mouthpiece in the Rada, and kicking the Chinese out of Motor Sich. With the White House apparently going wobbly on Nord Stream 2, the question now is: what kind of concrete backup is Washington going to give Ukraine? Best Regards, Jim Brooke