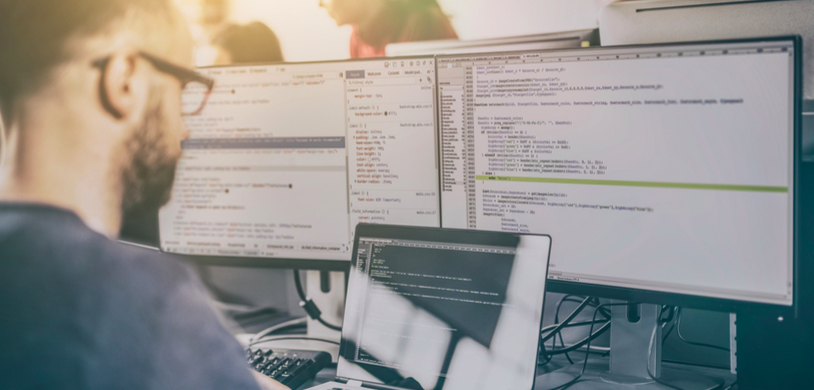 Wednesday, February 20
IT Industry Hiring 4,000 Software Engineers…Kernel Buys Nation's Largest Private Grain Car Fleet…Southern Ukraine Farmers Start Planting…Ukrposhta International Parcel Business up 45%...Wizz Air Doubled Ukraine Passengers in 2018
A survey of Ukraine's top 50 IT companies indicates that job growth was 11.6% during the second half of last year, to 58,448 'specialists,' largely software engineers. The industry started this year with 4,091 vacancies, according to the company poll, conducted twice a year for DOU.ua. Looking ahead, 40% of 45 companies plan to hire 100 or more professionals by June. Only two companies say they do not plan to increase their payroll.
 Confirming commercial real estate reports that IT companies account for nearly half of new office rentals in Kyiv, 43 of the top 50 IT companies have offices in the capital. Lviv has 21 major IT companies and Kharkiv has 20. Fourteen companies have more than 1,000 specialists. Two – EPAM and SoftServe – have more than 6,000.
 Kernel, Ukraine's largest grain shipper, is buying the nation's largest private grain hopper fleet. Kernel is paying $49 million for RTK-Ukraine, which has almost 3,000 grain cars, about 15% of all grain cars in the nation. Last year, Kernel-Trade used 35,070 cars to move 2.2 million tons of grain to Black Sea ports, calculates the Center for Transportation Technologies.
 Kernel intended to buy only 500 new cars this year. Tuesday's bold move comes after grain car rentals charged by Ukrzaliznytsia increased 5-fold in recent months, to $38 a day. Reflecting tightening demand, the state railroad's pilot program to auction grain car rentals on ProZorro is producing daily rates of $64. Kernel's hopper fleet purchase comes as the company plans to commission this year its second TransGrainTerminal at Chernomorsk port, with an annual  capacity of 4 million tons of grain. This year, Kernel aims to increase grain exports by 60%, to 6.2 million tons, a company record.
 Dragon Capital writes: "We view the news as positive for Kernel, with an in-house grain hopper fleet ensuring efficient flow of grains to seaports for export and providing a hedge against rising lease rates for railcars amid tight grain trading margins."
 Taking advantage of unseasonably warm weather, farmers in southern Ukraine have started spring sowing – one month earlier than last year, ProAgro reports. In Kherson, farmers are sowing spring barley. Separately, the Agrarian Policy Ministry reports that the supply of spring seeds, 684,000 tons, meets "100% of the demand." This year, farmers are expected to fill 27.7 million hectares, virtually the same area as last year.
 As growing exports strain Ukraine's rail system, SCM's Metinvest is leasing two GE C30-7A locomotives once operated by Conrail, the US freight giant. Rebuilt by a Czech company, CZ Loko, the locomotives are leased from Operail, Estonia's state-owned rail freight company, reports Trains.com. Since Ukrainian law does not allow private locomotives on public tracks, the locomotives will be used internally by the Ukrainian mining and metals giant. The results of this year's elections will determine whether the Rada allows Ukrzaliznytsia to go ahead with a pilot project for private freight trains.
 Nine new oil and gas exploration and production blocks are now posted online by the State Geology Service for the third round of electronic auctions, the Service reports. Five are in Ivano-Frankivsk region and four straddle Kharkiv and Dnipropetrovsk regions. This year, 10 auctions of oil and gas sites are to be held on the ProZorro.Sale electronic platform. The first 10 blocks are to be auctioned March 6, three months after site details were announced. A second auction, of nine blocks, will be held at the end of April.
 Back to the 1970s…in the 2020s. By 2023, Ukraine should once again be self-sufficient in gas production, a status Soviet Ukraine enjoyed 50 years ago. Praising this year's oil and gas auctions and production sharing agreements, Prime Minister Groysman told the Freedom of Speech TV show: "We are beginning to untangle a very complicated and closed system – access to Ukrainian subsoil."
 EU foreign ministers are reviewing Ukraine's request for hundreds of millions of euros of loans and aid to rebuild roads and railroads leading to Ukraine's two ports on the Sea of Azov, Berdyansk and Mariupol. "(There is) an attempt to suffocate the whole Ukrainian Donbas," Ukraine's Foreign Minister Pavlo Klimkin told a meeting of the EU Foreign Affairs Council in Brussels on Monday. "We need infrastructure, it's about roads and railways." As he spoke, Russia closed Azov waters near the northern exit of the Kerch Strait through Wednesday for live fire exercises, reported the Ukrainian Military Portal. It is unclear how this impacts merchant shipping in the Azov.
 Under a draft bill, Ukraine would follow much of Europe's lead in mandating that women occupy at least 40% of seats on state company boards. The bill to the Rada carries the signatures of 56 deputies, or 13% of the total. Several European countries have set female quotas for boards, including Iceland – 45%; France – 44%; Norway – 40%; Sweden – 36%; and the UK – 30%. Advocates cite studies that indicate that companies with gender diverse boards earn more money. The bill would not apply to the Rada, which is 12% female.
The EBRD plans to help to pay for business consultants for 160 small and medium sized companies in Ukraine this year. For local consultants the EBRD pays 50% of the salary. For foreign consultants, it can be 84%. Companies must be Ukrainian-owned with 10 to 250 employees, Kateryna Rigg, manger of the EBRD's small business support unit, tells reporters.
 Ukrposhta handled 34 million international parcels last year, up 45% y-o-y, the Center for Transportation Technologies writes, analyzing the state postal company's statistics. With e-commerce driving the parcel business, the top sources of shipments were:  China, the Netherlands, Israel, and the US. Last year, Ukrposhta started partnerships with Hongkong Post and Alibaba's delivery platform, Cainiao Smart Logistics Network Ltd. This year, Ukrposhta plans to increase parcel deliveries by 27%.
 Wizz Air doubled passengers on its Ukraine routes last year to 1.5 million passengers, making it the largest low cost operator in Ukraine. With flights starting in May from Kyiv Sikorsky to Athens and Thessaloniki, Wizz Air reports that it will offer 45 routes to 13 EU countries from three Ukrainian cities – Lviv, Kharkiv, and Kyiv.