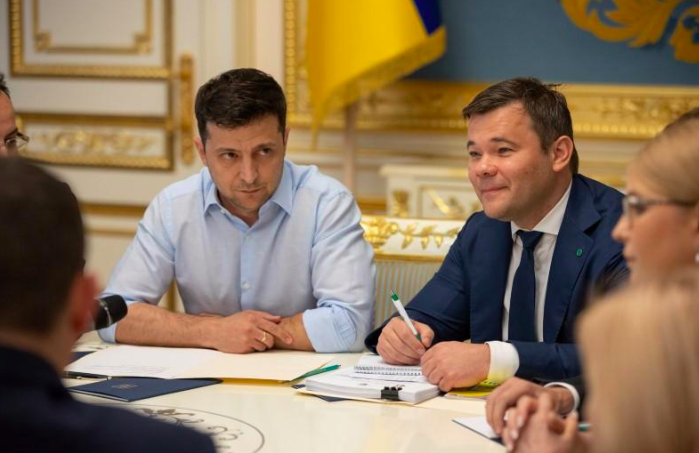 President Zelenskiy fired Andriy Bohdan as chief of staff Tuesday, replacing him with Andriy Yermak. For Ukraine's six-month-old government, the move is seen as elevating a pragmatist in relations with Russia, improving relations with the Trump White House, and distancing the President from oligarch Igor Kolomoisky.
"Senior appointments in Moscow and Kiev point to tentative thaw," Reuters headlines in a story reported in  both capitals. Reuters notes that Yermak negotiated two prisoner swaps in meetings last fall with Dmitry Kozak, the Kremlin's new point man for Ukraine policy. In a Ukraine 24 TV interview recorded before his appointment, Yermak said of his Russian counterpart: "We had constructive communication, without which nothing would be possible of what we have already seen."
The Washington Post wrote: "The shake-up Tuesday also could signal a closer alignment with the Trump administration. The new chief of staff, presidential aide Andriy Yermak, had met with President Trump's personal lawyer Rudolph W. Giuliani and was mentioned multiple times during Trump's impeachment hearings and trial."
Noting the Bohdan had been a key lawyer for Kolomoisky, The Financial Times said his firing is "a step likely to be welcomed by the country's western backers." Similarly, Dragon Capital emailed investors: "Bogdan's resignation would be welcomed by those concerned about his prior ties with tycoon Igor Kolomoisky."
Concorde Capital notes the deep business experience of Yermak, aged 48, writing: "He chaired the Association of Kyiv Entrepreneurs, founded a media company and produced several films, as well as having stakes in more than a dozen businesses."
On March 1, Prime Minister Honcharuk plans to fire the starting pistol on an "unprecedented" $4.5 billion road building campaign that is to rebuild and repair 5,000 km of roads across that nation by November. Funded partly by Gazprom's $2.9 billion payment in December, the massive roads program is to hire 12,000 new workers in a drive to upgrade 4,000 km of roads linking regional capitals.
"We must build in order to destroy — destroy the stereotype that Ukraine and good roads are not compatible concepts," President Zelenskiy said Tuesday in a forum turned pep rally for the program, officially called "Knit Together Ukraine." He said 80% of the work should be for rebuilding highways, not patching potholes. "That startup – pothole filling – should become a thing of the past," he said. Turning to contractors who game the system, he called on regional officials and Ukravtodor, the state highway agency, to repress "tender trolls."
In another bureaucratic barrier, only 15 of the 24 regions have submitted their lists of roads to be rebuilt. Others are in the process, but Lviv, Sumy and Zakarpattia "must immediately submit their plans," the President said. The laggard regions are going through leadership turnovers, he said.
To prevent "the asphalt from being scraped off with the spring snow," Zelenskiy promised to crack down on overweight trucks. This year, the government is installing 200 Weight in Motion camera systems, designed to nab overloaded trucks, usually on roads leading to the Black Sea ports.
Oleksandr Yaroslavsky, president of Development Construction Holding, the largest building group in Eastern Ukraine, told reporters at the forum that he plans to build this year 100-300 km of roads for $100-300 million. He said he has found a "strategic partner" without specifying it is a foreign or domestic road building company.
This spring, as road building is underway, officials of Ukravtodor, the state highway agency, plan to place up to $800 million in Eurobonds to help finance the work. At the forum, the agency's new head, Oleksandr Kubakov said: "The country has a chance to get normal roads, to upgrade the main network in two to three years. But, this year, we can show a really unprecedented level, an unprecedented amount of construction."
The Finance Ministry's weekly auction pushed the average yield on 14-month dollar bonds down to a record 3.39% per annum. Bidding yesterday also pushed average yields on hryvnia bonds down to the 9.5%-10% range. In the auction, the Ministry raised $375 million, selling $202 million in dollar bonds and $173 million equivalent in in hryvnia bonds.
The EU is extending €25 million in aid to the "eGovernment and Digital Economy Support Program," according to an agreement signed Tuesday in the Cabinet of Ministers. "Digitization is, first and foremost, a victory over corruption," Prime Minister Honcharuk writes on Telegram. He repeated the Zelenskiy administration's goal to digitize 100% of the most popular public services by 2024. He writes: "No officials and queues! The state will be a convenient service for people."
Diya, Ukraine's new e-governance portal, topped 1 million downloads in four days after its launch. Almost 650,000 people downloaded the version for Android devices. Almost 400,000 others downloaded for iOS, or iPhones, Oleksiy Vyskub, Digital Transformation Deputy Minister, writes on Facebook.
President Zelenskiy aims to raise the wages to near Polish levels by the end his term, in the summer of 2024. Currently Poland's average monthly salary of $1,286 is 2.5 times greater than Ukraine's average monthly salary of $500. Adjusted for Poland's higher taxes, the real ratio might be 2:1. If Ukraine's average salary can reach 70% of Poland's, or $900, many Ukrainians would not be tempted to migrate there for work, Zelenskiy says in a video address. "I really want our average salary to be the same as in Poland," he says. "Why like in Poland? Because there are already millions of Ukrainians in Poland. And they will return only if there is motivation."
The high wage countries of Europe – Germany and France – may represent the future of Ukrainian labor migration in the 2020s, writes David Saha, of the German Advisory Group. "The openness of EU countries to labor migrants from Ukraine may increase further," he writes in a new study posted by Vox Ukraine. "Due to demographic change and their aging populations, many countries including the old member states such as Germany or France will increasingly face shortages of workers and may adjust their immigration policies accordingly… increasing demographic pressures in Ukraine's neighbors to the West will make labor migration easier in coming years."
Foreign airlines increasingly fly over Ukrainian airspace, according to the latest figures of UkSATSE, the national air traffic controller company. In January, overflights were up 14.3% y-o-y, to 8,180 – the fastest growing segment for controllers. By contrast, Ukraine's domestic flights were up by 1.5%, to 1,783, and international flights were up 2.8%, to 11,540. After July 2014 the shootdown of Malaysia Airlines Flight 17 over Russia-controlled Donbas,  overflights of Ukrainian territory plummeted and UkSATSE lost half of its budget
From the Editor: After driving a rental car around Zakarpattia for 10 days in May 2018, I realized that, for some rural residents, a local entertainment meant sitting on lawn chairs and watching city folk slalom around the potholes of their Swiss cheese roads. Why fill in the holes, when a thriving cottage industry involves repairing dented wheel rims? Later, Hungarian diplomats complained to me that a €50 million soft interest loan to upgrade roads in Zakarpattia was going unclaimed for 'lack of capacity' on the Ukrainian side. Now, I see regional leaders can't be bothered to draw up a wish list of roads to be fixed with free money from Kyiv. It's kind of hard to draw EU tourists with Mozambican roads. With Best Regards, Jim Brooke jbrooke@ubn.news