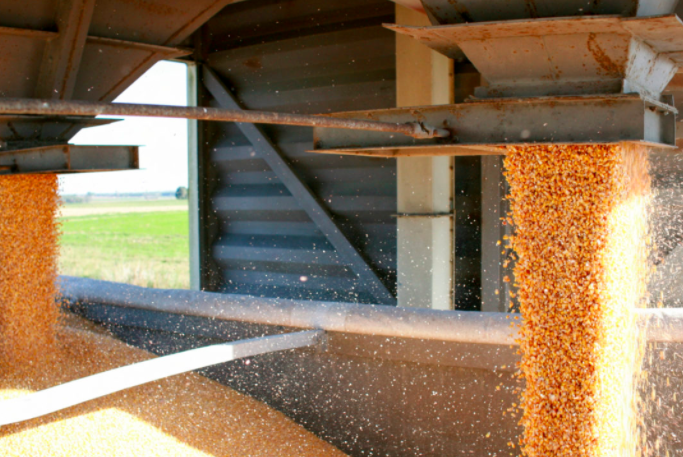 With snow forecast for much of Ukraine tomorrow, 99% of the 2021 harvest is in, reported the Ministry of Economy, Trade and Agriculture. Harvested from 24 million hectares, an expanse the size of Britain, Ukraine's harvest is expected to be well below last year's bumper crop. Due to drought, the corn crop could be down by 25% and the sugar beet crop down by 30%.
Measured in volume, grain exports are down by 14% — to 20 million tons  — since the marketing year started July 1. Corn exports are down 26% yoy, to 6 million tons. Wheat exports are down 11.5%, to 12 million tons. By June 2021, the government predicted that Ukraine's grain exports could be down 17% over last year's record exports of 57 million tons.
World prices are boosting Ukraine's earnings from the export of food, the nation's biggest foreign currency earner. World food prices rose in October and November, hitting their highest levels in six years, according to the UN Food and Agriculture Organisation. The FAO said that November world food prices are 6% higher than one year earlier. One major Ukrainian export, vegetable oil, jumped 14.5% in November alone, hitting the highest price since March 2014. Cereal prices are up 20% compared to one year ago. Export prices for Ukrainian corn are up 36% yoy.
Capital investment in farming dropped by 43% during the first three quarters, to just below $1 billion, reported the Institute of Agrarian Economics. Citing State Statistics Data, the Institute notes the investment collapse in farming came as overall capital investment in Ukraine fell by 35% yoy, to just under $10 billion for the January-September period.
The Finance Ministry raised all its hryvnia bond yields above 10% yesterday and succeeded in selling six times more paper than one week earlier. At yesterday's auction, hryvnia bond yields went up by 11 basis points to 30 basis points, according to a Finance Ministry post on Facebook. To draw demand the Ministry also offered a full range of six hryvnia bonds — 3 months, 6 months, 1 year, 2 years, 4 years and 5 years.
Of the $560 million raised, about one third was from the sale of 1-year dollar bonds, which carried an average weighted yield of 3.79%. By contrast, 1-year hryvnia bonds carried a yield of 11.22% With the government short of money to cover the budget deficit, investors expect large bond sales — domestically and abroad.
ICU wrote of last week's auction: "Foreigners are monitoring the market and watching the trend in rate increases, waiting for the optimal time to make new investments. That could be when the increase in rates stops and the hryvnia exchange rate appears to bottom out. We can expect foreigners to again purchase new issues, on the background of increase in the appetite of portfolio investors to EM assets."
The Central Bank is expected to keep Ukraine's prime rate at the historically low level of 6% at Thursday's policy meeting. In a Reuters poll of 15 analysts, 14 predicted that the National Bank of Ukraine will keep the rate at 6%, the level attained last June. Since then, Ukraine's inflation has fallen, hitting 2.6% yoy in October. The analysts predicted that more government spending and a high minimum wage will push up Ukraine's to 4.2% at the end of this year, and to 6.1% at the end of next year.
Betting on the growth of e-commerce, Ukrposhta plans to start building a 600,000 square meters of mail and package sorting centers next year. Largely funded with EBRD and European Investment Bank loans totalling 93 million euros, the state post office plans to build 62 depots and eight 8 sorting hubs, in: Kyiv (on the left and right banks), in Lviv, Kharkiv, Dnipro, Khmelnitskiy, Odesa and Pokrovsk, the rail hub city in Donetsk region. The first tenders will go out in coming days, Igor Suhodubovsky, head of construction for Ukrposhta, told a logistics conference yesterday.
Foreign tourists visiting Kyiv this year fell to 300,000 — 15% of the 2 million who visited last year. With national tourists not filling the gap, Kyiv's tourism industry — hotel, restaurants, nightclubs and tour operators — lost $1 billion this year, estimated Maryna Radova,  head of Tourism and Promotion of the Kyiv City Administration. Similarly, the hotel tourism tax revenues has fallen almost in half, to $1.2 million, she told a forum at Ukrinform, "Restoration of the Tourism Sector in Kyiv Amid a Pandemic."
Wizz Air restores this month many flights to the EU from Kyiv Sikorsly, Kharkiv and Lviv, reports the Hungary-based low-cost carrier. If a flight is cancelled due to coronavirus restrictions, Wizz Air says it will refund 125% of the paid fare. In coming days, these flights resume: from Kyiv to Copenhagen, Pardubice, Billun, Vienna, Krakow, Lisbon, Hamburg, Budapest, Naples, Poznan, Bratislava, Katowice; from Lviv to Berlin, Szczecin, Bratislava, Pardubice, Vilniusl; and from Kharkiv to Krakow, Dortmund, Vienna, Gdansk and Wroclaw.
Preparing to lay off 150 pilots, UIA appealed to President Zelenskiy yesterday,asking for a low interest loan and relief on debts owed to Ukraine's air traffic control agency and to Boryspil Aiport, UIA's hub. "UIA, like other air carriers of Ukraine, require immediate measures of state support, which will allow them to survive until the resumption of demand and opportunities for international air transportation," the airline's executives wrote in a letter to Zelenskiy. UIA said its passenger traffic is running at 85% of 2019 levels and that it already has laid off 1,000 employees. Ukraine's national flag carrier, plans to restore much of its route network in April, aiming to carry in 2021 64% of the passengers it carried in 2019.
Since April, UIA has processed 60% of demands for ticket returns, refunding $22 million, the airline reports. Another 56,000 requests await processing. As part of personnel cuts at UIA, the airline's telephone information center has been closed.
UIA's sister airline, Windrose Airlines continues its expansion into the Balkans, starting flights this week from Kyiv Boryspil to Belgrade, Serbia, and from Boryspil to Skopje, North Macedonia. In recent weeks, Windrose started flights from Boryspil to: Ljubljana, Slovenia; to Zagreb, Croatia; and to Podgorica, Montenegro. Windrose uses its newly expanded fleet of commuter planes —  Embraer 145s and ATR 72-600s.
Editor's Note: The corn harvest is in. Publicly traded IMC recorded a 4% drop in its yield, to 9.3 tons per hectare. That is still 77% above Ukraine's national average yield. As a reporter, I have toured corporate farms in Kansas, USA; Alberta, Canada; Mato Grosso do Sul, Brazil; Cordoba, Argentina; and New South Wales, Australia. In those three continents, there are common threads. Farming is a business. People who work on corporate farms generally enjoy a higher standard of living than those who do not.  In Massachusetts, my sister has cows, goats and chickens. But, they are not a major source of income. They are largely to preserve a pastoral landscape and to prevent the encroachment of the New England forest. In Ukraine, there always will be room for family farms. But a measured, rational creation of a real farm land market would inject billions of dollars into the countryside. By the end of this decade, grain harvests — and exports — could double. With best regards, Jim Brooke