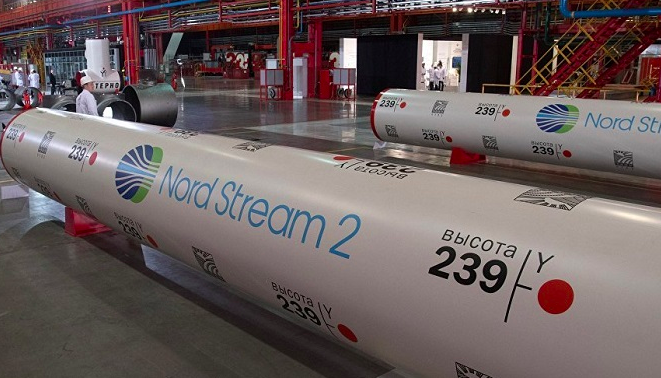 Wednesday, December 18
Trump Expected To Sign Nord Stream 2 Sanctions...Russia-EU-Ukraine Gas Transit Talks Tomorrow...Auction Cuts Euro Bond Yields in Half - to Record Low...State Banks Are Shaky...Rada to Ban Foreign Ownership of Farm Land...Kherson Airport Starts Flights to Poland, Vienna
President Trump is expected to sign into law a US defense bill that sanctions companies building the Nord Stream 2, the Russia-Germany pipeline, reports Deutsche Welle. Yesterday, the US Senate voted by a large margin, 86-8, to impose sanctions on companies building the $10.5 billion pipeline. Last week, the House of Representatives overwhelmingly approved similar language, attached to the annual defense spending bill.
With the 1,222 km pipeline 90% complete, Russia and Germany are expected to finish construction this spring. On Monday, between the two US congressional votes, President Putin and Chancellor Merkel discussed the Nord Stream 2 by telephone. German Foreign Minister Heiko Maas called the U.S. moves "foreign interference" and then tweeted: "Decisions on European Energy Policy are taken in Europe."
With an annual capacity of 55 billion cubic meters, the new pipeline would technically give Russia the capacity to stop sending gas across Ukraine. Timothy Ash writes from London: "What is important to remember on North Stream 2 sanctions is: the US looks set to sanction participants because the US sees stopping the project as in the interests of its own energy industry – and sanctions have nothing to do with backing Ukraine."
US sanctions may strengthen Ukraine's hand at the bargaining table tomorrow, when Russia-Ukraine and the EU meet to work on a replacement deal for Gazprom's 10-year gas transit deal with Naftogaz. Russia offers a 1-year deal and hints it could accept a 3-year deal. Ukraine demands a 10-year deal, and hints it would accept a 7-year deal.
Further strengthening Ukraine's position, Ukraine's reserves of gas stored underground totaled 19.8 billion cubic meters on Saturday. Enough to get through a normal winter, this volume is 30% higher than the same time last year, calculates Interfax-Ukraine. Naftogaz CEO Andriy Kobolyev told a press gathering last week: "I hope that even if the contract is not signed now, then in April-May we will return to this discussion with the Russian and European parties."
Clearing a key hurdle to a EU-standard gas transit contract, the EU's Energy Community Secretariat yesterday certified Ukraine's new gas transmission system operator. Under the 'unbundling' required by the EU, this pipeline operator was set up this fall, independent of Naftogaz. The Secretariat states: "The decision made today under the Third Energy Package confirmed that the newly established operator of the gas transmission system of Ukraine, GTSO, complies with the requirements of the European legislation."
With the $3 billion gas transit contract due to expire in two weeks, reporters looking for hints on the outcome seized on a $3,000 contract signed last week by Gazprom. In a country where officials treat the Ukrainian language with disdain, Gazprom hired a contractor for express notarized translations of documents from Russian into Ukrainian.
What a difference six months makes. At Tuesday's weekly bond auction, the Finance Ministry sold 6-month euro-denominated bonds with an average weighted yield of 2.22% — half the level of 4.6% at the last auction, on June 18. Raising €198 million, this placement has the lowest yield for such a bond in Ukraine's history, reports the Ministry.
Local currency bond yields fell across the board: 3-month bonds decreased by 128 basis points, to 11.78%; one-year bonds by 158 bps, to 11.42%; two-year bonds by 91 bps, to 11.10%; and four-year bonds by 77 bps, to 10.90% per annum. The Ministry said 67 out of 85 bids for the purchase of T-bills were satisfied. These auctions raised the hryvnia equivalent of $265 million.
Two of Ukraine's largest state-owned banks, Oshchadbank and State Export-Import Bank are "utterly vulnerable to macroeconomic shocks," central bank said Tuesday in its December financial stability report. Stress tests reveal the two banks need $1-2 billion, creating systemic risks for the banking sector, says the National Bank of Ukraine. Noting that corporate loans consist of 20% of state companies and 60% to Ukraine's top 20 private business groups, the central bank said: "Credit decisions of these banks were often made with political interests in mind without being economically justified."
With a Kyiv court of appeal set to rule tomorrow on the legality of the 2016 nationalization of PrivatBank, a government loss in the case would send a bad signal to investors, but would not destroy Kiev's cooperation with the IMF a top central banker said Tuesday. Without prejudging the outcome, First Deputy Governor Kateryna Rozhkova told reporters in Kyiv: "This would complicate our work in principle, but it certainly would not destroy our stability and our cooperation with the IMF." Without elaborating on the fate of Ukraine's largest bank, she said: "In the case of a negative decision, we have a plan and we will maintain financial stability."
As protesters raged outside parliament Tuesday, Rada members debated restrictions on a private market for farm land in Ukraine. Media report the ban on foreign farm land ownership will extend to farms with foreign minority shareholders. This ban would be changed only through a referendum. According to Oleksiy Mushak, an adviser to Prime Minister Honcharuk, size limits under consideration range from 5,000 hectares to 50,000 hectares – far below the 200,000-hectare limit approved one month ago in the bill's first reading. To limit land speculators, a tax on quick resales would be imposed. To help small and medium farmers buy land, the government has approved $170 million in spending to push real interest rates down to 5%.
Concorde Capital's Alexander Paraschiy writes: "It looks like the final version of the farm land market will make purchases by foreigners impossible…the Ukrainian equity universe will suffer because such conditions will discriminate against Ukraine's foreign-listed farm holdings (Kernel, MHP, Astarta, IMC, KSG Agro, Agroton) and will add risks to their sustainability in the long term."
Breathing new life into a neglected regional airport, Ryanair started international flights Tuesday from Kherson — a twice weekly flight to Krakow. On Jan. 15 Ryanair plans to start flights to another Polish city, Katowice. On March 30, Ryanair's Austrian unit, Lauda will start a Kherson-Vienna flight. Kherson is the fifth city in Ukraine to host Ryanair, joining Kyiv Boryspil, Kharkiv, Lviv, and Odesa.
With as many as one third of passengers coming from Crimea, this southern Ukraine airport offers UIA flights to Kyiv and Turkish Airlines flights to Istanbul. SkyUp flies charters to Antalya and Sharm El Sheikh. Last month, the State Aviation Administration Commission approved a Windrose request to fly between Kyiv Boryspil and Kherson. With growth prospects strong for the 2020s, Kherson is on the Infrastructure Ministry's list of regional airports to be run by private concession.
From the Editor: Thanks to Stephen Butler and the Strategy Council for organizing the recent well-attended Ukrainian Investment Roadshow in London. Welcome to all our new readers from the London conference! Best Regards, Jim Brooke jbrooke@ubn.news.